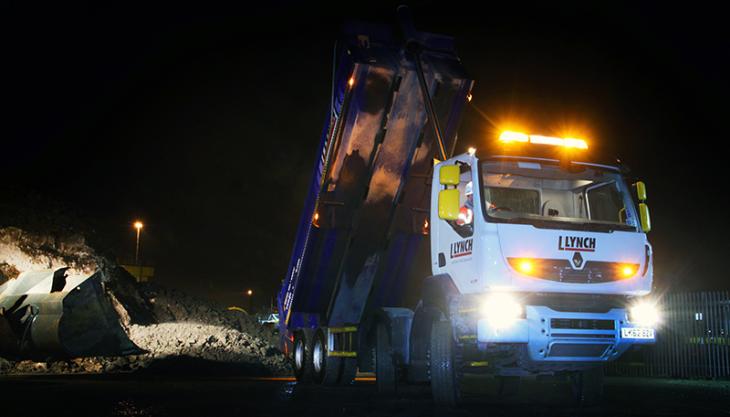 Muckaway firm trusts in Edbro reliability for truck fleet expansion at ground-breaking rail hub
TO support the continued growth of their 'muckaway' and aggregates transport business, L. Lynch Plant Hire & Haulage are investing in more than 83 new tipper and grab vehicles in 2014, all of which have been specified with hydraulic tipping cylinders from the JOST brand Edbro.
In response to an increasing workload in London, L. Lynch recognized the need to consider new ways of hauling excavated soil out of the capital, in order to reduce their carbon footprint and road miles.
Their revolutionary solution was to utilize a rail hub in central London to send the material out of the city by train – a first in London and a move that has reduced the company's CO2 emissions by 70% while speeding up muckaway turnaround times.
During its first year of operation the rail hub handled more than 200,000 tonnes of muck – the equivalent of 17,000 full lorry loads which would otherwise have been on London's congested roads.
Moreover, L. Lynch are currently one of the main muckaway and aggregate suppliers for Crossrail. This project alone is likely to increase the amount of muck that moves through the hub this year to 500,000 tonnes.
With such an increased workload, L. Lynch decided to invest in the 83 new tippers and grab trucks – the majority of which will be stationed at the rail hub. While the vehicles themselves will be a combination of Volvo and Renault models, one constant throughout the new fleet is that they will all be specified with Edbro tipping cylinders.
Merrill Lynch, the company's operations director, commented: 'The rail hub is an essential part of our efforts to reduce our carbon footprint while continuing to offer our customers the most efficient, reliable and cost-effective service possible. The fact that we are now expanding our fleet to keep up with increasing demand reflects our confidence in the growing construction industry in the UK.'
He continued: 'Our customers expect the highest standards of equipment and support in an environment where health and safety is paramount. With this latest investment, we are again specifying Edbro tipping gear. We recognize Edbro's reputation for manufacturing tipping gear which offers the highest safety standards, the best payload possibilities and the industry's leading reliability record.'
The new tipper vehicles have all been specified with Edbro CX14 combined ram and tank units, which are proven to be the lightest, like-for-like cylinder on the market, offering a weight saving of 86kg against the previous industry benchmark, which translates to approximately £10,000 in extra payload over the life of the vehicle.
The new grab vehicles have all been specified with Edbro's TS-Series under-floor tippers, which are said to produce 20% more lift capacity than the closest alternative.