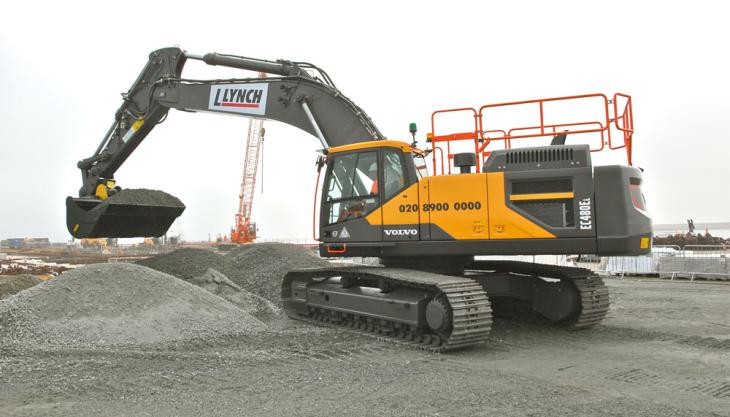 Middlesex-based plant hire firm invests in its first Volvo EC480E tracked excavator 
THE new arrival has been put straight to work on a long-term hire contract for an east of England civil engineering company on harbour development work at Great Yarmouth in Norfolk. It joins more than 30 other items of plant on site, including 14- and 21-tonne Volvo excavators – all on hire from Lynch. 
'We have been buying Volvo machines for the last 13 years,' said Lynch's national service manager, Giles O'Sullivan-Wade. 'There is no doubt that they are solidly built, premium products, which always reward us with strong residual values. Our operators and our customers' operators appreciate them too, and we find them to be very fuel efficient and highly productive.'
The Stage IV Final 13-litre engine in EC480E develops 378hp and is ideally matched to its automatic load-sensing hydraulic system, which provides on-demand flow and reduces power losses within the circuit.
Volvo's unique ECO mode contributes up to 9% of the machine's total improved efficiency over the D-series model – without any loss of performance in most operating conditions. As well as improving fuel efficiency, this increases controllability for more precise performance.
Volvo's integrated work mode system offers the operator five choices according to the task in hand – I (Idle), F (Fine), G (General), H (Heavy) or P (Power max) – for optimum efficiency and machine performance.
When the controls have been inactive for a pre-set amount of time, the excavator can be programmed to automatically reduce engine speed or even shut down to further reduce fuel consumption and noise. Operators can keep track of both current and average fuel consumption via a simple gauge in the cab. 
In order to satisfy a whole range of hires, ranging from bulk muck shifting to rehandling and even secondary demolition duties, L Lynch Plant Hire deliberately specified the EC480E to a high standard. 'We wanted to maximize the full potential of this significant investment so have ordered the machine with a host of optional extras,' continued Mr O'Sullivan-Wade.
'For instance, we've specified X3 grab rotation for handling rotating selector grabs and other attachments requiring an additional hydraulic service, mass excavation equipment and hydraulic quick-fit for fast inter-changeability of end attachments. Thus configured, the machine will be able to satisfy the hire demands of our customers without exception.' 
The new EC480E also sports a number of safety features requested by Lynch. As well as the grab handles, which Volvo paint in highly visible orange as standard, Lynch opted for heavy-duty, factory-fitted, boxing ring-style safety rails and kick plates on the machine's superstructure, to ensure safe access to the top of machine for the operator or service engineer.
A 360° bird's-eye view Brigade Elite camera system for all-round visibility has also been specified. This provides the operator with a complete overview of the machine in relation to potential hazards or objects that are in close proximity via the machine's monitor screen in the cab. Other safety features include a travel alarm when the machine is tracking, a seat belt warning light, and hose rupture valves, which are standard items for the boom and dipper cylinders.
Other features on the 50-tonne excavator include Volvo's Care Track telematics system and a hammer-shear circuit and quick-fit hydraulics, which come as standard. Lynch have also added an immobilizer option and Enigma tracker system.