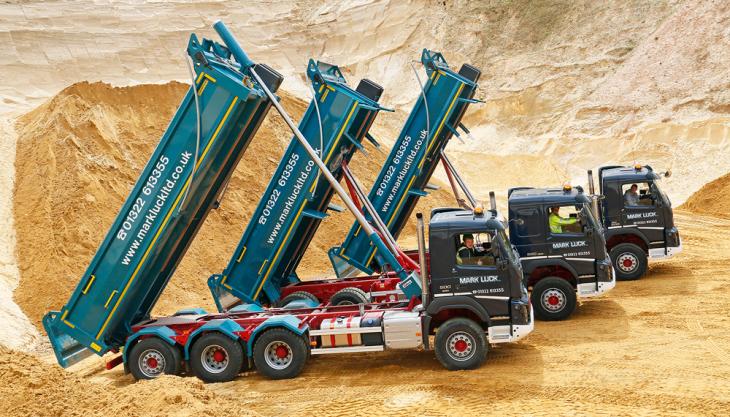 Kent-based contractor reaps the benefits of using Edbro tipping gears across its vehicle fleet
MARK Luck Transport have recently purchased four new eight-wheeler tippers, bringing their total number of vehicles to 45. As standard, the company specifies all of its new vehicles with Edbro tipping gears – each equipped with lightweight CX combined ram and tank cylinders.

Mark Luck's fleet includes tippers, grabs and articulated lorries, all of which are fitted out with state-of- the-art features such as automated sheeting systems and all-around cameras. The contractor's tipper mechanism of choice, of course, is Edbro.

Currently in its centenary year, the tipper gear specialist has a tradition of delivering cutting-edge innovation and today its products remain at the forefront of the tipping market: increasing payloads; reducing tipping times; and providing 'fit-and-forget' solutions. 
The Edbro brand is owned by the JOST Group, one of the market leaders in vehicle hydraulic systems, including front end, underbody and ejector cylinders, waste-handling equipment and customized hydraulic kit solutions.

Mark Luck's tippers are all-steel Thompsons loadmaster bodies mounted on Volvo FMX chassis and fitted with Edbro tipping systems. Two of the company's newest trucks have day cabs while two are fitted with sleeper cabins.

The CX cylinder on the trucks is based on a one-piece, combined ram and tank unit specifically designed for rigid tipping applications. It is manufactured using state-of-the-art laser welding for reduced weight and is fitted with a specially developed seal with built-in burst prevention. 
The one-piece design has been specially designed to withstand side loads better than multi-piece cylinders. As a result, the tipper gears deliver long service life and superior tipping performance.

Mark Luck Jr, co-owner of the business, said: 'Edbro cylinders provide us with quality and reliability. You can depend on them for the whole life of the vehicle, which, for us, is usually around 10 years. In fact the company has been using Edbro since 1977. We currently have Edbro cylinders on a 'semi-retired' tipper that is 17 years old and it is as trustworthy as ever.'
Mark Luck Transport provide a full range of tipper services to the construction industry, covering muckaway, site clearance, waste-management and the supply of recycled aggregates and top soil. Operating mainly in the South East, the company has doubled its fleet size in the last decade.