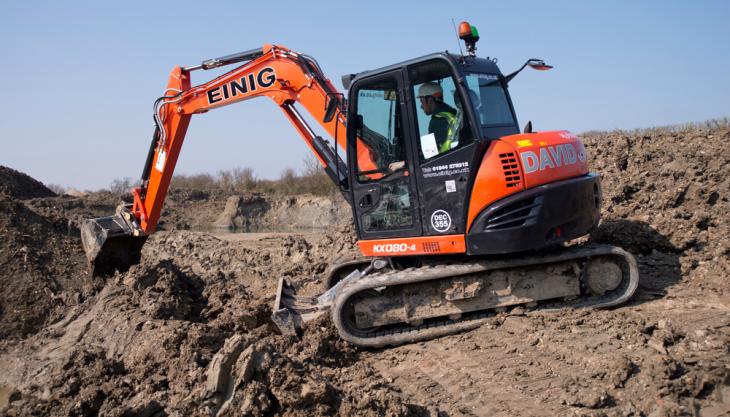 Plant-hire firm uses own fleet of compact Kubota excavators to help construct its new headquarters
DAVID Einig Contracting (DEC), one of the leading earthmoving contractors and plant hire firms in Oxfordshire and the South East, are using Kubota machines to help build their brand new headquarters, near Thame.
The 8,000 sq ft facility, set for completion this summer, will include: new plant workshops to centralize all of DEC's maintenance operations; modern office space to accommodate the company's growing workforce; and an operator academy that will train the next generation of highly skilled plant machinery operators.
The plant hire firm's new headquarters is a result of continued growth for DEC since its humble beginnings as a 'one-man band' operation when managing director David Einig purchased his first excavator aged just 17 years old. Today, DEC employ more than 100 staff helping to provide high-quality contracting work, ranging from waste-management services to large-scale recycling projects.
The reliability and popularity of Kubota mini-excavators has played a key role in the rise of DEC's plant-hire division in recent years. It came as no surprise, therefore, that Mr Einig decided to use the Kubotas in the construction of the company's new headquarters.
He commented: 'The Kubota excavators have proven themselves time and again as quality machines, especially with regards to reliability, productivity and fuel efficiency, meaning that they are a valuable asset on any project we undertake. It made perfect sense, therefore, to utilize the Kubotas in our fleet to help build our new state-of-the-art headquarters.
'We used a Kubota KX080-4 mini-excavator to dig the foundations of the building, while a KX057-4 unit carried out the groundworks and drainage. For small digging jobs at the side of the road, we used a Kubota U17-3 micro-excavator.'
Part of Kubota's appeal has been the value-added customer service and after-sales support on offer, and DEC have built a strong relationship with local Kubota dealers Boss Plant Sales.
Mr Einig said: 'Whilst we know the performance of Kubota machinery is strong, our drivers appreciate the operational capabilities of Kubota excavators and ensure the job gets done on time and within budget. When using these machines we know that executing our project targets is all but guaranteed, which is why we chose Kubota to assist with the building our new headquarters.'