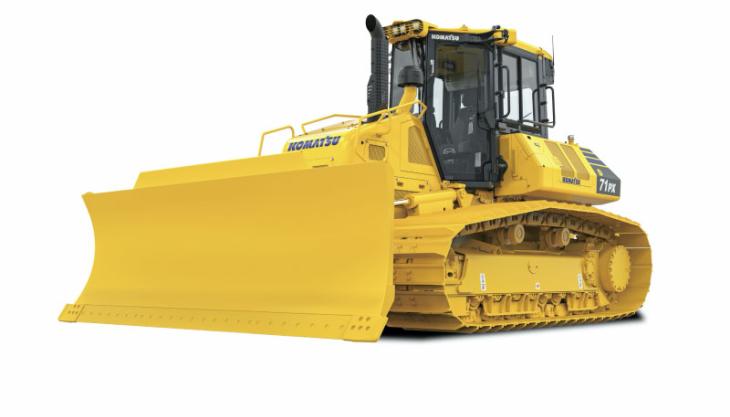 Brand-new machine featuring distinctive super-slant nose design for outstanding visibility
KOMATSU Europe have introduced the all-new EU Stage V emissions-compliant D71-24 hydrostatic transmission (HST) dozer, which is available in EX, EXi, PX, and PXi configurations for maximum versatility.
'Customers asked us for a dozer that could push like a D65 but with the precision, balance and reflexes of a D61: that's why the super versatile D71 was designed,' said Benoit Raquet, product manager at Komatsu Europe. 'It's a dozer that can do it all and allows the optimization of our customers' machinery and maximum utilization on site.'
The D71-24 – Komatsu's largest ever HST dozer – is said to offer unrivalled visibility thanks to its distinctive super-slant nose, as well as razor-sharp responses, heavyweight performance and lightweight fuel consumption.
The operating weight of the D71EX-24/PX-24 ranges from 22,600kg to 24,000kg with a blade capacity of up to five cubic meters. The fuel efficient, EU Stage V Komatsu engine has a power output of 179kW (240hp) at 2,100 rev/min.
Equally adept at precise high-speed grading and rough dozing, the D71-24 is designed to provide superior durability and functionality with its high-capacity, wear-resistant dozer blade.
Moreover, the dozer's Parallel Link Undercarriage System (PLUS) features rotating bushings to help minimize maintenance downtime and cost of ownership.
According to Komatsu, the D71-24 presents a huge increase in productivity and accuracy, can work in automation modes almost continuously and is furnished with ergonomic one-touch controls.
Mr Raquet added: 'The PXi and EXi variants, with iMC 2.0 technology, deliver easy-to-access assist systems that drivers will want to use almost 100% of the time to deliver accuracy and productivity in one complete package, whatever the job.'