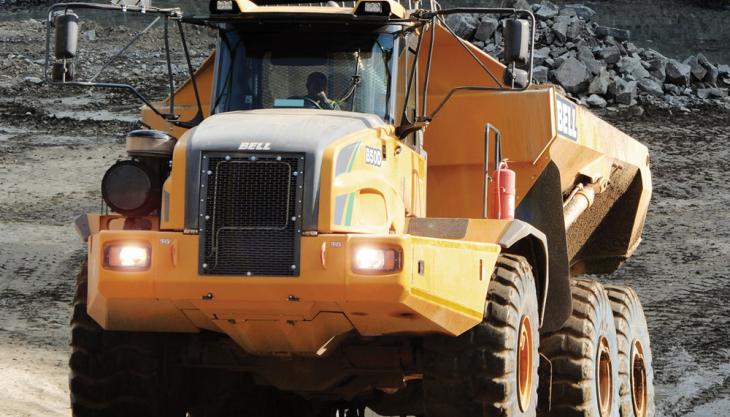 Earthmoving contractor strengthens articulated dumptruck fleet with four new Bell B50D machines
KELSTON Sparkes have bolstered their plant and equipment fleet with the addition of four new Bell B50D articulated dumptrucks. The ADTs are already proving their worth in a variety of quarrying functions, including earthmoving and load and haul.
Hauling loads over distances on more than 6km, the B50Ds have demonstrated their versatility by coping well with long-haul quarry transportation, as Kelston Sparkes director Rob Stark commented: 'The ADTs have been performing very well so far; hauling their designed loads at fast speeds, up and down the steep quarry gradients. Their load capacity, combined with an impressively low fuel consumption, is already making the model the 'one to watch' within our fleet, particularly in terms of cost-effectiveness.'
Operators for Kelston Sparkes have also been impressed with the performance of the B50D ADTs, which have been specifically designed to operate with less movement in the cab.
According to Bell, this has been achieved through the B50D's lower centre of gravity, all-wheel drive, high suspension and flotation tyres, which, compared with a rigid truck, help deliver better performance in a wider variety of surface and weather conditions. These factors, combined with an air-suspension seat, enhance driver comfort and operational control.
Mr Stark describes Bell Equipment's approach to machine servicing as 'very reactive, helpful and quick to resolve any concerns or problems'. He has been so impressed with his initial experience of Bell and their products, that he has a B30E on trial with a view to further expansion of the company's fleet.
'I've been very pleased with what the Bell product has to offer,' he continued. 'The models we've bought and trialled have delivered when it comes to power, efficiency, reliability and operational comfort.  I hope the machines continue to perform at this level for many years to come.'
Richard Higgott, sales and marketing manager for Bell Equipment, added: 'Our B50Ds are in their element with quarrying work, as they've been specifically designed for superior performance in what can only be described as challenging environments.
'It's great to hear that Kelston Sparkes are seeing the results these machines are capable of and achieving the fuel efficiency, workload and positive driver experiences they were hoping for, in addition to the effective customer service that comes as part of the Bell Equipment deal.'