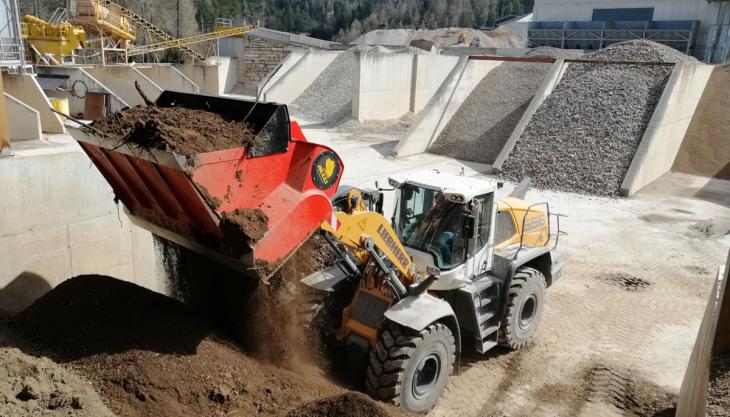 Martintoni Srl invest in Transformer Series bucket attachment for enhanced recycling efficiency
MARTINTONI Srl have bolstered their mobile plant fleet and materials-processing equipment with the purchase of a new ALLU Transformer D-Series bucket attachment from authorized dealers Rammit SpA.
The ALLU Transformer Series comprises excavator/loader/tractor-mounted processing buckets that have been designed to crush, screen, recycle and reprocess construction and demolition (C&D) waste; effectively transforming the feed material into valuable products.
Martintoni took the decision to invest in the Transformer attachment after a successful demonstration at ALLU's Finland-based headquarters, to show how the screening bucket can deliver topsoil benefits and help classify difficult, sticky waste that would have been sent directly to landfill. 
Since delivery, the new ALLU DS 4-23 TS16-32 attachment – which has been fitted on a Liebherr L 556 XPower wheel loader via an OilQuick OQL 310 hydraulic quick coupler – has proven its efficiency in a demanding recycling operation for Martintoni. 
In this waste-recycling application, most of the excavated materials contain a high percentage of roots and branches and other contaminants which the bucket, set with a spacing of 16mm, is able to screen effectively using ALLU's TS blade structure. 
With an improved recycling operation, Martintoni can now rely on a mobile equipment fleet that performs consistently at peak levels of productivity whilst catering for applications of all sizes and processing materials that can be screened, crushed, loaded and fed in a single cycle. 
The DS 4-23 TS16-32 bucket attachment can load/process material to a maximum 3.5 cubic-metre capacity and is able achieve Martintoni's desired daily production of over 1,000 cubic metres. As more C&D materials are being processed, reused and sold back to local markets, this will allow the materials supplier to meet the increased demand of recycled aggregates for use in roads, construction and landscaping projects.