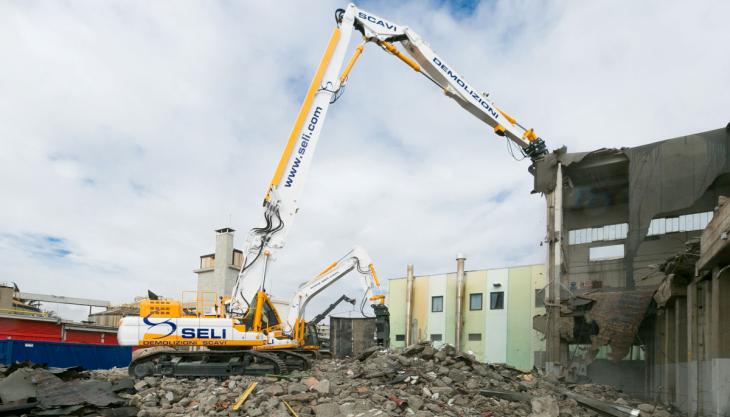 Seli Manutenzioni Generali Srl successfully dismantle former oil mill with DX530DM demolition excavator 
SPECIALIST contractors Seli Manutenzioni Generali have used a Doosan DX530DM demolition excavator to tear down a former oil mill in Inveruno, near Milan, where a new build school for the town will be built on site. 
This is not the first time Seli Manutenzioni have been involved in a school development project – last year the Monza-based company helped dismantle Milan's historic Catholic University del Sacro Cuore using a Doosan DX235DM high-reach excavator. 
On this recent demolition contract, however, Seli Manutenzioni decided to go bigger by deploying the DX530DM model – the largest demolition excavator ever manufactured by Doosan.
The demolition of the former Belloli oil mill involved the removal of two sets of structures: a smaller tower; and a number of imposing, old concrete silos at 32m high with a capacity of 12,000 cubic metres. For a demolition of this magnitude, the DX530DM, with its 29m boom and configuration flexibility, was ideally suited to the demands of the project. 
In order to tear down the derelict building and silos, the high-reach excavator has been equipped with shears to dismantle the reinforced concrete bearing structures, including beams, pillars and thick brick slabs, in a top-down demolition process.  
A key operating feature of the DX530DM is the hydraulically adjustable undercarriage, which allows the machine to expand to a maximum width of 4.37m for optimal stability in demolition operations. The width of the undercarriage can also be retracted hydraulically to 2.97m for ease of excavator transportation.
Working alongside the DX530DM and providing added support on site are two other Doosan crawler excavators: a DX235NLC-5 equipped with a concrete crusher and hammer; and a DX300LC-5 with a concrete pulverizer. 
Once the demolition project is completed, the DX530DM is expected to carry out on-site excavation works for the subsequent construction of the new school building. The demolition arm on the high-reach excavator is simply replaced with the digging arm, maximizing the versatility of the machine throughout project.