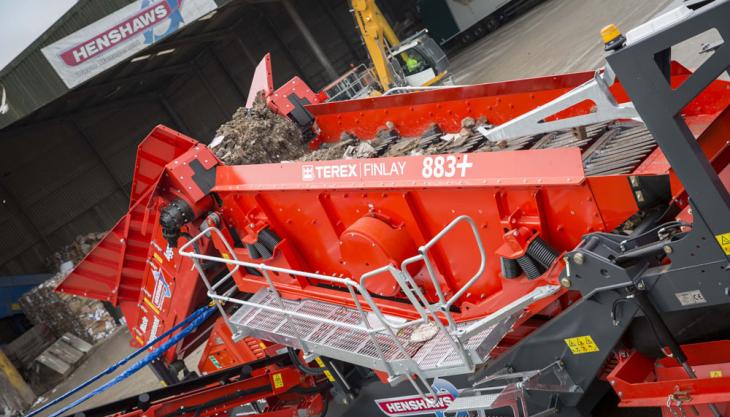 Cheshire-based firm acquires heavy-duty screening machine for waste-management duties
HENSHAWS have enhanced their recycling operation in Macclesfield after investing in a new Terex Finlay 883+ screen and Kiverco PS122 picking station. 
Designed to work after a primary crusher or on its own as a frontline tracked mobile screening machine, the 883+ is feeding the picking station with C&D waste generated by Henshaws' skip and waste-management operations. 
The mobile plant is recycling material into three different grades: –25mm; 25mm; and 100mm, which are then processed by a density separator to provide a clean fraction of stone and an oversize material that is fed to the PS122 unit. The Terex Finlay 883+ has the capacity to process up to 500 tonnes/h and is suitable for use in quarrying, recycling and demolition applications.  
Replacing an old static picking station, the Kiverco picking station for Henshaws has been fitted with an overband magnetic module (to recover ferrous metals) and a heavy-duty fan blower (variable speed) to remove light fractions from waste material. 
Transport manager James Henshaw commented: 'The Kiverco PS122 came to site and was set up in no time at all. It's very easy to use and we've been impressed with it. As always, the Terex Finlay 883+ doesn't disappoint, as we've had them in the past. Together the two machines provide an optimum processing solution for us.'
Henshaws' latest Terex Finlay and Kiverco plant were supplied by Finlay Central, part of the Finlay Group of companies.