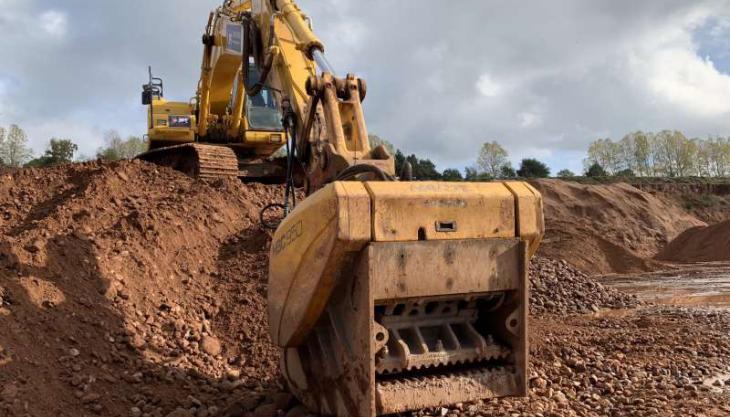 Company using Hartl HBC950 crusher bucket to turn oversize into saleable products
JPE, one of the Midlands' leading suppliers of aggregates, sand and soils to the construction industry, operate a number of strategically located sites from which they provide virgin materials as well as washed and unwashed recycled aggregates, together with inert waste disposal.
The business, which has been in existence for more than 20 years, has been involved in many of the leading projects in the Midlands region, including the Black Country Route, Trent Valley Four Tracking Project (TV4), the M6 Toll Road and the M6 hard shoulder strengthening.
The main objective of JPE's Seisden Quarry, in Wolverhampton, is the production of much sought-after sand. Material from the quarry is fed into a wash plant that both cleans and separates it into various saleable products, including a 0–2mm building sand and 0–4mm sharp sand, as well as three sizes of aggregate.
All unsaleable +60mm oversize, which consists of both hard rock and sandstone, is removed from the wash plant and, until recently, had been building up over a period of years.
JPE's managing director, Steve Birch, explained: 'The oversize was being stockpiled at the site and the challenge was how to turn that into a saleable product. Of course, we could use a crusher, but we tend to do that on a campaign basis, meaning we would have to wait until we had 10,000 tonnes. We simply don't have the room to stock 10,000 tonnes on this site.'
A solution to this problem was found with the introduction of a Hartl HBC950 crusher bucket. The bucket was brought in to allow the business to crush the currently unsaleable oversize, which, once crushed, is returned to the wash plant, creating both aggregates and the much sought-after sand.
The bucket also allows the business to crush daily rather than on a campaign basis, meaning stockpiles are kept to a minimum in key areas of the quarry. Furthermore, the process is being undertaken by a single man and a single machine, as opposed to a crusher that requires more capital equipment and human resource.
The Hartl HBC950 crusher bucket has a processing capability of  400 tonnes/day and the fuel consumption of the carrier excavator is 20 litres/h. According to JPE, the machine is making a contribution of £84,000 per annum and return on investment (including two new jaws) has been achieved in nine months.
'The bucket is doing an excellent job creating saleable product from the oversize, which had been building up within the quarry,' said Steve Birch. 'The throughput is very impressive and, due to the 'figure of eight' motion of the jaws, the bucket stays clean even under damp conditions.'
Assistant quarry manager Ben Dixon added: 'We feel the bucket is doing at least as good a job as any mobile crusher. It's also an adaptable bit of kit, having crushed concrete and tarmac to planings since we've had it.'