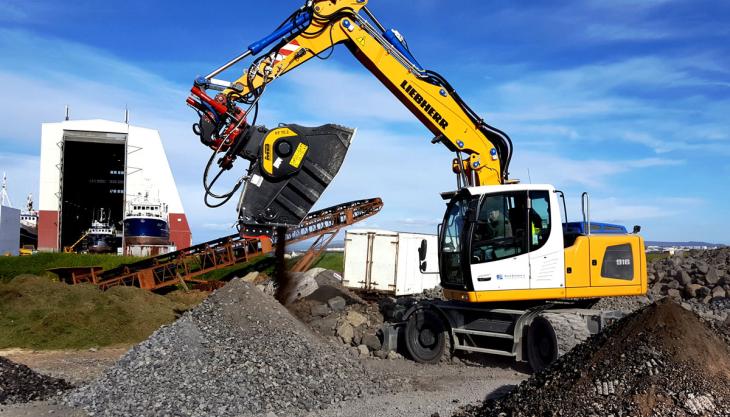 Companies recycling old asphalt are creating new revenue streams and playing their part in Road to Zero
AT a time when decarbonization is high on the agenda, the Government is urging local authorities, highways agencies and the construction sector to take a more eco-friendy approach in all aspects of roadbuilding. Indeed, the highways industry faces many challenges with high hauling and material disposal costs whilst also protecting the environment. 
Anyone with an ongoing road construction project knows the industry's hurdles on any job scale, from the reconstruction of a main road to a small side road. The same restrictions also affect those who process and distribute bituminous conglomerates.
The increased costs of hauling and disposal of removed pavement material, and the subsequent outlay of new aggregate, will no doubt disrupt day-to-day working and have a negative effect on profitability. 
According to MB Crusher, a world-leading crushing and screening attachment manufacturer, recycled asphalt planings (RAP) has increasingly been used as a base material for highway construction across the world. 
RAP is a particularly valuable material to the asphalt production industry. It should not be categorized as a reprocessed waste product, but a perfectly fine substitute for virgin materials, with a host of environmentally friendly and cost benefits (eg reduced carbon emissions).  
As the cost of virgin aggregate and bitumen rises, asphalt/construction material producers are increasingly seeing the value of RAP. With the highways industry striving to become more environmentally friendly, MB Crusher have developed a range of bucket attachments specially designed to crush asphalt down to the required size for immediate reuse on a new roadbuilding project.  
Suitable for 2.8-tonne to 70-tonne base machines, the crusher attachments fit a wide range of applications, including demolition, utilities, construction and recycling, to name a few. Headquartered in Vicenza, in Northern Italy, MB Crusher are a highly respected OEM in the world of materials processing, with a proven range of machinery attachments meeting the ever-changing needs of their customers. 
The MB Crusher buckets have improved profitability and even opened new revenue streams for recycling and waste-management operators – reducing downtime and eliminating haulage and disposal costs.  
Such benefits have no doubt helped MB Crusher customers to maximize productivity, enhance recycling efficiency and reduce their carbon footprint. For example, in Reykjavík – the largest airport in Iceland – a surface contractor specified a MB BF70.2 crusher bucket to allow the use of RAP as a base material for the new landing strips.