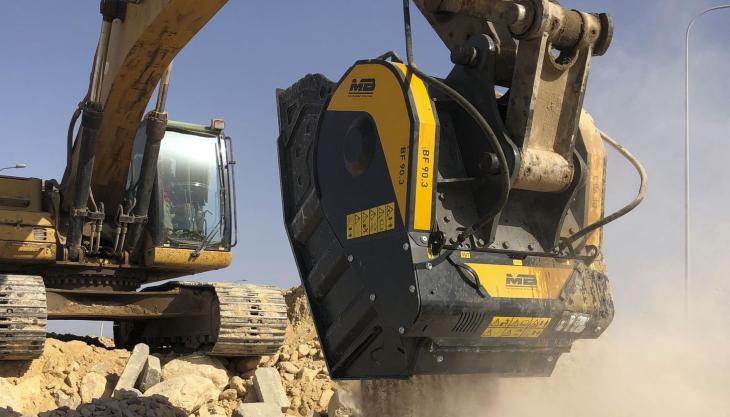 Company says its crusher buckets allow concrete to be accurately sized including rebar removal
ACCORDING to attachments specialists MB Crusher, there has always been, and continues to be, a weak point in the demolition and waste-recycling industry when it comes to processing reinforced materials.
The importance of improving reuse and recycling rates in the UK construction and infrastructure sector has come to the fore since the Government announced its landmark Net Zero Strategy to dramatically reduce greenhouse gas emissions and shift to a virtually zero-carbon economy by 2050.
In many waste-management and recycling applications, companies have reluctantly been forced to come to terms with the limitations of the machines they own and operate across their fleet.
One customer of MB Crusher summarized a common problem faced by many businesses in the wider construction sector: 'Costs and downtime soar when it comes to reinforced materials. It's a well-known fact the problem comes from the iron and when it is processed by machinery – it typically cuts the conveyor belt, causing downtime on the job.'
So, how do you turn this weakness into a strength? Many different types of excavator-mounted attachments can be used for reprocessing concrete on a jobsite, and this will be determined by the specific task at hand and the site conditions.
MB's jaw crusher bucket range has been purposely designed for on-site crushing and recycling of inert materials with the added benefit of separating rebar from construction and demolition (C&D) waste via a 24V iron separator.
The company's crusher bucket attachments are designed to pick up and process material with ease whilst maintaining high levels of efficiency and productivity. MB's portable bucker crushers also have the advantage of being easily transportable, allowing C&D waste materials to be accurately sized and reused as aggregate on jobsites with minimal support equipment.
One of the company's customers from southern France was given the task to demolish an old building from the 1930s to create a new residential complex with 26 apartments. The contractor decided to use an MB BF90.3 crusher bucket attachment fitted on a Liebherr 924 excavator, which successfully crushed all the reinforced materials on site, including separating them from the rebar and reusing the recycled aggregates for the newly built car park's foundations. 
The construction site manager commented: 'The bucket crusher offered excellent economic and environmental benefits speeding up the job and quickly got rid of the iron without an issue.'