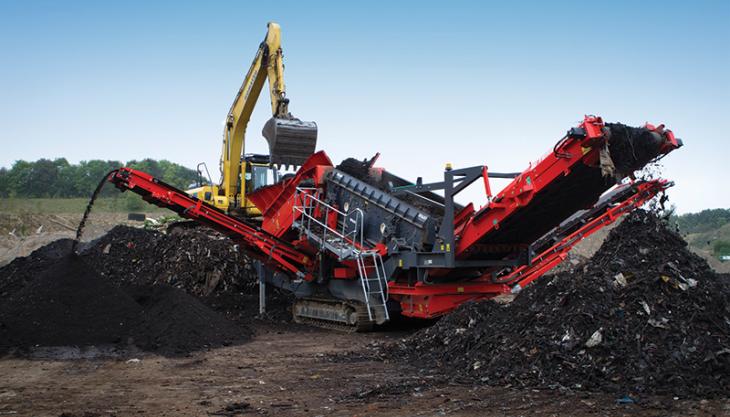 Hall Construction are using a Terex Finlay 883+ Spaleck screening machine for reclaiming green waste on a number of sites across the North East. The waste was initially planned for landfill but the construction contractors came up with a solution to process the material into high-quality usable soil.
The heavy-duty 883+ Spaleck screen was brought in to tackle the recycling challenges of the project – and in the first week alone around 12,000 tonnes of waste material was processed aided by key features of the machine, including a rubber top punch plate for handling stickier materials.  
In addition to providing higher volumes of material, the plant is delivering significant environmental benefits in line with Hall Construction's sustainability credentials by reducing both the amount of waste going to landfill and haulage mileage.
Supplied by Finlay Plant Northern, the mobile screen features a two-deck German designed and constructed high-performance screenbox. It has a processing range from  1mm to 120mm and is said to have almost blockage-free screening in the upper and lower decks, thanks to tried-and-tested 3D and Flip-Flow technologies.
The 3D screening segment ensures correct grain size with no long pieces or extraneous material for the tension shaft screen on the lower deck, while the Flip-Flow screen – featuring screwless-mounted screen mats – eliminates unnecessary cleaning. This combination of two system solutions in one machine offers substantial savings on conveying equipment, steel structures and space.
Terex Finlay say the processing capabilities and application flexibility of their 883+ Spaleck make it the 'all in one' mobile solution for processing waste, including C&D debris, mulch, ores, coal and soil.
Charlie Nairn, director of Finlay Plant Northern, said: 'The 883+ Spaleck is a fantastic machine that is transforming the speed and accuracy materials can be processed at. Although relatively new to the market, it is already becoming established as a major force in the industry.'