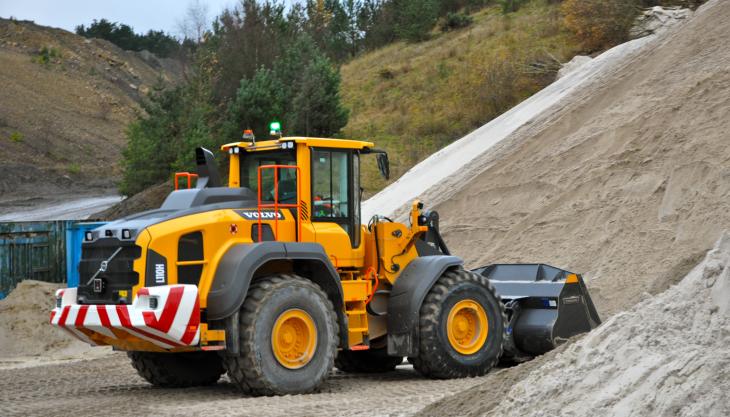 Scottish operator in break from tradition with the purchase of new Volvo L110H loading shovel
IN a break from tradition, Patersons Quarries Ltd have recently opted to deploy a new Volvo L110H loading shovel at Burrowine Moor Quarry, near Alloa, in Fife.
Whilst the new 19-tonne L110H is the first Volvo loading shovel to join Paterson's fleet of mobile equipment, the company has had a long association with Volvo articulated haulers.
'Over the years we've had a good experience operating Volvo articulated haulers in our quarrying and landfill operations, and, latterly, with three A40Gs we purchased at the end of 2015,' said managing director Tom Patterson.
'Their pedigree is sound in terms of reliability and performance, with good residuals, so on this basis we decided to make a break with our traditional brand of loading shovel and opt for a Volvo instead.
'We are looking forward to a similar performance from the L110H in the knowledge that the machine will be well supported, as usual, by SMT GB's customer support centre in Stirling.'
Powered by a Stage-IV final Volvo 8-litre engine that develops 258hp with a maximum torque of 1,250Nm at just 1,450 rev/min, the L110H features optional extras such as boom suspension or ride control, a Groeneveld automatic greasing system, an Ogden Sensor Vision reversing aid, a hydraulic attachment bracket, and a 3.3-cubic metre heavy-duty general-purpose bucket.
With a load-over height of 2.79m under the tipped bucket and offering a full-turn tipping load of 11,420kg, the machine is well suited to its main task of loading extracted sand into a receiving hopper for the washing and screening process at the Burrowine Moor facility.
The L110H will also be used for secondary duties around the plant, including stockpiling, cleaning out under conveyors and accessing more confined areas around the plant, along with occasional truck loading when required.
The machine has been supplied with an extended four-year/8,000-hour driveline warranty and is covered by a Volvo Blue Service agreement, thereby ensuring regular maintenance at the correct service intervals by qualified Volvo-trained SMT GB service engineers using genuine Volvo parts.
Established in 1973 with a quarry located to the south-east of Glasgow, Patersons Quarries Ltd have become one of the largest independent extractive companies in the UK, providing a range of products including sand and aggregates, recycled aggregate, and silica sand for the glass-making industry.
In addition, the company has block and brick manufacturing facilities and ready-mixed concrete plants. Patersons also specialize in the waste-handling industry with landfill and recycling sites, all supported by a large and comprehensive transport fleet.