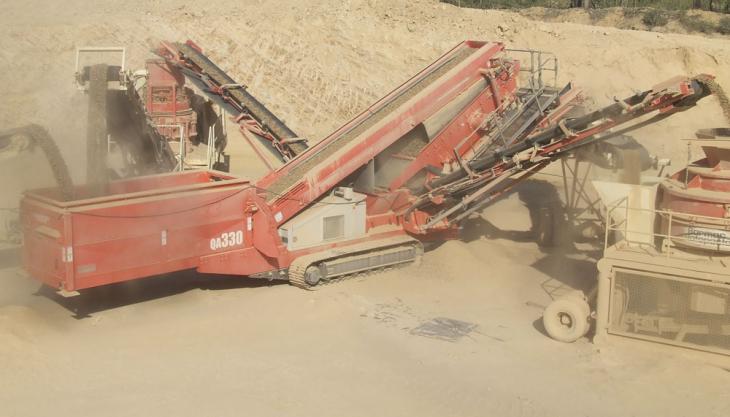 The first Sandvik-branded mobile screen to be commissioned in Australia was successfully handed over to SEE Civil (South East Excavations) who operate two quarries owned by McGeary Bros at Wardell in northern New South Wales.

After extensive consultation with Precisionscreen, the exclusive agent for Sandvik mobile crushers and screens in Australia, Brian Turner and his team at SEE ordered the QA330 tracked screen in its new distinct orange livery. Brian has over 30 years' experience in quarrying, including the design of custom equipment, and has previously purchased a Fintec jaw crusher, screen and scalper screen for work within the SEE Civil operations.  

According to SEE's quarry manager Alan Lippiatt: 'The Sandvik QA330 was ideal as it easily integrated into the existing set up at the Wardell Quarry operation. In particular, its long conveyors provided the necessary height and clearance to feed the existing crushers. The Sandvik QA330 also delivers higher production through its large screening area and high frequency double-deck screen.'

The quarry operation at Wardell is interesting in that although the two quarries are in close proximity, chert is extracted from one and argillite from the other. The majority of these products are being used on the nearby RTA Alstonville bypass project and the two quarries provide the diversity of materials required to meet the specifications of the project.

The Sandvik QA330 was operational on the same day as it was delivered on-site and is now integral to the production of high-quality SEE Civil quarry products.

The products specified and delivered for the Alstonville bypass are an example of SEE Civil's commitment to quality. Materials from the chert (quartzite) quarry are being produced to meet the base and sub-base specifications while argillite from the other quarry produces the select fill, bridging layer and drainage blanket material.