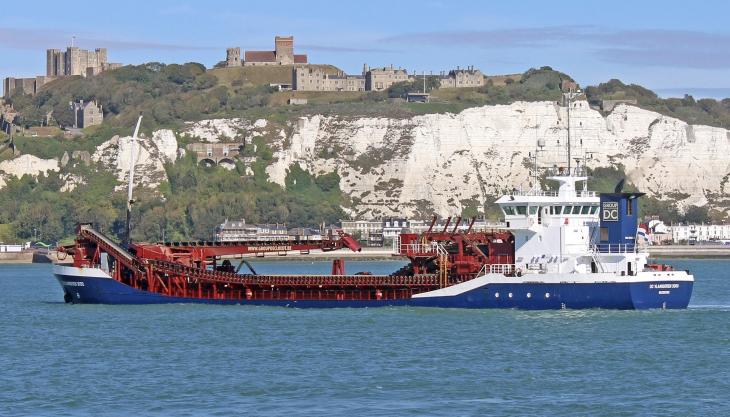 Dover's cargo business solidifies position as major construction hub for the South East
THE Port of Dover's Eastern Docks has handled significant unitized freight for the construction industry over many years, but the Port is now handling a range of bulk and general cargo vessel via its cargo business, solidifying the Port as a major hub for the South East construction sector. Dover's cargo terminal facilitates a booming trade in building materials, which has now been strengthened by an agreement between the Port and DC Aggregates.
Through the provision of deep-water berths and a state-of-the-art terminal, the Port of Dover's cargo business can handle construction-related cargo shipments on a huge scale. Processing materials destined for large UK infrastructure projects, the Port is now positioned as a key construction hub for the South East, London, and the near continent.
The cargo terminal, which opened in 2019, handles a wide variety of goods for the construction industry, including steel, timber, project cargoes, and aggregates. The terminal also has the ability to handle deep-sea and coaster-size vessels (general cargo, bulk carrier, and unitized vessels), in addition to the existing roll-on roll-off operation that carries unitized volumes through Dover's Eastern Docks.
Alison Hall, head of business development at the Port of Dover, said: 'We have seen a great level of growth in the construction trade coming through the Port of Dover's cargo terminal. These construction materials will be used to support regional infrastructure developments, including road enhancements and industrial and housing projects in Kent and across the South East.
'As well as this, these materials will also support the community much closer to home with our upcoming construction and regeneration projects, including Dover's Marina Curve and our wider port developments in the Westerns and Eastern Docks.'
Testament to industry confidence in Dover's ability to deliver at both scale and pace is the new agreement between the Port of Dover and DC Aggregates, one of the largest producers and suppliers of quarried hard stone and sea-dredged aggregates in northern Europe. Having already been regular customers of the cargo terminal, DC Aggregates have solidified their commitment to Dover through a three-year agreement, which includes regular calls and supportive on-site storage.
The agreement cements Dover's relationship with the company, supporting their continued growth by handling a range of materials – including sea-dredged sand and gravel and quarried Norwegian granite – while growing the Port's own market share within the construction sector.
With the capability to facilitate self-discharging vessels and process a range of aggregates, the Port currently handles over 100,000 tonnes per annum of aggregate imported by DC Aggregates.
The new agreement includes multiple regular ship calls, including monthly visits by DC Vlaanderen discharging upwards of 4,000 tonnes of cargo, DC Orisant with upwards of 10,000 tonnes of cargo, as well as a range of ships discharging 5,000–10,000 tonnes visiting at least once a month.
Richard Dunn, commercial manager at DC Aggregates, said: 'We are delighted to have strengthened our relationship with the Port of Dover through our recent aggregate handling agreement. We will be using the cargo terminal to meet the high demand for aggregate required in the UK and to facilitate key construction projects, particularly in the South East, and we look forward to working closely with the Port of Dover to fulfil this demand.'
Alison Hall added: 'With our Western Docks development moving into its third stage over the next couple of years, we hope to expand on the partnership with DC Aggregate and to see our service offer diversify to support market sector demand.'