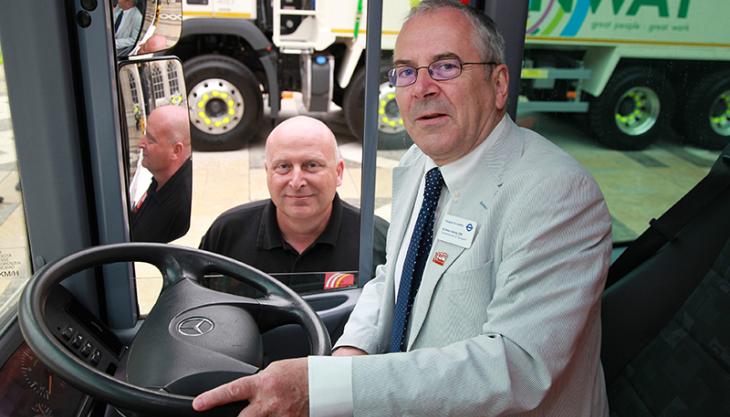 London's Transport Commissioner congratulates industry leaders for progress made to date
SIR Peter Hendy CBE, London's Transport Commissioner, has congratulated construction industry leaders for redrawing safety boundaries to reduce the number of collisions between trucks and vulnerable road users.
Speaking at today's Construction Logistics and Cyclist Safety (CLOCS) programme update at London's Guildhall, Sir Peter (pictured in the cab) thanked industry representatives for the progress made to date and committed to continue working with them to improve safety for all road users.
Industry leaders, including Lafarge Tarmac and FM Conway, spoke about the safety improvements they are making to their operations and how the construction industry is leading the drive to improve the safety of cyclists and pedestrians.
Academics and vehicle manufacturers outlined their research and progress in designing safer trucks for the construction industry and all CLOCS members have agreed that the same rigorous approach to safety observed on construction sites will now be applied to road safety in their industry.
A range of trucks used in construction were on hand so delegates could experience how the blind-spot reduction in emerging truck designs compares to a typical construction truck.
In addition, the 'CLOCS Manager' trial was launched. This web-based tool will allow the construction industry to log, collate and share road safety data in order to improve road safety. By collating this data, CLOCS Manager will make it easier to study and learn safety lessons, helping to further improve the safety of all road users.
Leon Daniels, managing director of surface transport at Transport for London (TfL), said: 'The response of this industry to our initial cycle safety report last year continues to amaze us. They have moved road safety to the top of their agenda and today's event shows they want to keep it there. Their ongoing revolution in construction logistics and road safety will dramatically increase the safety of all road users and especially the most vulnerable.'
Sean McGrae, senior national transport manager at Lafarge Tarmac, told the meeting: 'Lafarge Tarmac have redrawn the boundaries in terms of fleet safety and health, by applying the same rigorous safety rules and reporting to the activities of our fleet both out on the road and when on our own sites.
'We believe that by understanding and owning incidents which take place beyond our site boundaries, we can investigate and learn from them; an important step in helping to continually improve road safety for all road users.'
Mark Starosolsky, logistics leader at Laing O'Rourke, outlined the challenges facing construction fleet operators. 'Most construction vehicles designs focus on their off-road capabilities, which places the driver higher in the cab and reduces the drivers' field of direct vision. Fleet operators are having to retro-fit safety equipment, and through the CLOCS programme, are now working with vehicle manufacturers on new truck designs,' he explained.
The CLOCS programme is the industry's response to a report commissioned by TfL in February 2013. It brings together developers, construction companies, operators, vehicle manufacturers and regulatory bodies to ensure a road safety culture is embedded across the construction industry.