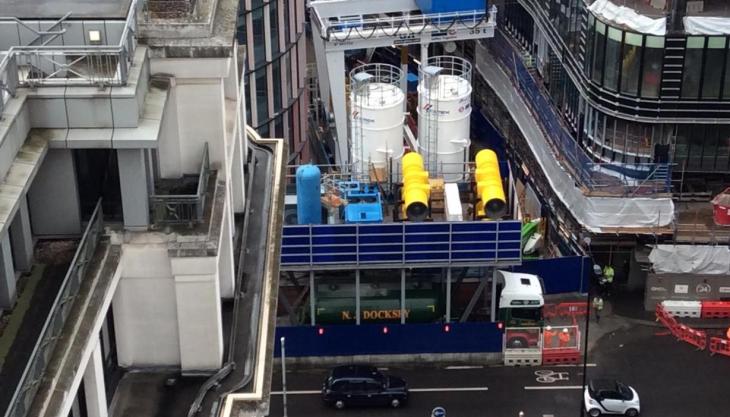 Company supplying complex mix to complicated underground station project in central London
CEMEX are supplying more than 50,000 tonnes of sprayed concrete to Dragados on the capacity upgrade at Bank Underground Station in London.
Bank is one of the largest underground railway complexes on London's underground network and is used by 300,000 passengers on a normal day. The two key objectives of the Bank Station Capacity Upgrade project are to increase capacity at the station and minimize journey times. More than 1,200m of new tunnels have already been built, including three new escalator barrels.
CEMEX were contracted to provide high-quality primary lining spray concrete for use in the construction of shafts, tunnels, and cross-passages, with four 100-tonne silos on site for storage. The job has presented challenges because of its location in a very busy area of London, while the station itself is remaining operational throughout construction.
Deliveries must be booked in advance and precisely timed, following pre-agreed routes through the City of London. However, many pedestrians, cyclists and other vulnerable road users use the area around the clock, presenting a considerable risk that must be carefully managed. CEMEX worked closely with Dragados to design a site layout which allows regular deliveries of dry-silo materials while minimizing disruption to traffic or pedestrians.
The project requires strategic management and co-ordination by CEMEX's plant, silo, supply chain and booking teams to ensure product is produced and delivered safely and to schedule.
Additionally, the mix supplied is extremely complicated, consisting of eight separate constituents which, when combined, give an ultra-high strength of +60N/mm2, a 600mm flow consistence, and a workability retention of two hours. This mix has been used on several high-profile London projects over the last seven years, including the Northern Line Extension and Thames Tideway.
Michael May, sales manager for CEMEX Mortars Europe, commented: 'Supplying the Bank station development has presented considerable challenges, particularly around access, but we are very proud of the dedication of our team in ensuring the specific mix of concrete was produced and safely delivered to meet the customer's requirements.
'It's a privilege to be part of such a major construction project in our capital city and the spray concrete we have created has become renowned across the industry for its high quality and exceptional finish.'
CEMEX manufacture the product at a dedicated spray concrete plant from where it is transported into central London. Supply is expected to continue until November 2022.