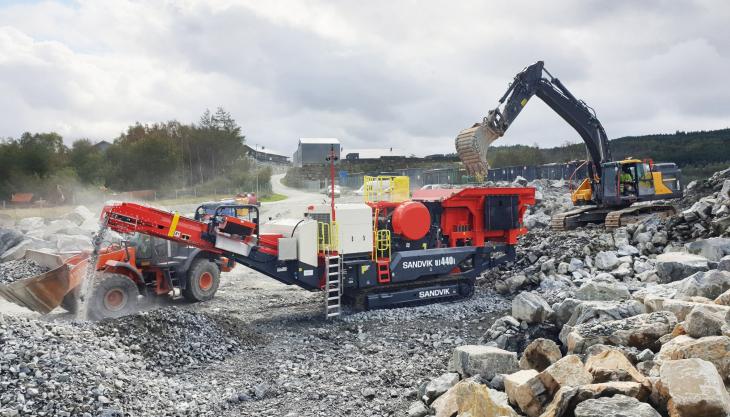 Innovative solutions for rock drilling, crushing and screening, and breaking and demolition
SANDVIK Mining and Rock Technology will be showcasing several innovative solutions in application areas including rock drilling, crushing and screening, and breaking and demolition at Conexpo-Con/Agg 2020.
Among them will be the Leopard DI650i down-the-hole (DTH) drill rig, which is designed for demanding high-capacity production drilling applications in surface mining and large-scale quarry applications. In addition to a powerful engine and compressor, the rig incorporates a highly ergonomic iCAB cabin and offers a high level of serviceability, mobility and fuel economy, along with scalable automation packages for superior overall productivity.
Also, being presented at the show for the first time will be SanRemo Mobile – a mobile device-based connectivity solution for Sandvik surface drill rigs that quickly and easily transfers drill plans, reports and other drilling data to boost operational efficiency.
On display from Sandvik's mobile crushing and screening offering will be the UJ440i, an intelligent, fuel-efficient and user-friendly mobile jaw crusher. Featuring a fully tracked chassis and operated via radio remote control, the UJ440i (pictured) is fitted with Sandvik's 1,200mm x 830mm CJ412 jaw crusher, which offers effective size reduction, consistent production and more efficient operation.
Also on display will be the company's modular 3.5m x 1.4m double-deck hanging screen, which connects to Sandvik QH332, QS332 and QI442 tracked crushers for operation in open or closed-circuit configurations. The complete module can be installed or removed from the plant in less than 30min, without any need for on-site lifting equipment.
The new CH840i cone crusher, which features mechanical upgrades, connectivity, advanced automation and rebuild possibilities, will also be on show. It comes with Sandvik's Automation and Connectivity System (ACS) as standard, to continuously monitor and optimize crusher performance and control the lubrication system, for increased uptime and reliability.
In addition, Sandvik's new SJ circular-motion screen range, which has been specially designed for extra heavy-duty, medium and fine screening applications, will be among the line-up. This inclined screen range is well suited screening after primary and secondary crushing, as a splitter screen to divide flows within a plant, as well as for final screening of a finished fraction.
For demolition and recycling, the latest hammer offerings from the Rammer Excellence and Rammer Performance lines will be on display, as well as Rammer's purpose-developed RD3 remote-monitoring device, which uses the MyFleet Telematics service to track and monitor fleet equipment usage without needing to go to site to collect the data.