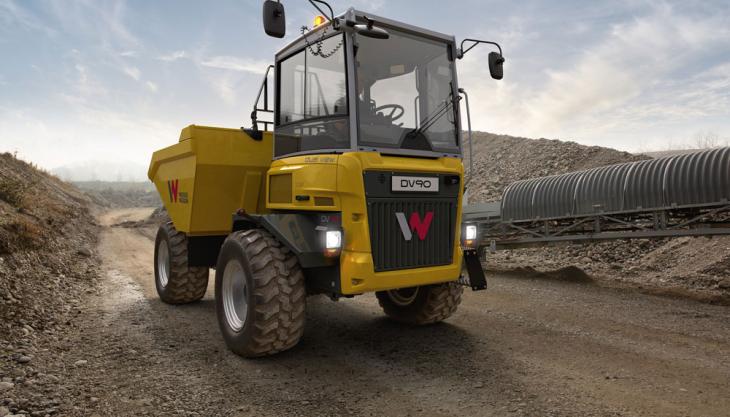 Wacker Neuson show new zero-emission all-electric machines and unique dual-view trucks
At Hillhead 2018 Wacker Neuson exhibited their brand new and unique dual-view trucks along with new products from the zero-emission range, which included the all-electric EZ17e Zero Tail mini-excavator and the electric DW15e wheel dumper.
'We are very satisfied with the outcome of Hillhead exhibition, meeting professionals and having valuable conversations with experts within our industry. For us, Hillhead is the best opportunity to show visitors and customers our new products and let them experience the uniqueness and high quality of our machines,' said Richard Harrison, managing director of Wacker Neuson UK. 
One of the Wacker Neuson highlights is said to set new standards in terms of operator and construction site safety, flexibility and cost-effectiveness. The new dual-view trucks, from six to 10 tonnes payload, allow the operator to conveniently and quickly change the seat position through a 180° rotation of the entire seat operating console.
This ensures the operator always has a perfect view in the direction of travel – during transport, loading and unloading. The rotation is easily accomplished from the operator's seat using a single handle to unlock the seat console and then rotate the complete console.
Time-consuming turning and manoeuvring are, therefore, no longer necessary on small confined construction sites, such as in urban areas, in tunnels, on motorway improvements or on busy roads. 
In order to keep the environment around the skip in view, a rear-view camera is installed as standard in a well-protected frame. An optional front-view camera completes the perfect view. Both cameras as well as the display meet the highest protection class rating IP69 (dustproof and protection against water ingression during steam jet cleaning), making them ideal for the harsh conditions on the construction site.
Compared with conventional dumpers, the dual-view technology exceeds ISO 5006:2017 by 90%, giving the operator an unrivalled view of the site which, in turn, makes site operations safer.
Meanwhile, due to stronger regulations and a development towards environmentally friendly alternatives, Wacker Neuson are pushing the development of zero-emission machines for their customers, to allow them to meet emission and noise regulations and laws – especially in inner cities – both now and in the future.
With the EZ17e Zero Tail mini-excavator, Wacker Neuson are strengthening their position as an innovation leader in the zero-emissions segment. According to the company, no other manufacturer offers such a broad portfolio of electrically powered light and compact equipment.
The fully electric EZ17e, powered by lithium-ion batteries, performs and handles like a diesel-powered model, has zero overhang, and is particularly suitable for environments where emissions and noise have to be kept to a minimum, for example in urban areas or indoors. 
Similarly, the new electric DW15e wheel dumper is a good choice wherever work has to be carried out emission-free and as quietly as possible. This newest member of the zero-emission family comes with all-wheel drive and 1.5-tonne payload. It is equipped with its own electric motor for the travel drive and for the working hydraulics in order to reduce power consumption.
When the machine brakes or goes downhill, energy is fed back into the battery to help recharge it. The maintenance-free battery is also supplied with an integrated charger that can be plugged into a conventional socket. Like all other zero-emission machines, the DW15e has the same dimensions and performance parameters as its conventional relative, the 1501.