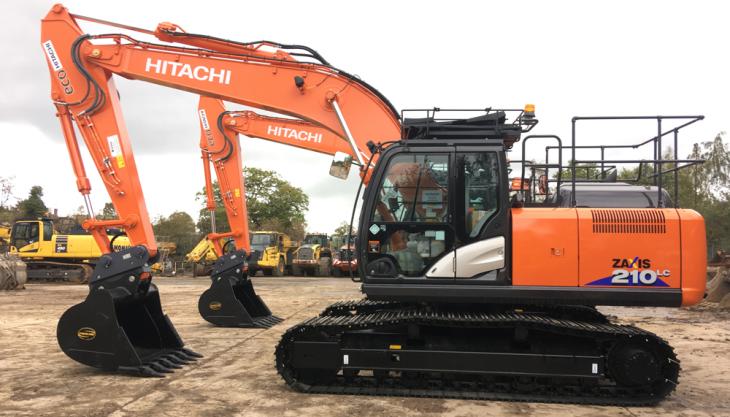 Nationwide plant hire business investing £17.5 million in nearly 200 new machines
FOLLOWING a three-year consolidation period, nationwide plant hire company Ridgway Rentals Ltd are investing £17.5 million in new machines to cope with current and future demand.
The family owned and run company's shopping list of nearly 200 machines has been split between four manufacturers: Hydrema, JCB, Hitachi and Komatsu, with the lion's share (£12 million) going to the latter.
The deal comprises several excavators ranging from 13 to 50 tonnes, including both long-reach and high-reach demolition models, a number of 12-tonne articulated rear-tip site dumpers, new 7-tonne high-visibility dumpers, mini-excavators from 1.5 to 8 tonnes, plus intelligent excavators and dozers with GPS control. 
Ridgway say world demand for construction equipment and the weak pound has meant that a large quantity of the UK's used equipment has been exported abroad, creating a shortage of equipment to rent – just as the construction industry begins to gain momentum.
The latest orders were placed following a number of months of negotiation and have been arriving at Ridgway's main depot, near Oswestry, in Shropshire, in a steady stream, usually to head straight out on hire.
Group chairman Tim Jones is confident this recent expansion of the fleet will allow the company to give its customers the equipment they need: 'Our service is giving our customers what they want when they need it,' he said.
Managing director Stuart Jones added: 'All our new equipment is of the latest technology and includes the latest emission controls. Machines also comply with the latest health and safety legislation, including all-round vision for the operator via intelligent camera systems.
'A number of the new dozers and excavators will also be equipped with laser-controlled GPS technology. Our job is to ensure that our customers have access to the latest technology so that they can be more productive and operate safely, with a little impact on the environment as possible – you can only do this by having the latest equipment.'