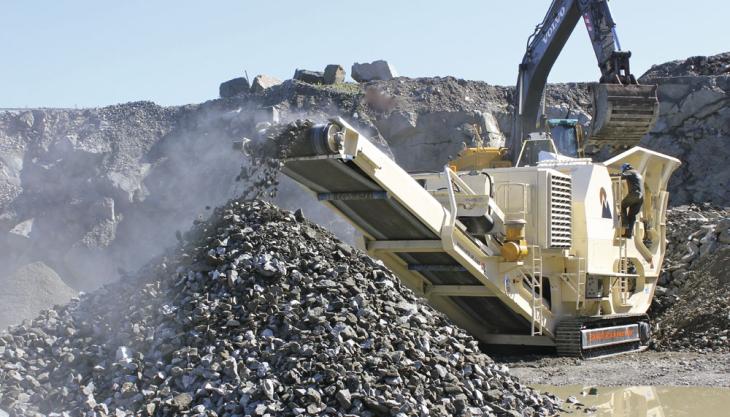 The first production t88i BX400 Rockmonster tracked jaw crusher has been delivered and commissioned by CMB International Ltd to a quarry located in Norway. Sold by their agents, Bjordal Maskin AS, the crusher is being used for the primary reduction of a hard granite.
At the heart of the plant is the rugged 1100 x 800mm Rockmonster jaw crusher, which features hydraulic setting adjustment and a patent pending hydraulic unblocking system. According to CMB International, this user friendly crusher has proven very reliable in the field and is capable of crushing the hardest granite, gritstones and ores found in Africa and Europe.
Benefits of the t88i BX400's robust and innovative hydrostatic main system include: 
crusher soft start with no stress on the engine or transmission
load control feature prevents engine overload and maintains crushing performance
quick and quiet run down of the jaws on shutdown
emergency stop brings machine to a dead stop in seconds
patent pending jaw blockage clearance feature allows crusher to be started with jaw full of rock without damage
jaw can be run in reverse for materials such as asphalt, which are sensitive to packing
easy access for servicing
proportional steering – track speeds are independently controlled from radio remote allowing machine to turn without slewing.
The modular construction of the t88i BX400 means the machine can be configured to the customer's specification to ensure optimum production. Various options include:
1,200mm wide endless-belt product conveyor with 4m discharge height and rip-stop options
standard CAT C13 engine with powerpack options 
stepped grizzly feeder, two-deck feeder, live pre-screen and Wobbler feeder options mounted on removable feeder sub-frame
standard dirt conveyor can be specified with left- or right-hand discharge plus optional extended length
optional overband magnet can be specified with left- or right-hand discharge
PLC control of the plant and engine, with radio remote operator control as standard
optional remote data link allows fault-finding and program setting adjustments to be made without site visits
load-sensing feeder control with optional level sensor.