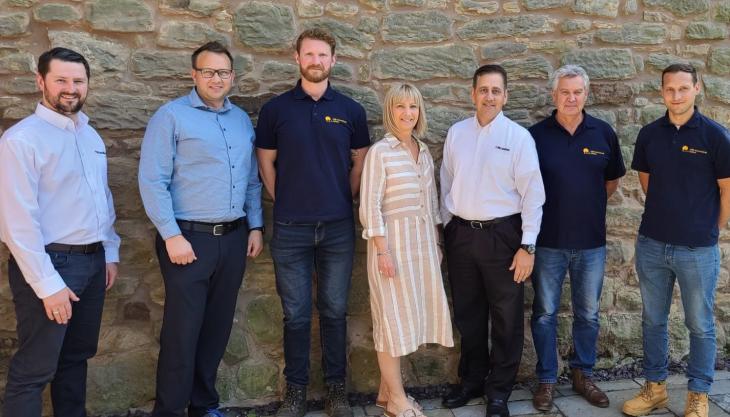 Acquisition brings expanded product lines and improved customer service and support in the UK
McLANAHAN Corporation have recently completed the acquisition of UK-based CMB International Ltd, manufacturers of crushers, horizontal screens, inclined screens, feeders, and conveyors.
CMB International were founded in 1996 by Martin Brough and Julie Smith, who brought on Chris Hall as a partner a few years later. For more than 25 years, the company has provided effective on-site maintenance and support to help quarry customers get the best possible production from their plant. Its product line is designed to be easily retrofitted into existing plants, and the company has a team of field service engineers on hand to offer on-site support.
CMB International also own and operate RubbleCrusher, who produce compact crushers that can be mounted on wheels, tracks, or skids. Founded with a focus on supporting the 'zero-waste' approach to the construction and demolition recycling industry, RubbleCrusher equipment is well suited to small-to-medium-sized crushing and recycling projects that help contribute to a circular economy.
'We were looking to expand our crushing and screening lines, as well as our ability to provide excellent customer service and support in the UK,' said Cory Jenson, executive vice-president of sales and business development at McLanahan. 'We had worked on a few projects with the CMB team and found ourselves to have similar values and goals. Having them become part of the McLanahan family of companies made sense for both our businesses.'
CMB International's product line will become part of the McLanahan brand to support the company's existing line of crushers and horizontal and inclined screens. The line will be available directly from McLanahan's offices around the world. Moreover, their line of cone crushers will be used as part of Anaconda Equipment's line of mobile crushers as they continue to grow their product offering.
'It is fantastic to be welcoming CMB to the McLanahan family,' said David Hunter, business line director for McLanahan Aggregate Systems. 'This further broadens our product portfolio, cementing our ability to offer some of the most comprehensive solutions in our industry for both wet and dry processing, from feeders right through to tailings management. The addition of the CMB field service team also advances our ability to support our growing customer base.'
RubbleCrusher will continue to operate as an independent brand in the global marketplace as part of the McLanahan family of companies, which includes the Eagle Iron Works and Anaconda brands. The company will be looking to grow their dealer base over the next several months and expand into new markets where they can support zero-waste initiatives.
Current RubbleCrusher leaders Liam Holland and Matthew Brough will continue to lead the brand as business line director and technical director respectively.