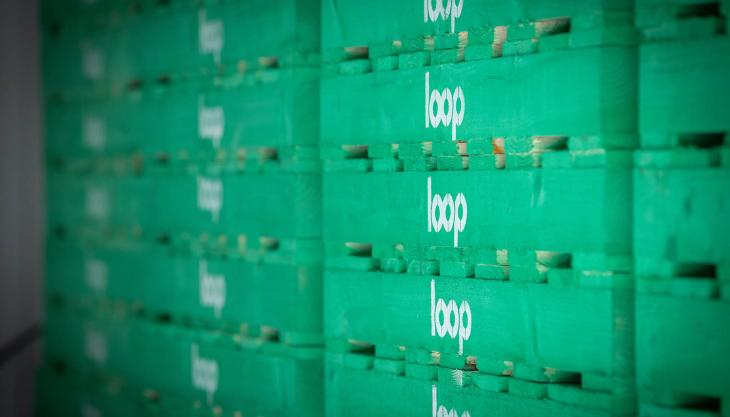 Company says pallet reuse scheme presents a solution that is better for business and the planet
CEMEX have become the latest of the major UK building materials suppliers to sign The Pallet LOOP Charter, which aims to reduce waste in the construction industry through a national pallet reuse scheme that supports the principles of the circular economy.
The Pallet LOOP challenges unsustainable supply chain practices by allowing manufacturers to pay a deposit to use The Pallet LOOP's highly durable distinctive green-branded pallets, which are 100% FSC certified.
As LOOP pallets move through the supply chain, the deposit passes from manufacturer to merchant to end user. Once used, stacked, and stored, the scheme operator collects the pallets and returns deposits, before repairing pallets as necessary and recirculating them.
Graeme Barton, CEMEX's national sales manager for packed cement, said: 'Annually, around 18 million pallets are estimated to be used in the UK construction sector, but only 10% are reused. The Pallet LOOP presents us with a solution that is better for business and better for the planet. We will have a far greater impact if we are all pulling in the same direction. We need the whole supply chain onside, because clearly the smallest change in process can have the biggest impact over time.
'Additionally, The Pallet LOOP philosophy underpins CEMEX's Future in Action strategy, which focuses us on our critical 2050 decarbonization targets by making changes that can be implemented right here and now, today. We are committed to working towards a circular economy and proud to be part of the collective that has signed The Pallet LOOP charter.'
Paul Lewis, founder of The Pallet LOOP, said: 'As the only circular economy pallet supplier to the UK construction sector, our aim is to create a legacy of lasting change that accelerates the elimination of avoidable waste, repurposes pallets, and continuously improves safety.
'To galvanize support for The Pallet LOOP, we created a charter for construction industry players to sign to make clear their commitment to considering a more sustainable solution for the movement of building materials. By signing The Pallet LOOP Charter, our signatories have acknowledged, individually and collectively, that now is the time for change. Discussions are now moving forward apace across the industry and The Pallet LOOP is targeting early 2023 for the roll-out of our green pallets throughout the building materials supply chain.'