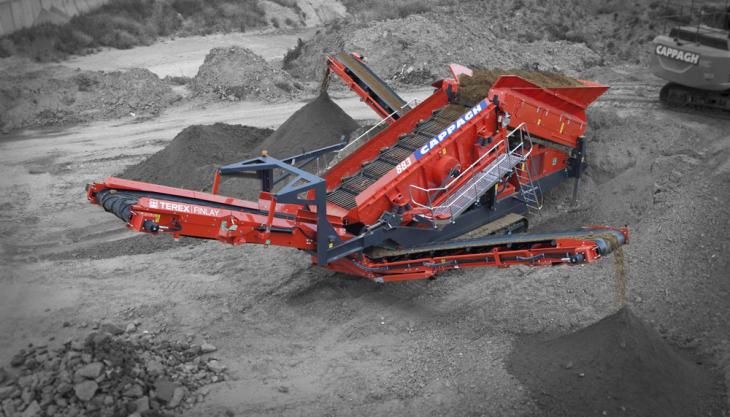 London-based recycling specialist strengthens machinery fleet with the addition of new 883 screen
CAPPAGH Group have continued their long-standing relationship with Finlay Plant South East with the delivery of new Terex Finlay 883 mobile screen. The aggregates recycling firm has a number of operational/recycling centres across the south-east and the latest acquisition will be used to boost productivity at its Stanwell site.
The 883 mobile screen will be involved in Cappagh's work at Heathrow Airport where reject sand is being produced for use in pipe bedding and filling. It joins the recycling firm's existing fleet of Terex Finlay machines (all supplied by Finlay Plant South East) utilized for washing and recycling processes.
Headquartered in Wimbledon, Cappagh have a reputation for a forward-thinking approach, focusing on innovation and continued investment that have provided a platform for significant growth in the diversity of their operations and portfolio of clients across the south-east.
Of particular note is the company's investment in the delivery of its own aggregate recycling centres, strategically sited across the south-east, to service the growing sphere of operations.
Designed to recycle construction waste and maximize the production of recycled aggregates for reuse in the company's own building projects, these centres are committed to providing an environmentally friendly, cost-effective and unique integrated service.
In tandem with Cappagh's growth, the business has also relied on Finlay Plant South East for the purchase of both Terex Finlay and Tesab equipment.  
Michael Ferncombe, managing director of Cappagh Group, said: 'Flexibility enables us to meet the challenges of the evolving utilities and construction market and the introduction of high performance plant and machinery over the years has been key to us meeting those demands.
'We have worked with Finlay Plant South East for more than 15 years to introduce new plant that makes a real difference to our operations. We also benefit from excellent support in terms of service and spares, to ensure day-to-day operations run smoothly and efficiently.' 
Leon Sheehy, managing director of Finlay Plant South East, added: 'Cappagh's success shows the value of ongoing investment and innovation. As part of that process, we've worked together to ensure all machinery has been introduced with the ability to work in an integrated way and in a variety of configurations, ensuring the plant is flexible and highly productive.'