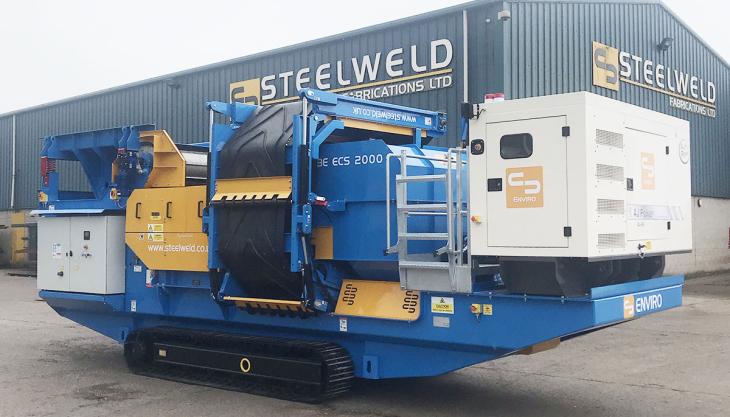 Company sells six eddy current separators with rare earth drum magnets in Q1 2021
STEELWELD Enviro Products Ltd and CRJ Services, suppliers of recycling plant, have ordered half-a-dozen eddy current separators (ECS) and rare earth drum magnets from industrial magnetic equipment specialists Bunting.
CRJ currently operate eight STROBE mobile metal separators across their plant hire fleet and are official distributors of Steelweld Enviro's equipment in both the UK and Ireland. 
Manufactured and designed by Steelweld Enviro, with the help of CRJ and Bunting, the STROBE mobile metal separation system features the latter company's eddy current separator (to separate non-ferrous metals from non-metallic material) and rare earth drum magnet (to recover magnetic material). 
The STROBE ECS is equipped with crawler tracks, an on-board diesel generator and a hydraulic power pack, allowing for easy site manoeuvrability and transportation on a low-loader trailer without permits. 
The low feed height of the mobile separator enables a direct feed from a trommel and, with quick set-up times and an easy-to-use push button control panel, the innovative design ensures a trouble-free, low-maintenance service life.
According to Bunting, the equipment manufacturer has seen a surge in demand for mobile recycling plant following a challenging 2020.  Four of the metal separators specified by Steelweld Enviro and CRJ have feed widths of 1.5m, while the other two units are a third wider at 2m.
'Although business in the recycling sector was steady throughout the 2020 pandemic, there has been a real surge in orders and enquiries since the start of 2021,' commented Adrian Coleman, general manager of Bunting-Redditch. 
'We have a long-standing working relationship with Steelweld and CRJ and their STROBE 1500 ECS mobile metal separator has proved particularly popular with recycling companies.'