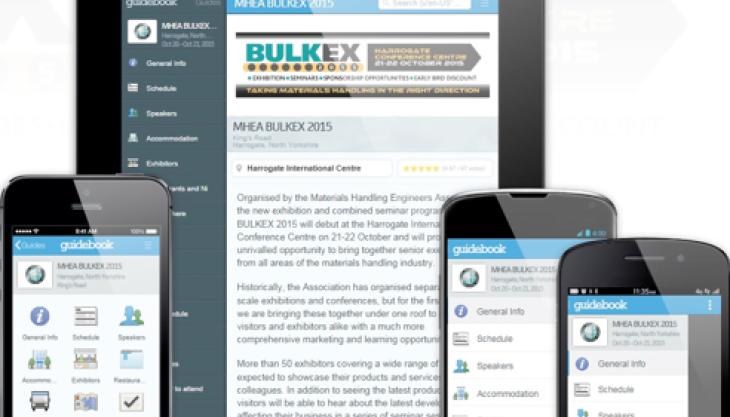 Material Handling Engineers Association launches companion app for new exhibition
THE new BULKEX 2015 guidebook app for visitors, speakers and exhibitors attending the first ever exhibition of its kind for the bulk materials and materials-handling industry has gone live and can now be downloaded on a smartphone by searching BULKEX 2015 in the app store.
The guidebook app can be used either in advance of or at the event itself to navigate exhibition stands and make sure attendees do not miss any activities or seminar sessions. There is also a range of information on the app to help visitors to book accommodation and find their way to the venue.
The app has been created to be a 'companion' for visitors to the conference, to plan their time at BULKEX in advance and to get the most out of the seminar sessions. It includes a full programme, a twitter feed tracking the hashtag #BULKEX15, and a networking forum for guests to communicate with each other.
BULKEX 2015, which is being organized by the Materials Handling Engineers Association (MHEA), will take place at the Harrogate International Conference Centre from 21–22 October.
Bringing together more than 50 exhibitors who will be showcasing products and services to visitors from across the bulk materials and materials-handling industry, it will also include a series of seminars and presentations.
MHEA president Mike Redmond said: 'There is a real buzz about BULKEX 2015 as it will bring together, under one roof, representatives from across the materials-handling industry. It will be a fantastic opportunity to see more than 50 companies exhibiting their latest products and developments.
'We have lined up a series of presentations from high-profile speakers from across the industry. They will share their thoughts on subjects ranging from ports and mine development to ATEX and power supply.
'The new guidebook app is designed to be the perfect conference companion. After the one simple step required to download the app from the app store, visitors will have all the information they need at their fingertips –before, during and after the event.
Tickets for BULKEX 2015 are free and can be booked through the new app or online at: www.mhea.co.uk