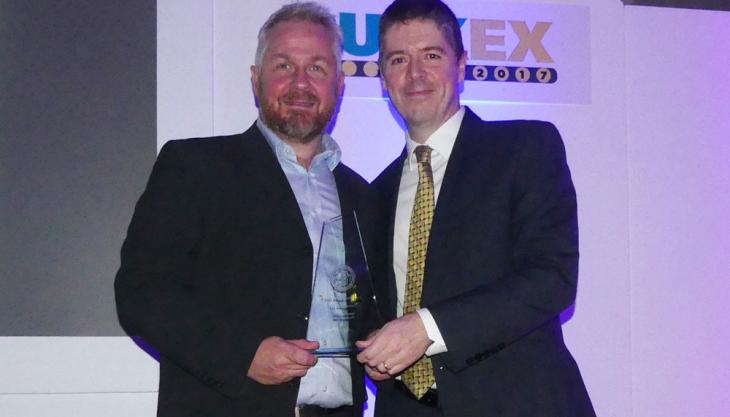 Recognition from Materials Handling Engineers' Association for newly launched metal detector
NORTHERN Ireland-based ConveyorTek Ltd have received the 2017 Materials Handling Engineers' Association (MHEA) 'Innovation Excellence Award' for their newly launched conveyor metal detector.
The company, which designs and manufactures bespoke conveyor solutions and metal separation technologies, was among five winners at the awards function at Eastwood Hall Hotel, in Nottingham. The awards ceremony took place as part of the annual BULKEX 2017 technical conference and exhibition held on 18–19 October.
ConveyorTek won the Innovation Award for their high-performance, self-calibrating conveyor metal detector that has the ability to ignore steel cable belts and rip-detection systems, while still detecting rogue metal fragments.
According to ConveyorTek, it has been many years since a new conveyor metal detector has appeared on the UK market that has been truly innovative in its electrical technology, programming and housing materials. 
Developed over the last two years and recently launched into the market, the metal detector utilizes 'pulse induction' technology, which is generated by creating a pulsing magnetic field with a series of sealed sense coils and excitation coils.
The housing has been designed with innovative assembly procedure that allows customers to install the detector in less than 40 minutes. The device incorporates adjustable sensitivity, engineering and performance diagnostics, a series of extra alarm options and notifications, and is said to be possibly the most robust metal detector in the UK bulk handling market.
ConveyorTek have just secured their first large order with one of the industry's leading quarrying operators for a 2,000mm wide system that is due to be installed this month.
Receiving the Innovation Award at BULKEX 2017, Philip Trimble, managing director of ConveyorTek, commented: 'We are delighted to receive such a prestigious industry award from the MHEA. Investment in R&D is at the forefront of our company and I am pleased to accept the award on behalf of our team.
'We believe that the competitive price, fast assembly procedure, extremely robust frame and high detection capabilities will, in time, make this metal detector the new industry benchmark.' 
Michael Kaye, outgoing President of the MHEA, said: 'Once again, the MHEA Excellence Awards dinner was a huge success and provided us with a platform to highlight some of the fantastic achievements in bulk materials handling.
'The judges were very impressed with the standard of the entries – our congratulations go to all the winners.'