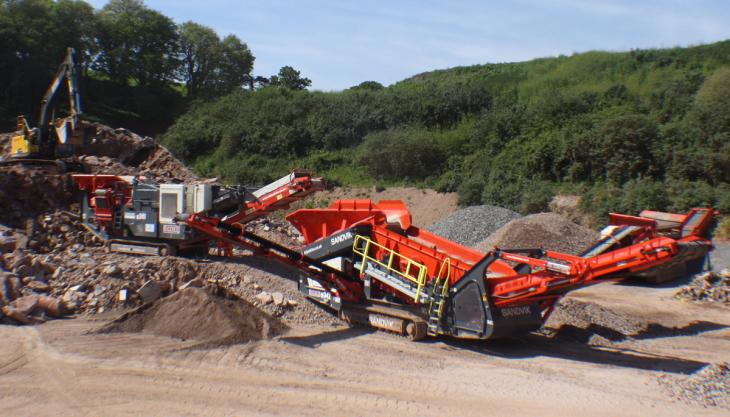 Devon-based company purchases mobile heavy-duty plant to help meet growing demand for recycled aggregates 
RECYCLING, earthmoving and plant hire contractors BT Jenkins have added a new Sandvik QE342 mobile scalper to their extensive fleet of equipment. The Exeter-based company has grown rapidly since it was established in 1960 and today is considered to be a major service provider throughout Devon, Cornwall, Somerset and Dorset.
BT Jenkins pride themselves on using the highest-quality equipment for their operations and have developed a reputation as a business capable of responding quickly to a broad range of customer requirements within the construction products, waste-management and recycling sectors. 
'We offer a wide range of earthmoving and plant hire-related services to suit our client's requirements, from initial enquiry through to project completion,' said Russell Lowton, operations manager for BT Jenkins.  
'We believe our hands-on personal and professional service is a major reason why a large proportion of our business is repeat enquiries from regular clients. Our directly employed managers and staff offer the necessary qualified skills, experience and knowledge to deliver projects safely, within programme and on budget.'
Mr Lowton added one area in which BT Jenkins continue to thrive and have developed an excellent reputation in is the supply of recycled aggregates. The company provides a wide range of end-products; operates a number of its own waste-recycling facilities; and reprocesses waste materials on the site of its clients.  
Recycled products include: 6F5 (0–75mm recycled aggregate used for capping and bulk fill; and Type 1 803 (0–63mm unbound subbase for roads and paths). 
To further increase their processing capacity and, specifically, enhance the cleanliness and quality of the end-products created during the recycling process, BT Jenkins have recently invested in a new Sandvik QE342 scalper, which is currently working in tandem with an existing Sandvik QJ241 jaw crusher. 
The incoming feed materials are brought in from BT Jenkins' own earthworks and demolition contracts, as well as other construction projects across the region. 
While the Sandvik QE342 is a relatively recent arrival for the company, Mr Lowton has nothing but praise for the new Sandvik machine. 
'We've been impressed by its ability to process damp and mixed material due to its long decks and the throw from the screening decks,' he commented. 'This provides a good and clean product for feeding directly into the QJ241 tracked jaw crusher to produce 6F5 recycled aggregate.
'We have configured the machine with fingers to scalp oversized material and fitted an 100mm impact plate on to 40mm tines, while a 120mm x 100mm slotted mesh has been specified on the lower deck to remove any fines.' 
Mr Lowton has also been impressed by Sandvik's customer service and aftermarket care, which were key contributing factors in the purchase of the QE342 heavy-duty scalper.  
'We have excellent lines of communication and exceptional backup from Sandvik,' he said. 'We use them for all our servicing and repairs and it this high level of after-sales support that persuaded us to buy the Sandvik mobile plant.'