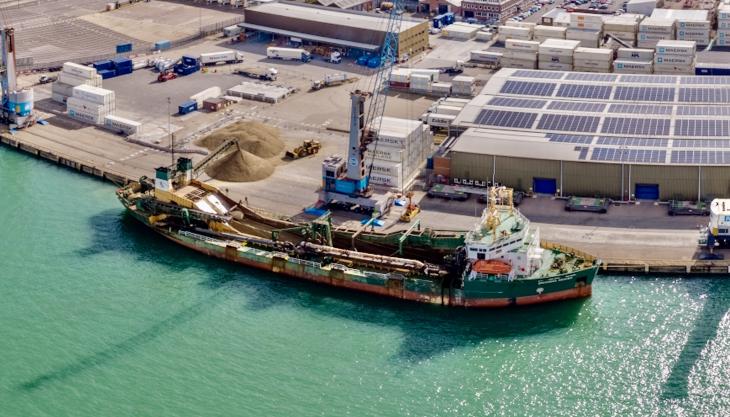 First delivery marks start of regular supply of aggregates into the port to meet local construction demand
BRETT Aggregates have delivered the first cargo of marine-dredged aggregates into Portsmouth Port on the Brett-owned Britannia Beaver.
The port, which is operated by Portico Ltd and owned by Portsmouth City Council, is close to the Brett Group's marine aggregates licences off the Isle of Wight and in the Channel. The delivery is the first of a regular supply of materials into the port to serve local construction demand.
Olly Brown, development director for the Brett Group, commented: 'Land-based quarries are not being replenished and the significant lack of construction materials available for quarrying locally means the need for marine-dredged aggregates continues to grow.
'Together with our development of Newhaven Wharf, which started operating last year, this agreement expands the network of Brett marine operations around the South East from which we are able to supply locally dredged, locally produced materials to the local construction market.'
Portico have recently created additional quayside space at the port by reconfiguring the site to accommodate dry bulk materials. Operations director Steve Williams said: 'Our location and ability to handle a range of goods makes Portico an ideal terminal to help support UK trade.
'This recent delivery demonstrates a great opportunity to work with a significant independent firm in the building materials sector. We hope this is just the start of a long-term agreement, with the potential for the relationship to grow and to help to meet regional demand for materials.'