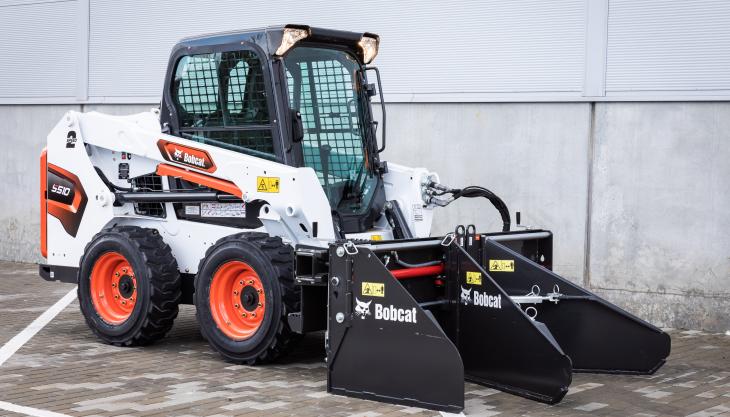 New Soil & Asphalt Spreader added to company's already extensive road products portfolio
TO meet increasing demand for road construction and maintenance equipment in the Europe, Middle East and Africa (EMEA) region, Bobcat have expanded their road products portfolio with the launch of the Bobcat Soil & Asphalt Spreader attachment. 
The new attachment is approved for use on all Bobcat skid-steer loaders from and including the S450 to the S850/H models, all Bobcat compact track loaders including the T450, T590/H, T650/H, T770/H and T870/H models, and the A770/H all-wheel steer loader. 
Designed to save time and labour costs, the Soil & Asphalt Spreader can be used to lay asphalt and other materials to create pavements; to widen and repair existing roads; to backfill, pave over and cover trenches; and to lay sub-base materials.
Thanks to its offset feature, the new attachment can also lay asphalt without the loader needing to pass over the spread material – thus ensuring an unblemished and smoother finish.
According to Bobcat, the spreader is easy to use, clean and look after, with a simple design that is key to the low maintenance requirements for the attachment, thereby increasing uptime, consistency and providing more time on the job.
The new attachment also provides comfort and productivity with a relatively low weight for transport purposes and maximum efficiency thanks to a much more compact design compared with that of larger, dedicated machines for spreading soil or asphalt.
Other key features and benefits of the new attachment include:
Manually adjustable thickness of layer materials from 0–100mm
Hydraulic side shift and adjustable side wings to guide materials
Lockable, floating transverse tilt of up to five degrees to compensate for sloping terrain
Optional third side wing kit available for special applications.
The new Soil & Asphalt Spreader has an operating weight of 675kg and a standard operating width of 190cm or optional width of 196cm. Mounted on Bobcat compact loaders, the new attachment works with an average working speed of 50–120m/min, requiring an oil flow of 45 litres/min and an operating pressure of 250 bar.
Designed for use with Bobcat compact loaders equipped with an Attachment Control Kit (standard on High Flow (H) machines), little set up is required for the Soil & Asphalt Spreader, which like all Bobcat attachments can be combined quickly and safely with Bobcat compact loaders via the quick-change Bob-Tach attachment mounting system.