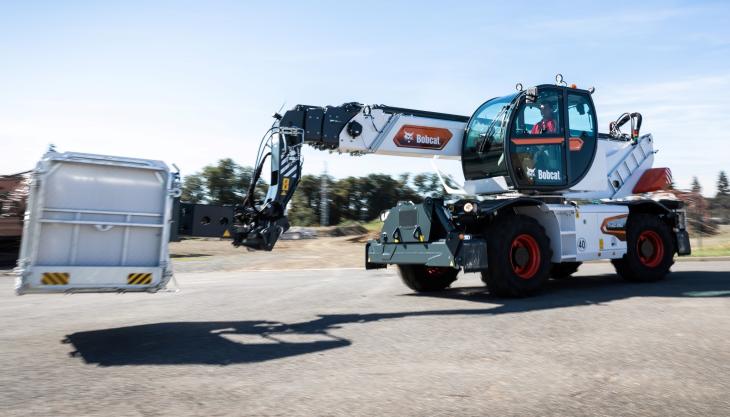 Equipment manufacturer introduces 10 Stage V compliant models to European customers
BOBCAT have extended their product portfolio with the launch of a new rotary telehandler range. The company has collaborated with Magni TH of Italy, to introduce an expanded line of new-generation rotary telescopic machines for markets in Europe, the Middle East and Africa (MEA), Russia and the CIS region, as part of its 'Next to Now' philosophy.
The latest Bobcat rotary telehandler range includes 10 Stage V compliant models for the European market, offering lifting capacities from 4–7 tonne and lifting heights from 18–39m. These are complemented by four Stage IIIA compliant models aimed at the EMEA, Russia and CIS regions, providing lifting capacities from 4–6 tonne and lifting heights from 18–25m.
With these latest additions, Bobcat say they have the widest portfolio of telescopic machines in the market, with a total of 23 models covering lifting heights from 6–39m. 
As with most Bobcat products, operator comfort is a prerequisite in the design of the new rotary telehandlers, with key features including: a ROPS/FOPS-certified cab, an easily adjustable steering column; large windows for optimal visibility; 100% air filtration; and heat and air conditioning.
With convenience and safety in mind, the rotary telehandlers can be equipped with remote control (with drive function) capability for enhanced visibility and precision with the task in hand. 
For added operator convenience, the telehandlers automatically recognize the attachments (eg forks, crane jibs, winches, buckets etc.) that they are paired with via RFID technology, which also uploads the corresponding load charts on to the machine's touchscreen display.
To meet the customers' wide-ranging needs, a large number of options is available on the rotary telehandler range. According to Bobcat, many of these additional features are unique in the compact equipment market including: a hybrid diesel-electric drive concept that contributes to fuel savings, a quieter operation and reduced carbon emissions.  
'The new range offers cutting-edge technology that continues the theme of reinvention that is at the core of our 'Next is Now' philosophy,' said Olivier Traccucci, Bobcat telehandler senior product manager.
'The machines offer enhanced 360° performance to create the ultimate tools for even the most complex site handling jobs. A big choice of over 20 attachments and various options also ensures that working at height has never been so versatile, efficient, comfortable and safe.'
The rotary telehandler range for the European market comprises 10 models – the TR40.180, TR50.180, TR50.210, TR50.250, TR60.210, TR60.250, TR70.260, TR60.300, TR60.350 and TR60.390. Available in MEA, Russia and the CIS countries are the Bobcat TR40.180, TR50.210, TR60.210 and TR60.250 telehandlers.