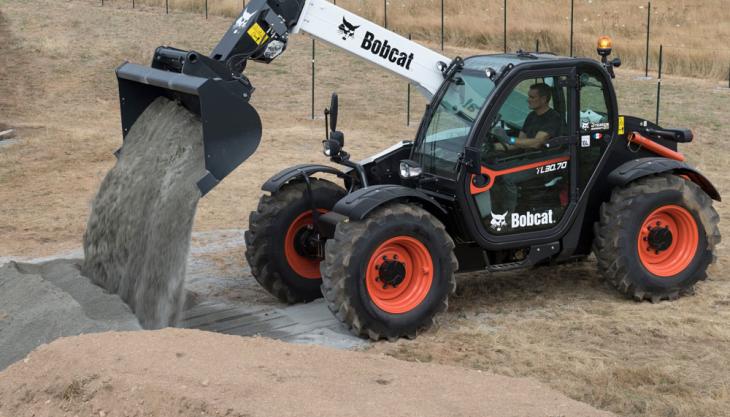 Equipment manufacturer introduces TL30.70 telescopic handler for construction and plant hire sectors
PROVIDING a maximum lift capacity of 3 tonnes and a maximum lift height of around 7m, the new Bobcat TL30.70 telehandler has been designed for a wide range of applications within the construction and rental industries.
The machine provides a compact and cost-effective alternative to larger 7m models, especially where working spaces are tight and increased manoeuvrability is required. The TL30.70 unit offers a maximum reach of 4m with a load of more than one tonne.
As with the existing TL26.60 and TL30.60 telehandlers in the Bobcat range, the TL30.70 is available in two different overall machine heights, with a cab that can be mounted in two different ways: in a low position for a 2.1m height; or a higher position to optimize visibility.
Bobcat have designed all of their telehandlers with a box-welded frame for enhanced rigidity and a shielded bottom plate to protect vital components. A combination of specific features maximizes reliability and reduces total cost of ownership. These include: high-tensile steel U welded shapes; an integrated boom head; newly designed wear pads; large bolts and large steel inserts for increased friction coefficients.
The new TL30.70 telehandler features a hydrostatic transmission that delivers smooth low-speed travel, with the ability to go faster or work harder as required. The auto-shift transmission automatically adapts the motor torque and speed to the desired level for the job.
In addition, operators do not have to take their hands off the joystick to change gear, and the transmission is equipped with an inching function – giving the driver more precision in low-speed applications without having to use the brakes.
Other key features of the TL30.70 unit include: an all-in-one ergonomic joystick; an automatic parking brake; a boom cushion retract; an automatic fan inverter; and an air-suspension seat that includes longitudinal and low frequency suspensions.
The compact machine is powered by a Bobcat D34 diesel engine, which comes in two versions – a 75hp (Stage IIIB) option or a 100hp (Stage IV) engine.
The new TL30.70 is part of Bobcat's latest range of 12 telehandler models, covering maximum lifting capacities between 2.6 and 4.1 tonnes and lifting heights from 6 to 18m. All the models in the range are covered by a three-year/3,000h warranty as standard.