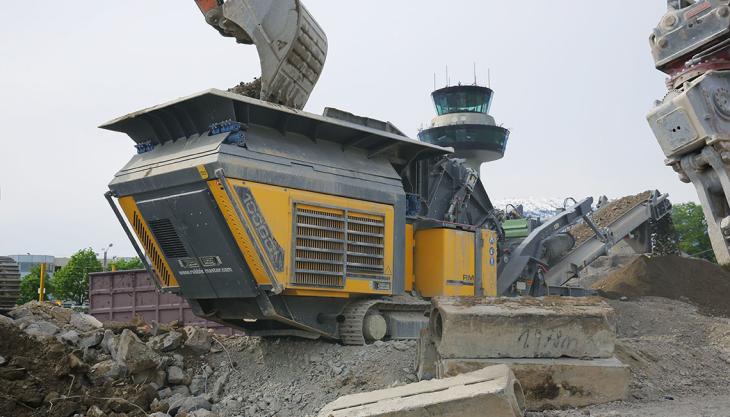 Demolition contractor uses RM 100GO! for C&D waste recycling at Salzburg airport
FOLLOWING a total shutdown of five weeks, Salzburg Airport reopened on 28 May with a newly reconstructed runway. According to demolition contractors Weickl Erdbau GmbH, who worked on the project, Rubble Master had made a significant contribution to the redevelopment of the airport.    
A compact RM 100GO! mobile crusher was hired to crush around 8,500 tonnes of material and immediately reused at Salzburg Airport. 'This job was a challenge due to a tight time schedule – as we only had four weeks to complete all the works,' said Klaus Weickl, managing director of Weickl Erdbau. 
The RM 100GO! crusher was able to work directly on site at Salzburg Airport, crushing all the material from the 3km-long runway into a recyclable final aggregate. This recycled material was then utilized as substrate for the construction of the new runway. 
Mr Weickl highlighted the sustainable use of natural resources. He commented: 'The recycling of construction and demolition waste creates a loop in which transport and material costs are saved and environmental impact is reduced.'
Crushers and screens can be easily rented from Rubble Master in Austria and Switzerland, giving the customer flexibility and ensures the right equipment is on hire for the location and time frame. 
As well as the rental availability, Rubble Master's high-quality products and customer care services were also key reasons why Klaus Weickl opted for the RM 100GO! crusher. The company is no stranger to operating Rubble Master machines, having previously run a Rm 120GO! model at a construction site on the A99 motorway in Munich.