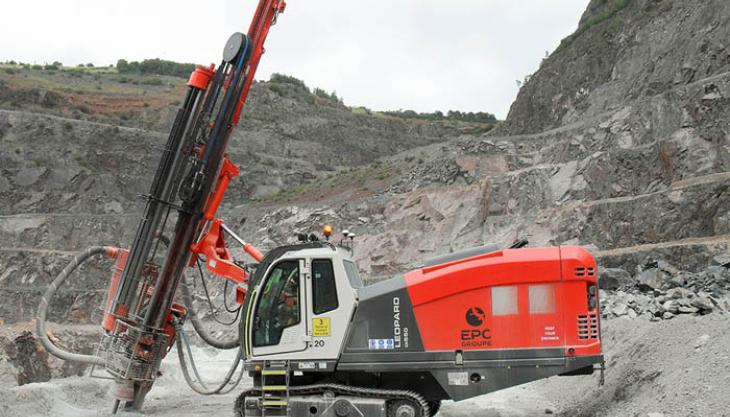 Drilling and blasting specialist takes delivery of a third 'next-generation' Leopard DI550 DTH drill rig 
WITH more than 100 years of drilling and blasting experience, EPC-UK offer one of the most comprehensive 'rock on the ground' services to the UK mining, cement and aggregate industries.
As a key part of this service, the company has been keen to take advantage of some of the most recent developments in surface drilling technology, and one of the latest products from Sandvik has proved very much to its liking – the Leopard DI550 down-the-hole (DTH) drill rig.
According to EPC-UK, it has proved to be the ideal 'next-generation' surface drilling solution, so much so that following the acquisition of two such rigs in 2014, a further Leopard DI550 has been added to the company's fleet this year.
The Leopard DI550 is the first of Sandvik's new-generation DTH rigs, designed for large and medium-sized quarries and contractors.
With its 328kW diesel engine and a 24.4 cubic metre airflow at 24 bar pressure, it is a perfect match for 4in and 5in DTH hammers. Sandvik say all power is fully utilized, translating into low energy consumption, low operating costs and maximum productivity.
In addition to performance and productivity, the machine is said to provide a first-class operator environment, with the Leopard DI550's automation taking care of all machine controls.
EPC-UK say their operators have specifically noted that the intuitive joystick and other cabin controls facilitate highly effective drilling operations in a safe, comfortable and productive manner.
To get the most from their investment, a training course on the Leopard DI550 was held in Doncaster for EPC and Sandvik personnel. This allowed the EPC-UK operators to familiarize themselves with the new rigs, while at the same time developing a close working relationship with the Sandvik personnel who will support the equipment in the field.
As part of this ongoing support, each drill rig received an on-site inspection from Sandvik before being put to work, with further support being delivered through an on-site service contract.
Praising the support that EPC-UK have received so far, rig maintenance manager John Mellor said: 'Sandvik have allowed us to get the very best out of the rigs. They've helped to train our operators in proactive maintenance and assisted us whenever we've needed it.'
Echoing Mr Mellor's sentiments, rig operator Jason Wanford said: 'What has proved to be of great benefit is that Sandvik made sure I was familiar with the rig before it was sent out into the field for the first time. I was shown how to get the very best out of the rig as well as proactive on-site maintenance.'
He added: 'The new Leopard DI550 is a joy to use. It's highly productive and efficient, and its 'intelligence' makes my job easier and, vitally, safer.