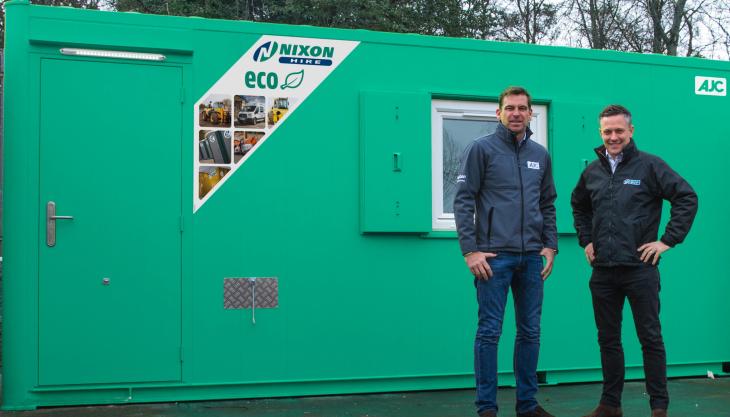 Plant rental firm bolsters fleet of welfare units with EasyCabin Ecostatic welfare units
NIXON Hire have placed an order for a number of EasyCabin Ecostatic 22 and 28 welfare units from AJC Trailers. The plant hire firm currently operates a substantial fleet of EasyCabin facilities, but this is the first time that it has opted for the environmentally friend Ecostatic range.
Commenting on the latest investment, Graham Nixon, managing director of Nixon Hire, said: 'The decision to upgrade and enhance our temporary accommodation fleet was driven by demand from our clients requesting eco-biased units. AJC EasyCabin have themselves invested heavily in innovation and green technology, so when we evaluated their Ecostatic units it soon became apparent that these were the most environmentally advanced welfare units available.'
The Ecostatic 22 is an eco-welfare unit that provides safe and comfortable facilities for up to 12 people. The unit features a modern appearance compared to other welfare cabins in the hire industry and includes energy efficient technology. For example, it is equipped with automatic start/stop generator functionality and battery charging, with simple heating controls and 12V LED slimline recessed ceiling lights.
There are also USB sockets, external lights, a spacious canteen (with fridge), toilets and a handy spacious drying room. Power is delivered via EasyCabin's unique Ecosmart technology, which regulates the power usage of the generator.
The EasyCabin Ecostatic 28 has all the features and benefits of the Ecostatic 22, but it provides additional office space for two people.
Lisa Gillet, sales director for AJC, said: 'We are naturally delighted that a market leading temporary accommodation hire firm, such as Nixon Hire, are committing themselves to our Ecostatic range. This is a testament to the foresight and creative thinking that our design teams are applying to bring real environmental benefits to all users of temporary accommodation. Environmental, energy-saving features are at the heart of the Ecostatic range.'