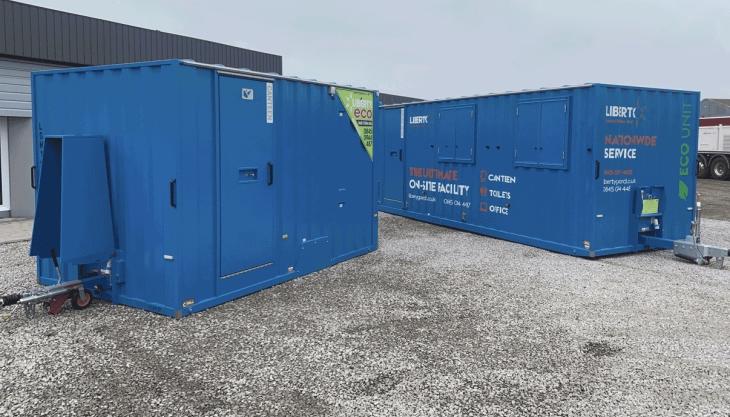 Welfare hire supplier consolidates expansion plans in £6.5 million deal for mobile welfare units from Boss Cabins
INDEPENDENTLY owned welfare hire suppliers Liberty Group have just signed a new deal with Boss Cabins to supply nearly £6.5 million of mobile units in a move that will double the company's welfare unit fleet.
The new order will support Liberty Group's dynamic expansion plans which include opening at least another four Liberty Guard depots nationwide to further extend their reach across the UK.
Lincolnshire-based manufacturers Boss Cabins will be supplying a mix of canteen and canteen/office anti-vandal units catering for from seven up to 20 users, including some models new to Liberty Group's fleet.
All are fitted with energy-saving low-emission Eco electrical systems and solar harvesting technology, whilst some units also incorporate twin toilets and separate drying rooms.
Boss Cabins' managing director, Matthew Wordsworth, said: 'It means a lot to us that a demanding and forward-thinking company like Liberty Guard have once again chosen us as supplier to support their expansion plans going forward.
'We look forward to working with them over the coming years to keep them at the forefront of an exciting and ever-changing welfare hire market with new products and innovations, while always retaining our highest standards of safety, reliability, build quality, performance and ease of use.'
Gordon Jones, chairman of Liberty Group, said: 'During the last two years, we have been confident in our determination to grow and expand our exposure in the welfare hire business throughout the UK.
'Despite the uncertainty of a General Election together with the Brexit vote, we remained focused on our decision to grow by introducing additional depots strategically positioned to offer a quality service to our expanding customer base.'
The first units of this order will be delivered in early 2021 and distributed to all of Liberty Group's 12 depots around the UK.