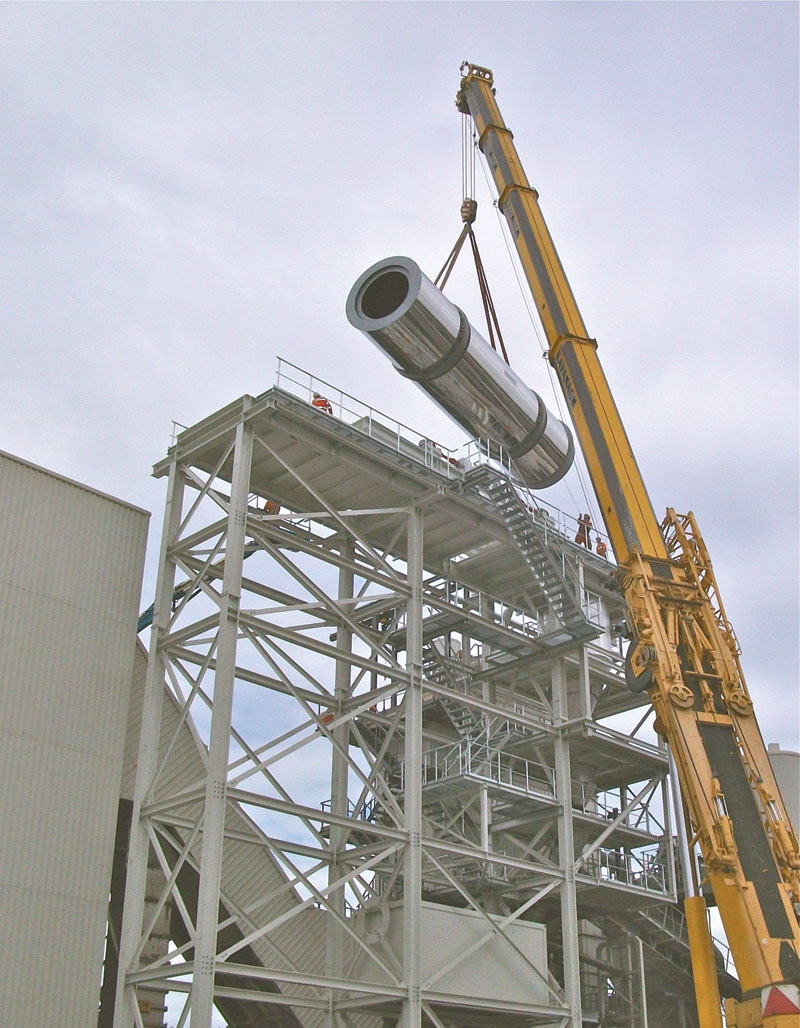 First published in the January 2014 issue of Quarry Management as A First in Ireland
Roadstone Wood's Dublin quarry installs first Benninghoven high-level hot recycling drum system in Ireland
Roadstone Wood's quarry at Belgard, just outside Dublin, has become the first in Ireland to install a state-of-the-art Benninghoven high-level hot recycling drum system.
The new Benninghoven equipment allows the existing coating plant to use a high ratio of recycled materials, while improving its operating efficiency, reducing costs and cutting its carbon footprint. 
The limestone quarry at Belgard, in west Dublin, is one of the largest in Europe, producing in excess of 2 million tonnes of crushed stone each year. The fully integrated facility operated by Roadstone Wood, a subsidiary of CRH plc, the Dublin-based international building materials group, produces both primary and finished products, including blacktop, concrete blocks and paving products.
In 2005 a new Benninghoven asphalt plant was installed to cope with increased demand for more specialized coated products. Since then the demand for coated stone products has grown, with an average daily plant production run of 1,000 tonnes. With environmental pressures to make use of more recycled materials, which would provide operators with cost savings by reducing the use of virgin aggregates and bitumen, and by looking at the economics of using road planings as a potentially usable material, it was decided by Roadstone to install one of Benninghoven's proven high-level, high-volume recycling drums to their existing asphalt plant. This entailed a completely new cold-feed system, together with associated support structures, conveyors and a high-level parallel drum, built above the existing asphalt plant.
Work started on the project at the beginning of July 2013 and was completed in just 12 weeks without disruption to the quarry's busy daily asphalt production process.
Graded and tested RAP material fed to the recycling drum comes from one of two 15m³ capacity hoppers, depending on the mix. The hoppers are fitted with feed grids to prevent any oversize contaminating the mix. Discharge from the hoppers is by belt feeders, each fitted with a belt weigher for precise dosing. These feeders discharge on to a 12.5m long conveyor. This conveyor delivers the materials on to an 88m long inclined conveyor, also fitted with a belt weigher, which takes the cold RAP up to the recycling drum level, where a wear-resistant feed chute diverts the material into the drum.
The heart of the system is a 2.8m diameter x 12m long parallel drum which works as an in-line flow dryer, acting as both a dryer and a heater. The design of the drum internals ensures that the burner flame makes no direct contact with the moving reclaimed material inside the drum. The combustion zone of the drum is fitted with special heavy-duty, self-cleaning finger lifters which vibrate during the production process to prevent clogging of the material. Drum drive is by four 22kW inverter-controlled friction-drive geared motors. An infrared radiation pyrometer is fitted to display the temperature of materials exiting the drum.
Inside the drum is fitted one of Benninghoven's latest state-of-the-art multi-fuel EVO JET 3 oil/gas-fired burners, equipped with a frequency inverter to deliver the benefits of precise air/fuel ratios, thus maintaining optimum operating efficiency. The burner incorporates a full range of operating and safety devices to deliver high-efficiency fuel usage, while an air-inlet silencer is connected to the burner to suppress noise levels.
A recycling buffer silo holds the hot materials discharged from the drum. This circular silo with a capacity of 25 tonnes is fitted with a pneumatically operated flap door, which provides accurate coarse/fine dosing to ensure correct proportioning of the recycled materials entering the mix. The silo is fully insulated and clad and incorporates electrical heating.
Beneath this buffer silo is an electrically heated 4-tonne RAP weigh hopper. From this the material is fed into the plant's paddle mixer via a steeply-angled feed chute. The chute features Creusabro steel liners and an internal spray system to keep the sticky material on the move. Inside the mixer the dried and heated RAP materials are blended with conventionally dried materials at ratios between 25% and 70%.
Plant operations manager Kieran O'Sullivan said: 'Having this new high-volume recycling facility at our disposal, allowing hot recycled materials to be added to our mixes, provides operational benefits with significant savings on quarried stone and bitumen usage. This will realign our asphalt production process with changing market requirements.'
Control of the process is via one of Benninghoven's on-line Batcher 3000 control systems, which was upgraded to accommodate the new additional recycling side of plant production.
The whole of the burner and heating drum section is covered by a sheeted housing which blends in with the existing plant structure.
The new recycling system will allow Roadstone Wood to be one of the most cost-competitive and customer-focused suppliers in the Dublin area.
Acknowledgements
Thanks are due to plant operations manager Kieran O'Sullivan, of Roadstone Wood, and Nigel Moreton, of Benninghoven UK Ltd, for their help in preparing this report.