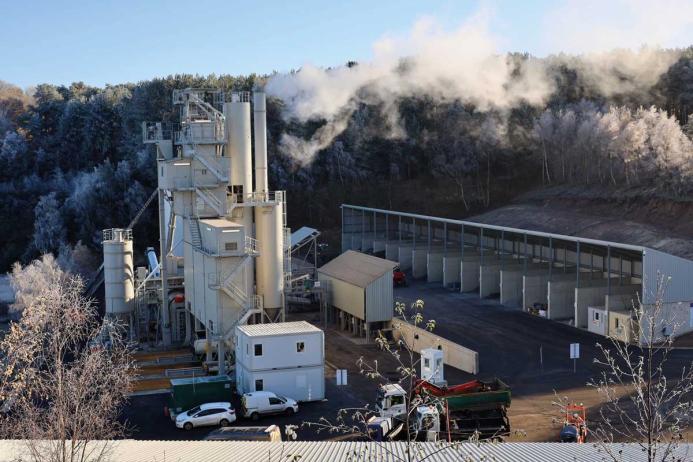 First published in the January 2023 issue of Quarry Management
Sustainability, reliability and efficiency – Breedon Group's new Ammann ABA 260 UniBatch asphalt plant ticks all the boxes
As part of Breedon Group's corporate Sustainability Strategy, one of their stated aims is to reduce the impact of their operations on the environment, and perhaps nowhere is this more evident than in the company's recent £6.7 million investment in a brand-new, state-of-the-art asphalt plant in Mansfield, Nottinghamshire. Built as a replacement for an existing ageing plant that has reached the end of its useful life and is soon to be scrapped, the new plant will, arguably, be the most modern, up-to-date, and sustainable asphalt mixing plant to be installed anywhere in the UK in 2022/23.
'We started looking at this development three years ago,' said Breedon asphalt and concrete area manager Matthew Gelsthorpe. 'The existing asphalt plant here in Mansfield had been operating for the best part of 25 years and was no longer efficient or economical to run. We wanted a new plant that would be much more efficient, reliable, and above all, sustainable – one that would significantly reduce our energy consumption and CO2 emissions. Sustainability is paramount: we want to show the market that Breedon are serious about this and looking to make a real difference, and in terms of asphalt production, the new plant does just that.' 
Having studied the marketplace, Breedon opted to invest in a well-known mixing plant renowned for its reliability, flexibility, efficiency and sustainability – the ABA UniBatch from Ammann. Offering plenty of potential for customization through numerous options and easy integration of future technologies, the ABA 260 model chosen by Breedon is capable of outputs up to 260 tonnes/h and utilizes a highly efficient drying and heating process that conserves energy, reduces emissions and, ultimately, delivers cost savings. 
'We looked at various competitors but Ammann were able to offer a far larger range of sustainable products than the others, and were also very easy to deal with,' continued Mr Gelsthorpe. 'In particular, we wanted to be able to utilize up to 50% recycled asphalt planings (RAP) in some of our mixes and were looking for a plant that would be capable of producing lower-temperature warm- and cold-mix asphalts, including foamed products, as well as the more traditional hot mixes and stone-mastic asphalts (SMAs). As part of our drive for sustainability, energy consumption was another area we looked at very closely, including the use of variable-speed drives (VSDs), as well as more efficient heating and drying.'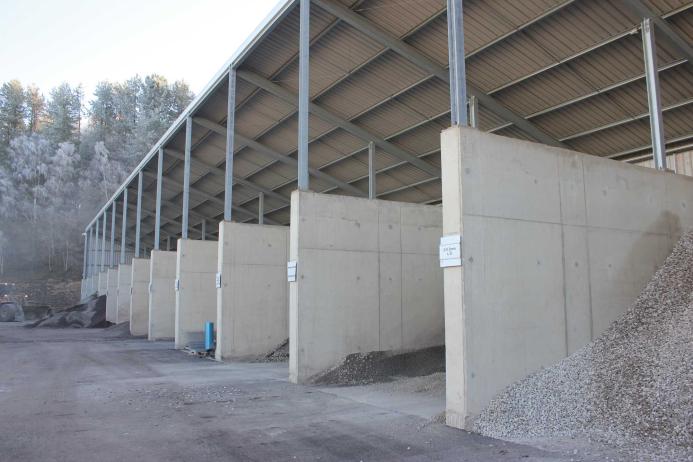 New plant
Largely installed in 2022 and due to go into full production at the end of this month, the new Ammann ABA 260 UniBatch plant is located on the south-eastern outskirts of Mansfield, at the southern end of Mansfield Sand Co.'s former Ratcher Hill Quarry – a 76-acre site that is currently part-way through a 20-year restoration and aftercare scheme. Siting of the new plant involved the excavation of around 3,000m3 of material to create a suitable level bench, a task undertaken by Ambergate-based civil engineering specialists RMB Contractors.
The new pre-feed system at Mansfield comprises a dozen 10m3 capacity covered cold-feed hoppers split into two groups arranged in line on either side of two covered RAP hoppers (four on one side and eight on the other), thereby offering backup should one side fail or require maintenance. Virgin aggregate supplies, which include 60PSV hard stone from Breedon's Leaton Quarry, near Telford, and limestone from the company's Cloud Hill and Dowlow quarries in Derbyshire, are kept in 16 covered storage bays adjacent to the cold feeders, whilst imported RAP materials are processed and stored in a new, purpose-built, 5,000-tonne RAP shed located just across the yard from the asphalt plant. Charging of the cold-feed/RAP hoppers is carried out by a wheel loader from ground level, without the use of ramps, thereby saving fuel and reducing emissions.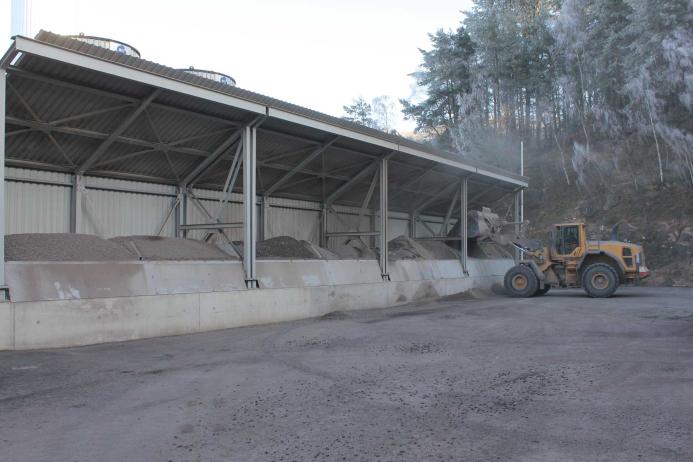 Collection belts running beneath each line of cold feeders discharge onto a covered transfer belt arrangement which, in turn, discharges onto the dryer drum's reversible feed belt. Separate transfer belts from the two RAP hoppers deliver the recycled material to the dryer drum or, via an elevator, direct to the mixer, as required. All the conveyors involved are equipped with energy-efficient VSDs and, where necessary, have been raised by an additional 600mm for ease of access beneath the belts.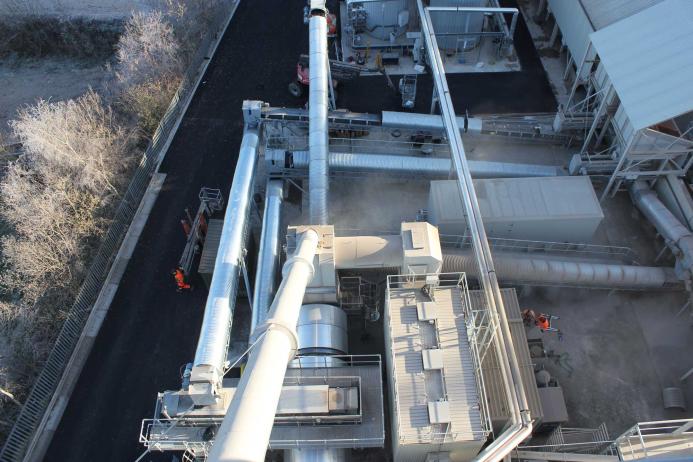 Drying and heating of the materials takes place in a fully insulated, 10m long x 2.5m diameter counterflow drum equipped with Ammann's unique RAH50 central inlet ring to allow the introduction of up to 50% cold RAP to the dryer. Heat is provided by an 18MW Oertli Induflame MIB-5.18 dual-fuel burner capable of running on natural gas (including hydrogen mixes) or light fuel oil and equipped with an ETAMATIC control system. Like the conveyors, the use of VSDs on the dryer drum allows for easy adjustment of dwell times by speeding up or slowing down the drum. Meanwhile, the plant's dust-filtration system reclaims filler dust from the burner's exhaust gas, with the cleaned gas and steam returned to atmosphere via a 57,000Nm3/h capacity exhaust fan and 26m high stack.
From the drum, the dried and heated aggregates are sent, via a 25m hot-material elevator, to a fully enclosed, six-deck vibrating screen with a total screen area of 33.3m2. The various grain sizes are discharged into the appropriate chamber of the hot-mineral silo, with any dust generated by the screening process vented back to the dust-filtration system. The hot-mineral silo has six chambers plus a bypass bin, thereby allowing the plant to operate like a drum-mix plant or as a conventional batch plant. All the aggregate chambers are equipped with continuous level sensors, together with temperature sensors where appropriate. Dosing flaps portion the aggregate components, as defined by the required recipe, with their weight determined by the mineral scale, ready for discharge into the mixer.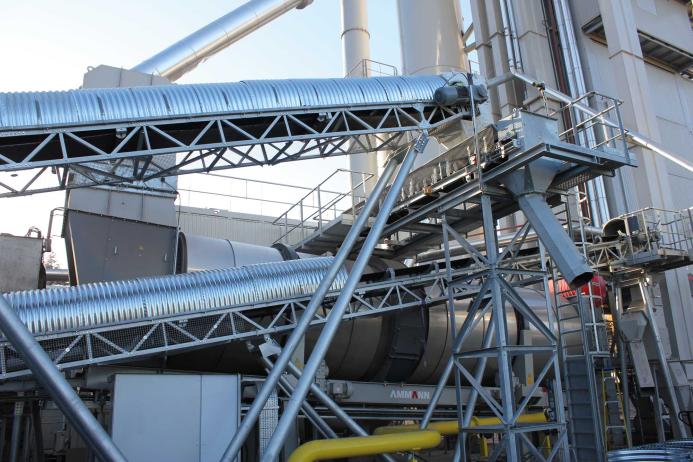 A similar weighing procedure is carried out for bitumen and filler, with any further additives (fibres, pigments, fluxes etc) determined by either weight or volume. With four bitumen tanks (3 x 100 tonnes and 1 x 45 tonnes) all equipped to Refined Bitumen Association standards with appropriate alarms and interlocks, plus a connection point for a fifth 'mobile' tank if required, the new Mansfield plant is well equipped to handle a range of bitumen products. Fillers are also well catered for with a single silo for reclaimed filler and two for imported fillers, such as limestone dust for SMAs and hot-rolled asphalts, or hydrated lime for Defence-spec products. If necessary, both the reclaimed and imported fillers can be discharged for sale or fed into a pugmill for conditioning and subsequent disposal.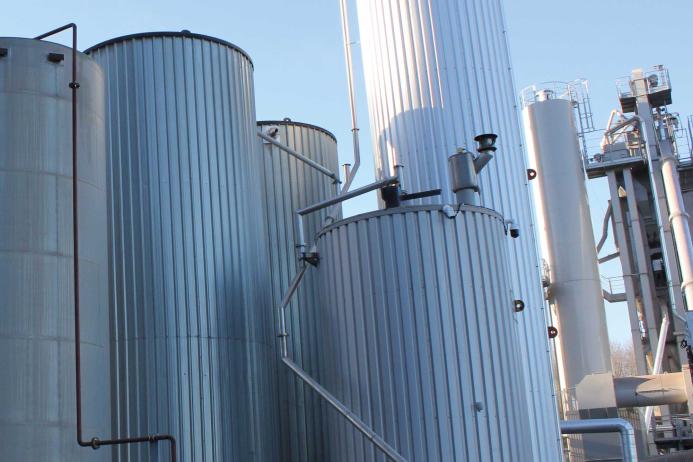 Mixing of the weighed components takes place in the UniBatch plant's state-of-the-art, 3.3-tonne capacity AMIX-2.30 twin-shaft compulsory mixer, which is preheated to minimize steam generation. The mixing platform is equipped with a foam bar for the production of low-temperature foamed asphalts, together with two lines for the introduction of additives. Steam evacuation from the mixing process is monitored by moisture probes, whilst an infrared sensor measures the asphalt temperature at the mixer outlet. A horizontal transfer skip with heated outlet doors delivers the mixed asphalt products to the 300-tonne capacity hot storage section, which consists of six mixed-material compartments, together with one direct discharge bin.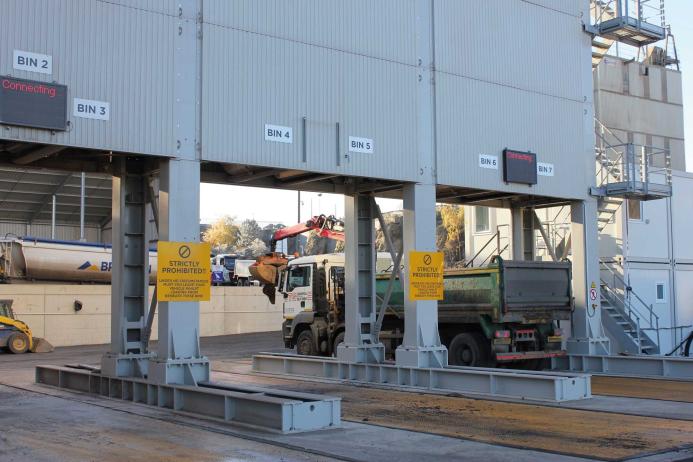 In preference to using individually weighed compartments, load out of finished asphalt products takes place over a series of three third-party weighbridges supplied by Weightron Bilanciai. These communicate with Ammann's as1 control system, allowing for accurate management of vehicle tare and gross weights and eliminating any overloading. Moreover, using ANPR cameras and electronic display boards, drivers are advised which bin to pull under for their required load, with the system taking a snapshot of the completed load. Together with Breedon's electronic proof-of-delivery ticketing system, drivers do not need to leave their vehicles at any point.    
Plant control is via Ammann's future-oriented as1 system, which combines the company's proven software with tried-and-tested industrial hardware to provide comprehensive system functionality with optimized networking and administration. The system at Mansfield incorporates several new and recent software developments, including the first as1 Argon View interface in the UK, along with new EcoView and PIP (Plant Information Point) modules. 
Argon View is a brand-new, user-friendly interface for the as1 control system for both asphalt and concrete plants. Providing constant visual updates about production status, the intuitive, simple-to-use interface helps operators track the entirety of the production process, making it easy to leverage all the plant's value to improve efficiency and productivity.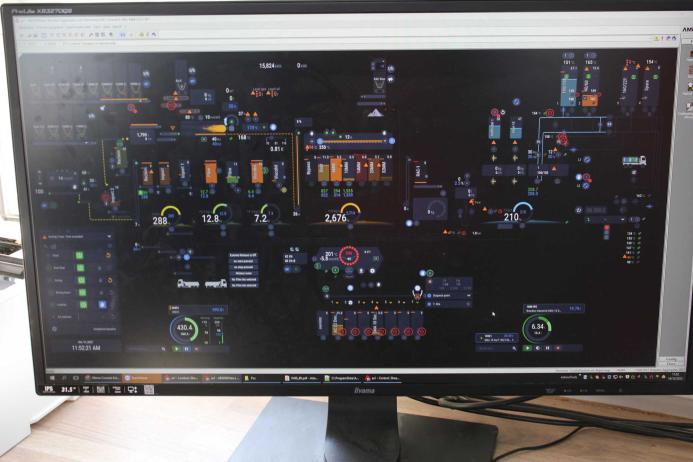 The EcoView module serves to optimize production from an ecological and economic perspective. Operating data are continuously recorded and presented in condensed form, providing the plant operator with information on energy consumption, energy costs, and CO2 emission values per tonne of mixed material produced. By comparing this with historical data or target values, trends and required actions can be identified to promote energy-optimized plant operation and help eliminate energy wastage.
The recently introduced PIP module provides both operators and customers with access to key plant data at any time and from anywhere. Information such as daily production quantities, the latest production details, and the status of the plant are uploaded to the Ammann cloud and can be accessed from any location, using a browser on a desktop, tablet or smartphone.
Big achievement
'With many extras not seen in UK before, the new plant is unique and really does tick all the boxes,' said Matthew Gelsthorpe. 'The as1 control system incorporates practically everything, including EcoView and PIP, as well as the first-ever Argon View interface in the UK. It's also a very efficient plant from top to bottom. Whereas our old plant used a 20MW burner, this one uses an 18MW unit, helping to drive down CO2 emissions. And because the plant's numerous drive units don't always need to be running flat out, everything from the conveyors and dryer drum to the burner, exhaust fan and bitumen pumps is equipped with variable-speed drives, helping to reduce noise levels and energy consumption. We've also gone from being a 'no-RAP' plant to one with the potential to use 100,000 tonnes a year, which is a big step for Breedon and the market.
'Ammann, and especially David Hunt and his team, have been superb throughout the project, but we've also been supported by a lot of other local businesses and suppliers, such as RMB Contractors, SES Engineering, Nexdorf Electrical, and Weighton Bilanciai. It's been a great project to work on and represents a big achievement for Breedon – a real 'shout-out' story. It's undoubtedly been a big investment for us, but it won't be the last. Indeed, following on from this project, we've got an Ammann RAH50 and foam bar retrofit project at our Corby plant lined up to start in February, as well as others in the pipeline.'
Acknowledgement
The editor would like to thank Breedon Group for permission to visit the site. Particular thanks are due to Breedon asphalt and concrete area manager Matthew Gelsthorpe, and Ammann UK managing director David Hunt, for their help in the preparation of this article.