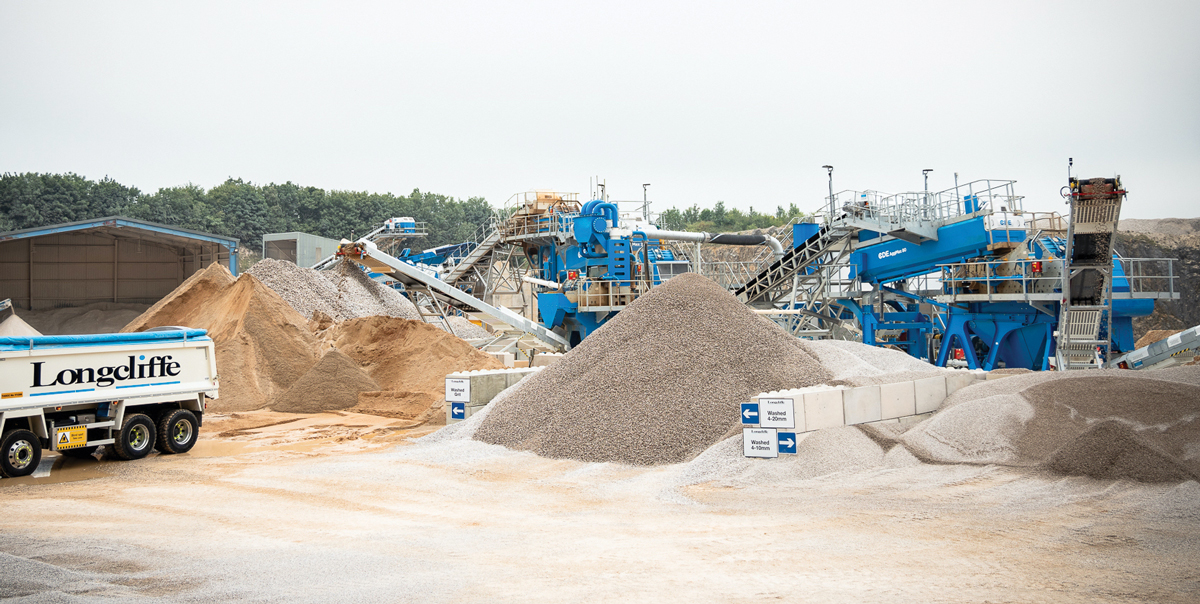 First published in the September 2020 issue of Quarry Management as Complete Project Management
Martin Wylie of MW Engineering Solutions Ltd explains the key to the success of the Longcliffe Quarries washing plant project at Brassington Moor Quarry
Independent, family-owned business Longcliffe Quarries have completed their £3.5 million investment in a new state-of-the-art washing plant at Brassington Moor Quarry. The new facility will contribute to Longcliffe's ongoing efficiency goals, as well as to their objective of reaching zero-carbon quarrying operations by 2027.
This article describes the different processes, managerial strategies and challenges faced throughout the two-year design-and-build project. Not only would a global pandemic strike the world during this period, but also one of the wettest autumns ever recorded arrived on UK shores as the construction phase commenced in October 2019.
Longcliffe's ambition was to appoint a project manager to be a single point of contact for every facet of the project's delivery, from executing the initial feasibility study right through to commissioning and handing over the finished plant to the operational team.
Procurement
A major process within any project is the procurement phase. While recruiting the correct calibre of contractor was vital, it was equally important to gather all of the existing site-related information, to ensure that any potential issues were eradicated from the start.
The development of a robust 'invitation to tender' (ITT) document was critical to achieving this and to support the contractor with their scope of supply and estimating exercises. The invitation to tender was built up using a previous CDM health and safety file, the latest topographical survey, diagrams showing all known visible and buried services, data pertaining to the existing ground conditions for the proposed build area and copies of specifications and standards for civil, mechanical and electrical engineering work.
In tandem with the desktop analysis of the site, establishing the build requirements was fundamental. In Longcliffe's case, they had an input material specification which was a clay-bound and heavily silt-laden, sub-75mm, post-primary crusher waste stream. Following trials at a laboratory testing facility, Longcliffe developed a skeletal output specification made up of four desired finished products: an oversized material (with the potential to be re-crushed), two sub-20mm aggregate fractions and a coarse sand material, all of which had a concrete production target market. Armed with this information, vendors and suppliers were then sought.
Project delivery
For most process engineering projects of this scale, breaking the project down into sections or engineering disciplines is the most effective delivery solution. This is because the contractors involved do not always provide all the desired services. The company went in search of civil, mechanical and electrical engineering contractors to engage with, which was relatively straightforward as there are several well-established aggregate wash plant specialists within the UK. As part of the ITT exercise, all potential suppliers were vetted robustly for safety, quality and experience, mainly through testimonials. Using previously employed contractors was advantageous to the project; their knowledge of the site's ground conditions and existing service locations was particularly useful in this instance.
Once contracts were let, attention turned to refining the mechanical and electrical engineering design and planning the construction phase. The CDM (Construction, Design and Management Regulations) structure was the next framework to be established. It was recommended that Longcliffe should take on the role of principal contractor, which gave them greater control of both the pre-planning phases and site-based activities. This was advised due to the multiple engineering disciplines overlapping on the construction site. Longcliffe agreed with this proposal; as a result, the CDM structure was established and the F10 Notification form was completed and submitted to the Health and Safety Executive. 
To test the design from an operational and maintenance perspective, HAZOP studies were organized. These essential exercises drive out any shortfalls in the design, such as safe and adequate access. They were critical to achieving a fully compliant design and to close the design/build loop, and were reviewed upon completion to ensure the desired criteria had been met.  
Health and safety
In parallel with the importance of the invitation to tender is the development of a watertight 'pre-construction information' file. Traffic was one of the greatest risks to visitors and contractors on the site; there are hundreds of vehicle movements per day, both internally and by external haulage contractors. Longcliffe's vehicle and pedestrian management plan was developed by a combined project and operational team. This ensured contractor and employee safety throughout the construction phase and set the expectation level for everyone involved. More than 300 deliveries were accepted on to site, all of them pre-planned and the majority arrived at their estimated time. This was a major factor in the project's success. 
Once the strategy for accepting deliveries had been developed, the focus turned to planning the construction site. As principal contractor, Longcliffe's duties extended to demarcating the work area with adequate fencing, to keep visitors and contractors out of harm's way. As the construction site both crossed and ran adjacent to the main quarry haul road, the immediate danger to contracting staff was significant. In addition to high-visibility bollards, significant investment was made in the installation of directional signage, which was used to ensure everyone was kept safe.
The contractor welfare facilities were also heavily invested in. Construction work is always labour intensive, however, the climate and working environment throughout autumn and winter would increase the physical demands beyond expectations. Thus, planning for the worst-case scenario and providing the correct level of welfare for the workforce was critical for the physical and mental well-being of the contractors.
Expectations for the site's behavioural standards, its attitude towards safety, its operating standards and expectations for workmanship quality were all captured in the CDM induction. This was administered to the workforce in small groups of around six people with specific focus on mental health, anxiety, depression and suicide in young men, something that the construction industry is seeing increasing cases of. The groups were very keen to engage and these strategies helped develop a partnership between the project manager and the workforce.
In addition, another strategy that was deployed involved gathering everyone together once a week for a face-to-face discussion to talk about areas that required improvement and equally to deliver positive feedback to the group. It was these initiatives and the total 'buy-in' from the contracting parties that kept everyone safe throughout two significant challenges. First, it was the wettest autumn on record in recent years; unprecedented rainfall fell over a three-month period, making the site hazardous and inaccessible at times. This was followed by the COVID-19 pandemic in March 2020. Nevertheless, the workforce's respect, focus, awareness, attention to detail and change in attitude to both their own working space and practices and those of their contracting colleagues was second to none. This ensured 'Zero Harm' and zero coronavirus cases during the site's 12,000 operating hours.
In addition to co-ordinating the day-to-day construction operation, the project manager had to ensure the construction programme was reviewed, developed and driven to meet milestone targets, especially when such significant challenges are posed by inclement weather. In parallel with the management of the programme, the financial position of the contract was constantly reviewed against the agreed commercial timelines. The financial facet concludes what are considered to be the three lynchpins of a project – safety performance, meeting programme and achieving the administered budget. 
Commissioning
The newly constructed wash plant has operated successfully for a number of months to date, though not without its challenges. These have been overcome, however, by adopting a collaborative approach between CDE Global and Longcliffe's operational team. COVID-19 brought about its own challenge. Attempting to train the staff from a social distance was extremely difficult; initially it led to CDE extending their commissioning attendance by several weeks. More recently, they returned to provide additional support and training to help the team understand the effects that varying feedstock and the inclusion of particularly stubborn clay deposits would have on the new process equipment and the water-treatment facility. This has been a steep learning curve for Longcliffe but useful nevertheless, to see just how flexible the plant's operating parameters are.
On Thursday 13 August, Sarah Dines, Member of Parliament for the Derbyshire Dales, attended a socially distanced official opening of the new wash plant facility at Brassington Moor, which marked the end of the project build and commissioning phase. At the ceremony, Longcliffe Group managing director Viv Russell recognized that the great success of the project was due to fantastic teamwork, excellent zero-harm culture, top-class suppliers and contractors, all held together and supported by superbly executed project management. 
Acknowledgements
The author, Martin Wylie, would like to thank Glynis Spencer and the weighbridge staff for their unwavering support in handling visitors and deliveries to the site; Ian McDonald for his knowledge, support and help in understanding the quarry operation; Mark Whittaker for his engineering knowledge of the site and support through the challenges of the socially distanced commissioning phase; Andy Meadows for his electrical engineering knowledge and commercial support; and Viv Russell for employing the services of MW Engineering Solutions Ltd.
Longcliffe's new beacon of sustainability
For nearly 100 years, Longcliffe's Derbyshire quarries have been among the market-leading suppliers of high-purity calcium carbonates. The company produces more than 100 products for a huge range of critical industries, from animal feeds and pet foods to glass and plasterboards, and from plastics and adhesives to pH correction and flue gas desulphurization. Cure activators produced at Longcliffe even found their way into the fluoroelastomer docking seals on the International Space Station.
The new washing plant at Brassington Moor Quarry will permit the transformation of material with a higher clay content, at a rate of 220 tonnes/h, into valuable single-sized aggregates and sand grades. This will allow Longcliffe to recover key products from material that traditionally had to be discarded, maximizing the company's available reserves and saving 12% of the quarry's load and haul fuel usage. 
Viv Russell, managing director of Longcliffe Quarries, said: 'This new development strengthens Longcliffe's position as a champion of sustainability in the quarrying sector. Since 2014/15, on-site energy intensity has fallen by nearly 20%, and with the addition of two wind turbines, Brassington Moor Quarry's net emissions have fallen by almost 70%.
'Extensive tree planting and investment in natural capital – notably in the creation of three nature reserves – complement these carbon reductions, ensuring that Longcliffe remain a leading example of good practice in the industry, and continue to be one of the leading employers in the Derbyshire Dales.'
David Kinloch, regional manager for equipment providers CDE, commented: 'The plant, a fully optimized turnkey solution, will provide Longcliffe with the capacity to utilize available resources to their fullest potential by extracting maximum value from previously disregarded by-product material due to its high clay content. This will facilitate the company's growth and further strengthen our shared purpose for a sustainable future.'
Sarah Dines, MP for Derbyshire Dales who presided over the official opening of the plant, said: 'I am so proud to have such a critical industry that is so vital to national infrastructure in my constituency and was pleased to be able to open Longcliffe Quarries' new plant alongside their hard-working team who made it all happen.'
Business and Energy Secretary Alok Sharma added: 'It's great to see Longcliffe's continued investment in decarbonization. New innovations such as these contribute to more sustainable industry and skills creation, both of which are central to the UK's green recovery as we build back better from the impact of coronavirus. 
'The fact that this machinery was produced by CDE in Northern Ireland also illustrates the strong business links between all nations of the UK, and the importance of safeguarding the UK's Internal Market when we leave the Transition Period at the end of this year.'