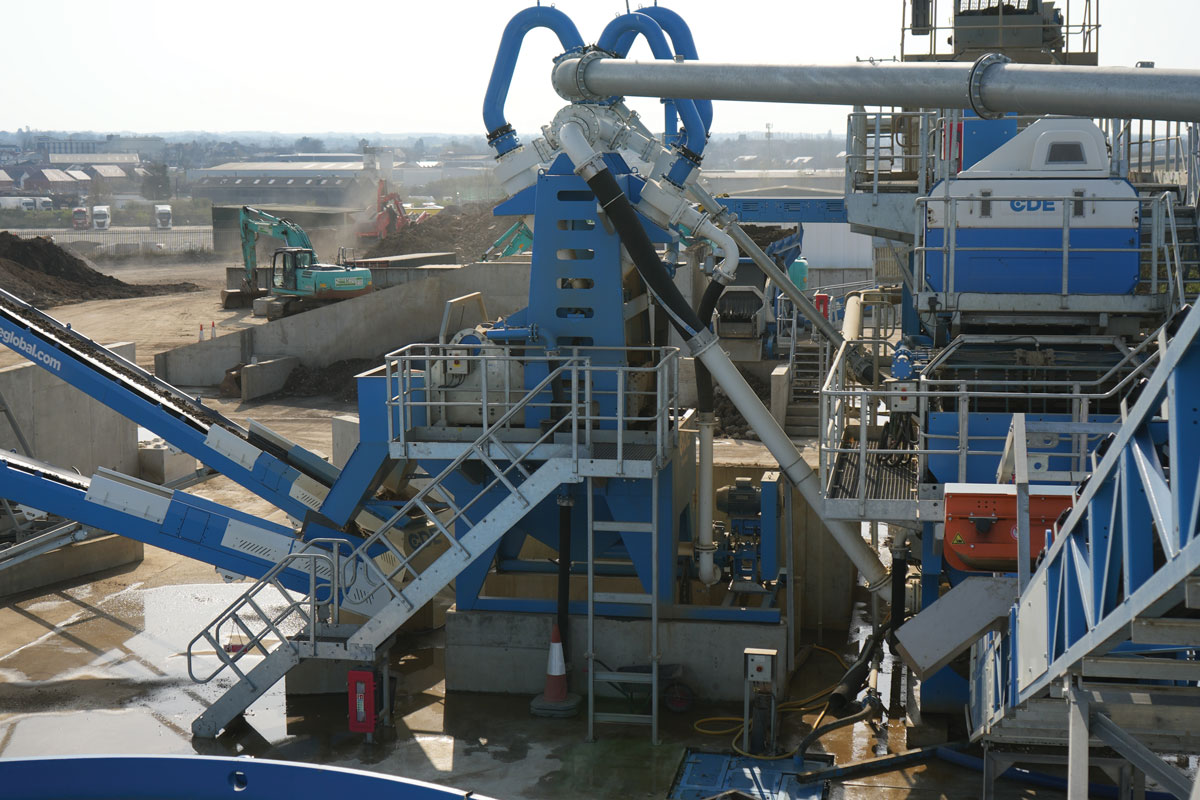 First published in the October 2022 issue of Quarry Management as Sheer Will
As the UK continues to lead the way in Europe in the proportion of recycled and secondary aggregates it uses, there will be a growing and greater focus on reducing waste to landfill, increasing the recycling rates of construction and demolition (C&D) waste, and ensuring the mineral products industry is on the path to net zero. Blue-chip organizations and SMEs will come under the spotlight too, as they play their part in preserving natural aggregate sources. QM spoke to Bob Samuel, director of Borough Green Sand Pits and company secretary of Sheerness Recycling Ltd, about the importance of providing a 'green solution' for their customers and maximizing the sustainable use of waste materials 
Earlier this year, Sheerness Recycling Ltd – one of Kent's leading suppliers of recycled aggregates – opened a brand-new state-of-the-art C&D recycling plant at their waste-management depot in Sittingbourne. 
Designed, engineered, and installed by wet-processing industry experts CDE, the turnkey wash plant represents an investment of almost £5 million by Sheerness Recycling and demonstrates the company's commitment to sustainability by maximizing the quality and quantity of the recycled aggregates it produces from an array of waste streams, including inert construction and demolition materials.
Founded in 2009, Sheerness Recycling have become one of the most prominent names in the construction products market in Kent and the surrounding region. Each year the independent aggregate supplier processes in excess of 350,000 tonnes of inert waste to produce recycled Type 1, 6F5 and other recycled aggregates from five strategically located recycling depots in Ashford, Bexley, Sittingbourne, Swanscombe, and Tonbridge. 
For Bob Samuel, the new CDE plant in Sittingbourne marks the beginning of an exciting new chapter for a company that is firmly focused on building a sustainable future through strategic investments and constantly looking at ways of recycling waste materials and bringing them back into the circular economy.  
'With the new set-up, recycled materials go straight to the market as soon as they're processed, allowing us to divert high volumes of construction and demolition waste from landfill while seeing huge benefits to our on-site operations,' he told QM. 
'In a market that is always changing and evolving, it's never been more important to understand what customers need and ensure we deliver innovative and sustainable solutions that improve current processing methods. We pride ourselves on our high recycling and recovery rates, and now up to 80% of inert waste brought into Sittingbourne and our other depots can be reprocessed into high-quality recycled aggregates, soils, and fill materials for use in major public works and local infrastructure projects.
'Indeed, the main objective of the 100 tonnes/h CDE wet-processing facility is to support Sheerness Recycling in maximizing the value of their feed material by turning it, and other low-value C&D materials, into high-quality products, including 10mm, 20mm, 40mm aggregate, and sharp washed sands.'
'It was clear with our previous set-up and dry processing operations at Sittingbourne and our other depots, that we needed to invest in a new recycling wash plant for effective reprocessing of all incoming waste material,' continued Mr Samuel. 
'Because construction and demolition waste contains natural sand and gravel, we needed a proven system that would not just clean the material efficiently, but also tackle a small proportion of contaminants, such as plastic, wood and metal, in the C&D waste feed.'
After consultation with several leading plant suppliers, Sheerness Recycling opted for the CDE waste-recycling plant which, in a short space of time, has fundamentally revolutionized the company's recycled aggregates operation and, more importantly from a commercial standpoint, opened up new markets for the business, as well as meeting growing demand for locally sourced, high-quality recycled products in Kent and the surrounding areas. 
Furthermore, Sheerness Recycling were won over by the modular nature of the CDE system as the new bespoke plant has been specially engineered to meet the company's on-site requirements and commercial needs, including accommodating any future capacity changes or final product specifications. 
The new wash plant has been specifically designed as a static system but offers maximum operational flexibility by utilizing a combination of signature modular technologies from the CDE portfolio, including a log-washer, screening, stockpiling, sand washing, water treatment, and filter press. The EvoWash sand washing unit and Infinity screen are designed to deliver optimum dewatering and performance whilst adapting to variations in feed content.
To improve the environmental credentials of the company's day-to-day operations, the recycling plant maximizes water efficiency with an AquaCycle thickener which ensures up to 90% of the process water is recirculated back into the system, offering Sheerness Recycling a fully integrated primary water-treatment solution. In addition, the whole of the site is concrete paved to ensure all process water and rainwater is collected for reuse. 
As the AquaCycle system uses a flocculant to separate clean water from the solid particles, a filter press has been incorporated to produce a dry cake from the silt and clay generated from the washing process. The company's ultimate aim is to achieve an end-of-waste status on the final filter cake, thereby allowing it to be used for other purposes such as landfill lining, further reducing the waste volumes produced. 
Mr Samuel said Sheerness Recycling's partnership with CDE and first steps into wet processing have established longevity and maximum profitability for the future of the business. With the new CDE recycling wash plant on stream, it has provided the company with the technological capability and production capacity to further grow the business and supply the market with a higher quality of washed and recycled sand and gravel.
'The investment in the CDE wash plant has definitely taken the company to the next level,' commented Mr Samuel. 'Construction, demolition, and excavation waste materials are a hugely valuable resource that can help us to reduce the levels of primary production and preserve depleting natural reserves. 
'By diversifying into wet processing, we are able to produce higher volumes, process more challenging materials, and add significant commercial and technical value to our operations. We are recovering recycled aggregates to their highest potential added value and to a technical and quality level that meets British standards.'
Sheerness Recycling are no strangers to operating the latest and most environmentally focused, productive equipment on the market. Since its inception 13 years ago, the company has continued to adopt a strategy of investment and business development to stay ahead of the curve and provide added value to its customers. 
'With the waste-recycling sector becoming an increasingly competitive marketplace, it is important for us, and other SME operators, to focus on sustainability and implement ambitious measures to preserve natural resources, reduce waste, boost recycling rates, and move towards a circular economy business model,' said Mr Samuel. 
'Being a sustainable sector means that, as an industry, we need to embrace innovation and the opportunities that new technology presents in helping the construction sector become more environmentally friendly. Sheerness Recycling have always been fully committed to bringing in new and enhanced equipment, pioneering solutions, and better-quality end products to stay ahead of the game. 
'Fundamentally, we are proud of the fact that we have developed a successful business that is helping the environment and championing the use of recycled construction materials throughout Kent and the south-east of England.'
Gearing up for growth 
As the quarrying sector works towards becoming a net-zero-carbon industry, a circular economy approach will be vital to shifting from the linear 'take, make, waste' production and consumption model to a more sustainable value chain that designs out waste and pollution, strengthens competitive agility, and pushes the boundaries of innovation for sustainable construction.
Sheerness Recycling are not one to rest on their laurels. In line with its ongoing expansion strategy, the business is always on the lookout for new recycling sites as it continues to grow and consolidate its position in the local construction products and recycling markets.
As a bright future beckons for Sheerness Recycling, it comes as no surprise to learn that the company is extremely enthusiastic about its plans going forward. 'We're currently looking at the possibility of commissioning more C&D waste recycling plants in the future, as well as strengthening our network of materials recycling centres to increase supply to the current market and our customers, whilst exploring new opportunities for recycled aggregates,' said Mr Samuel.  
'Meeting the environmental challenges of today should be seen as an exciting opportunity for businesses in the wider construction supply chain to come together, share ideas and best operational practices, and demonstrate our commitment, as an industry, to innovating and making a real difference.'
One-stop shop model 
Operating from a new head office in Borough Green, which they share with parent company Borough Green Sand Pits and sister companies Lime Logistics, Santander Salt, and Medway Aggregates, the success story of Sheerness Recycling has been one of continued investment and diversification.   
In its relatively short history, the group of companies has developed into one of the leading independent players in the supply and distribution of aggregates across Kent and the South East and built a solid reputation for providing reliable and efficient services, as part of its strategy to preserve primary resources and divert waste materials from landfill sites.
Some of the major areas of emphasis going forward for the Group will be the continued drive towards sustainability and being a far more customer-focused business – two traditional core values deeply rooted in the business. 
Borough Green Sand Pits (purchased in 2002 by current owner and managing director Roger Body), now part of the BG Group of companies, have grown from a single sand quarry operation into the large, dynamic group of companies that it is today. 
Like many forward-thinking businesses, BG Group have evolved and transformed over the last 20 years into an organization that now employs around 130 people with an annual turnover in excess of £35 million. The company is focused on providing the very best customer experience. 
'Our business has always been about constantly growing, innovating, and developing together to create added-value products and services for our customers,' said Mr Samuel. 'We are immensely proud of the business we've built over the past two decades and our partnerships with customers, suppliers, and contractors have helped us achieve that visionary growth.'
Taking this pragmatic approach has indeed helped accelerate BG Group's growth and Mr Samuel is keen to stress that these developments are not the end of the story. 'Our diversification strategy has consolidated our position as a key player in the construction supply chain, so we're always looking for new ventures and new sites in line with our ongoing quest for expansion.'  
Diversifying their operations and providing customers with a 'one-stop shop' for high-quality quarried/recycled aggregates and related services have clearly paid dividends for the Group. Today, the company has a diverse portfolio of business activities that includes waste-management, muckaway, landfill operations, remediation, haulage, and a workshop for HGV and plant repairs for in-house and external clients.
BG Group have also taken advantage of their expertise in supplying top-quality aggregate products and materials, such as natural marine salt, which offers a cleaner and more sustainable alternative to mined rock salt. Santander Salt currently operate a deep-water berth and three storage and transfer depots (London Thamesport, Boston, and Ellesmere Port) to meet supply and demand for de-icing products from local authorities and commercial/domestic customers around the UK. The salt can be supplied in bulk or bagged to meet the customers' needs.  
The Group's successful diversification strategy has also seen them prosper in the importing, handling, and distribution of bulk materials in the construction sector in Kent and the South East. Through their haulage arm, Lime Logistics, and partners TD Express Ltd (who also offer waste collection/disposal and grab hire services), the BG Group can provide reliable, safe, and cost-effective logistics solutions for various bulk and waste products. 
Whilst safety is of paramount importance to bulk haulage operators, the construction products sector also faces an increased expectation to deliver operations that are efficient, more flexible, and considerably more environmentally friendly. 
Lime Logistics are fully aware of the environmental challenges facing leading logistics providers like themselves and run an ongoing fleet-replenishment programme to ensure their older HGVs/grab recovery trucks (currently in excess of 50 vehicles) are replaced with newer, more fuel-efficient vehicles to minimize their environmental impact and provide greater efficiencies.
'With many of our customers now operating in a more sustainable manner, it's more important than ever to mitigate the environmental impact of our activities,' said Mr Samuel. 'Whether it's investing in newly upgraded trucks or advanced vehicle-tracking technology for optimum route planning, our fleet improvement programme continues to deliver the highest standards of road safety and efficiency, whilst at the same time reducing the environmental impact of our operations.'
From waste-recycling and materials management to helping the UK tackle the current housing shortage
In addition to their waste-management and recycling offerings, Sheerness Recycling can provide a dedicated bulk earthworks and remediation service to manage and remediate brownfield land within the industrial and residential sectors, including construction sites and former landfills, to facilitate new developments such as housing. 
One of their ongoing remediation projects is at West Hythe, in Kent, where more than 1,000 new homes are being built. The development site (a former landfill operation) – known as Martello Lakes – consists of around 40ha which includes a 15.5ha lake, the latter being enhanced for leisure facilities, while the remaining 24.5ha will provide a mixed development of new homes, commercial land and a local centre with community facilities and shops.
Sheerness Recycling are currently undertaking all the remediation works for the entire site. The work requires approximately 1.15 million cubic metres of inert soils to be imported and engineered over a 10-year period, to produce a 'working platform' on which the new-build homes will be constructed. 
Preparation for the residential development involves the importation of inert fill materials to raise the existing levels by over 3m above the flood plain and temporarily surcharging a further 4-5m to make the ground stable and suitable for infrastructure and property development. The remediation works, which started in 2014, are being carried out in distinct phases.