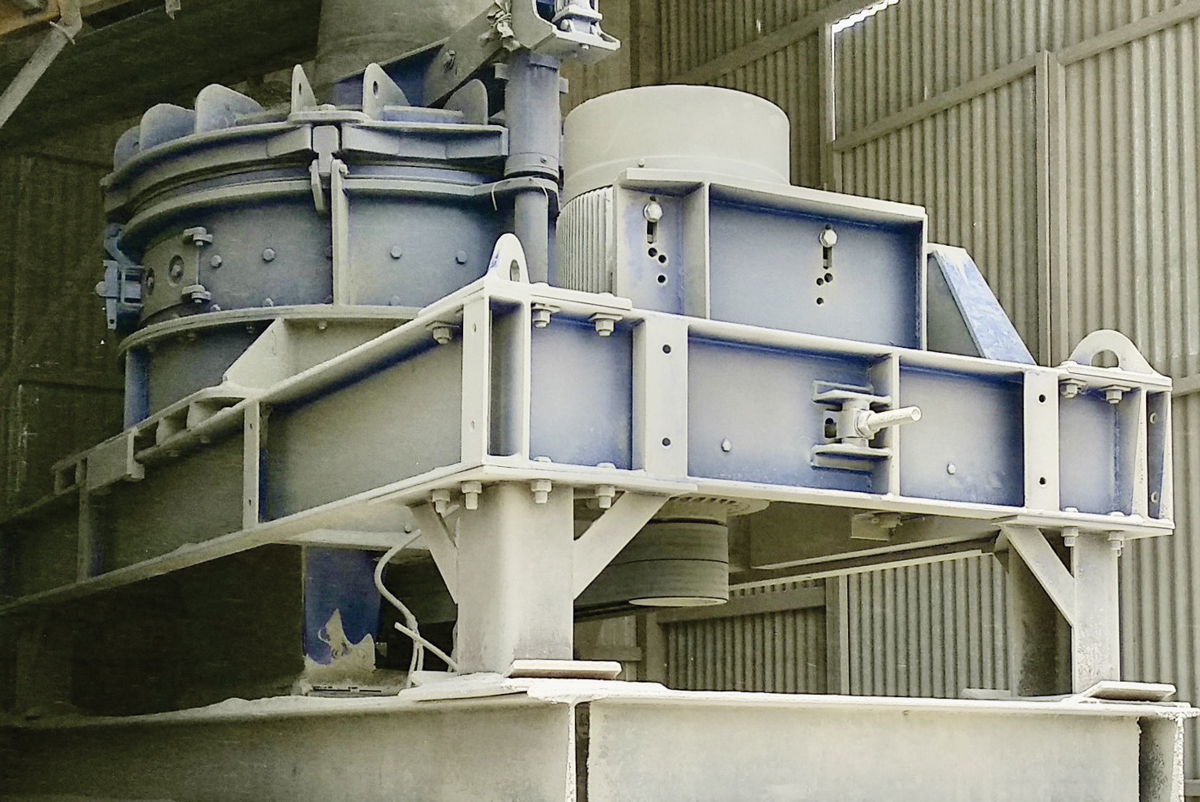 First published in the September 2020 issue of Quarry Management
BHS-Sonthofen RPM 1513 impact mill benefits Indian sand manufacturer, whilst two RSMX centrifugal crushers help Stevin Rock create high-quality concrete sands
Sand manufacturers Kasprs Build Mate inaugurated a new plant for processing off-spec particles in mid-2019. The centrepiece of the plant in Pune, India, is a rotor impact mill from BHS-Sonthofen, which, in contrast to conventional vertical-shaft impact (VSI) rotor crushers, is designed to further reduce fine grain sizes. As a result, Kasprs can make use of off-spec material from other companies to produce high-quality plaster sand and dry mortar sand for the construction industry. 
Sand production using conventional VSI rotor crushers, which are commonly used in India, produces large volumes of off-spec particles 10–15mm in size, which remain in the circuit without being crushed any further. These particles, which can account for up to 35% of the total volume, are often backfilled, which is why Kasprs Build Mate were looking for a way to turn this surplus material into high-quality sand.
Himanshu Mavadiya, production applications manager at BHS India, identified the RPM 1513 rotor impact mill as the perfect tool for this task: 'Our RPM 1513 delivers a targeted and very high crushing ratio, which has a consistent grading curve over the entire tool lifetime,' he said. 'It is, therefore, able to produce sand of the highest quality with an excellent particle shape from the surplus material of conventional rotor crushers. The producer benefits considerably from this and, in addition, every tonne of sand that can be produced from off-spec particles slows down the depletion of natural sand deposits.' 
BHS-Sonthofen have a modern test centre where the material to be processed can be tested in advance in various machines. 'In this particular case, we are dealing with basalt – a magmatic rock that presents some challenges,' said Mr Mavadiya. 'The BHS experts in Germany were able to carry out tests using a rock sample, allowing them to select the ideal machine and determine the best settings too.'
Not wanting to leave anything to chance in this project, Kasprs inspected the machine at the German manufacturing site. The goal was not only to find the right technology for the application, but also one that stood out from competing suppliers in the Indian region in terms of quality. From the outset, the RPM 1513 rotor impact mill fulfilled all expectations. 
In total, several hundred thousand tonnes of high-quality sand have already been produced and Anup Karwa, project manager at Kasprs Build Mate, is extremely satisfied. He said: 'For our company, efficient value creation and thus resource savings is an enormously important decision factor when it comes to choosing new technology. BHS-Sonthofen convinced us on site with their modern test centre, experienced experts and robust high-performance machines.'
The sand produced by the BHS rotor impact mill has actually become a brand in its own right. 'Customers have taken to calling this high-quality product Kasprs Sand,' continued Mr Karwa. 'This name stands for an optimal, homogeneous particle shape, and despite its somewhat higher price, it has become a sought-after construction material, especially for ambitious projects. In contrast to naturally occurring sand, which often has to be shipped over vast distances and is sometimes of dubious origin, this sand is also a local product: the basalt rock extracted in the vicinity of the plant has been made fully usable by BHS technology.'
RSMXs add the finishing touch
Meanwhile, in the United Arab Emirates (UAE), the sand component of the high-strength concrete used to construct Dubai's prestigious skyscrapers must be pure and the particle shape needs to be cubical, but as the large quantities of natural sand in the region do not possess these properties, local producers Stevin Rock manufacture the much sought-after commodity from the local limestone.
Stevin Rock's limestone quarry in the northern Al-Hajar mountains of the UAE, around a 2h drive from Dubai, is the third-largest site of its kind in the world. More than 60 million tonnes of high-quality limestone are extracted here every year, the majority of which is processed on site in a complex, multi-stage process. The limestone is gradually reduced to 5–10mm in size, whereupon two BHS-Sonthofen RSMX rotor centrifugal crushers with TwinDrive, which were installed in September 2018, are used for the crucial final step – breaking the limestone particles down to 0–5mm while also turning it into the ideal cubical shape.
'In other words, our rotor centrifugal crushers perform the final finishing step. They put the finishing touches on the sand and ultimately determine the quality of the product. The sand is then washed one final time and that's it, done,' explained Hans Traut, BHS-Sonthofen's area sales manager for the Middle East and North Africa.
Mr Traut has worked with Stevin Rock for eight years – although BHS-Sonthofen experts have been working in the region for several decades. Today, 15 quarries and multiple dry-mortar plants in the region use BHS impact crushers. Over the years, BHS-Sonthofen have examined hundreds of tonnes of samples from different sites across the Gulf region at their technical centre in Sonthofen, Germany, examining how each rock behaves, how it breaks up, and what flow speed generates the optimum result.
Mr Traut was able to draw upon this expertise with the rotor centrifugal crushers at Stevin Rock, defining important parameters before installation and adjusting the machines to suit the customer's plant to ensure the two RSMX units achieved the desired result.
In their first fourth months of operation, the two BHS machines helped Stevin Rock to produce around 300,000 tonnes of high-quality sand – and the plant is still not at full capacity. At present, only one of the two rotor centrifugal crushers operates at a time, as only one washing system is connected. However, a second washing system is planned, which means production will soon increase even further.
The RSMXs have already proven themselves and are setting the standard in terms of both product quality and the use of wear parts. The latter, in particular, can be an important cost factor during continuous operation, but after his first two inspections Mr Traut was happy to report 'zero wear', thanks in part to the patented twin-chamber design of the rotor.
Whilst every single particle of the input material undergoes extreme acceleration due to the centrifugal force in the rotor and is hurled against an anvil ring that acts as the impact wall, the rock material also rubs and breaks against itself and not – as is the case with competing technologies – exclusively against the metallic wear parts.
BHS-Sonthofen also utilize especially high-quality and durable materials, with special spin profiles made from tungsten carbide protecting the RSMX in the area where the finished material leaves the rotor. 'We have constantly improved the design of our rotor centrifugal crushers over the years,' explained Mr Traut. 'The RSMX is a unique solution that is characterized by both its precision and its flexibility.' 
Mr Traut carries out an in-depth on-site inspection of Stevin Rock's rotor centrifugal crushers at least once a year. This close contact and dialogue with the customer is what's important to us,' he said. 'Ultimately, a product is being manufactured here that is contributing, literally, to shaping the future of the region. The sand that our crushers manufacture is used in practically every major construction project in the Gulf.'
For further information, please visit: www.bhs-sonthofen.eu