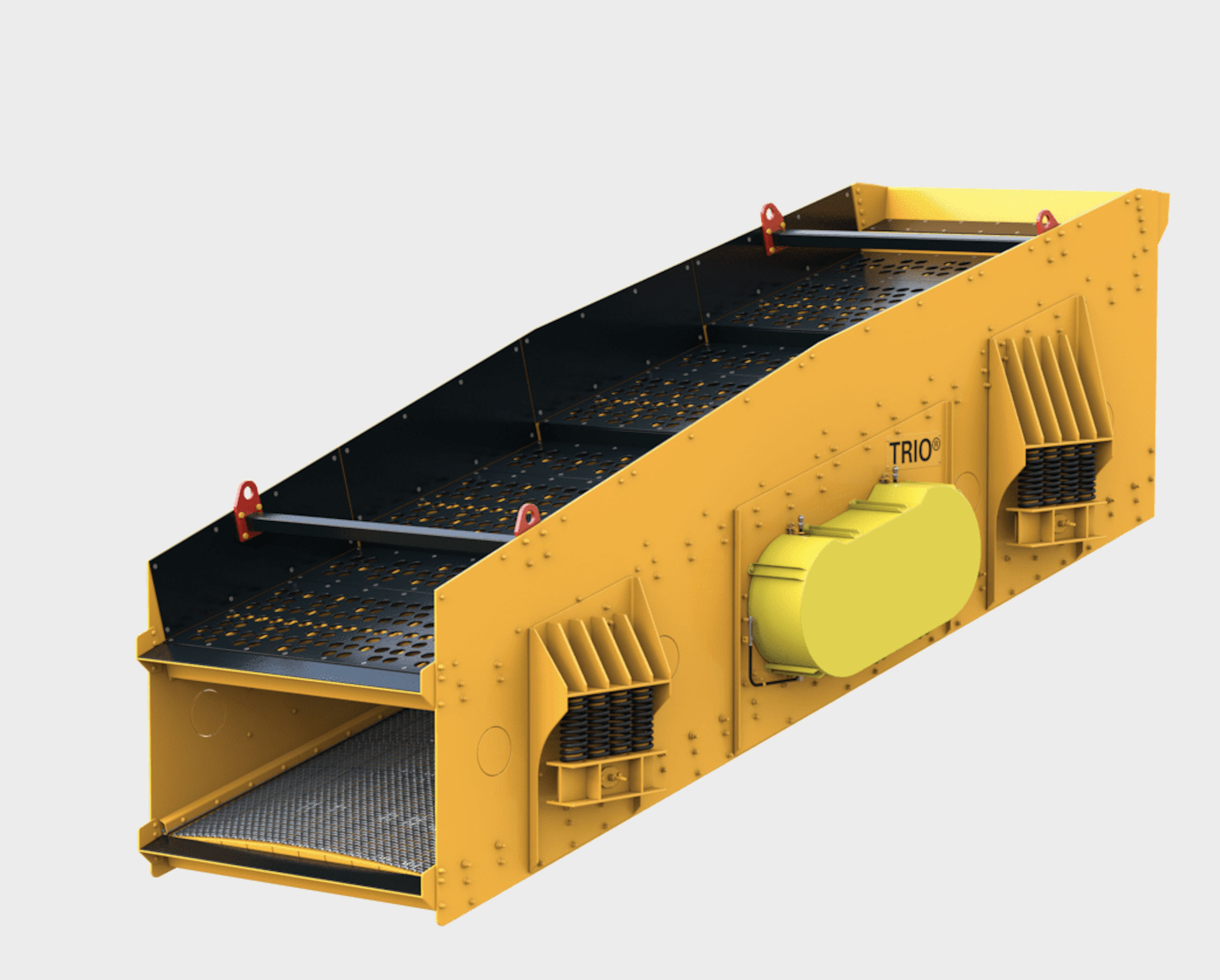 First published in the February 2022 issue of Quarry Management as First in Line
Trio scalping screens from Weir Minerals are built to withstand the toughest conditions, as George Mandarakas, product manager - comminution solutions, explains 
Scalping is typically the first screening process and is used to remove material that is difficult to screen, such as clay-bound material. Because scalping screens are located early in the flowsheet, they have to be robust and heavy duty, capable of handling oversized material. For this reason, all Weir Minerals' Trio scalping screens feature all-bolted construction using locking bolts to ensure structural integrity.
Weir Minerals' range of Trio scalping screens generate maximum excitation to stratify the material and remove as much undersized material as possible. Weir Minerals have two ranges of scalping screens: the Trio TIOSP and the THDS series. Both are available in stationary and mobile options and suitable for wet and dry applications. Both the Trio TIOSP and THDS are utilized in aggregate processing and industrial minerals screening applications, environmental mitigation, and recycling separation processes.
There are some key differences, however, in terms of where they feature in the flowsheet and they each have different design features as a result. The Trio THDS is usually utilized in primary screening applications, whereas the TIOSP can be used in secondary screening and final sizing applications, depending on the material.
Removing clay-bound material
Trio THDS scalping screens have long been a fixture in quarries, where it is important to remove clay-bound and reactive material from the feed as quickly as possible to ensure it does not contaminate the hard rock that is required to make concrete etc. Weir Minerals have had much success installing Trio THDS scalping screens in limestone applications.
Limestone absorbs a lot of moisture and, in applications where the moisture level is above 3%, scalping screens are often required, as opposed to using vibrating grizzly feeders. When the moisture level is 5% or above, scalping screens become non-negotiable; at these levels, the material acts like plasticine when it enters compression crushers, inhibiting performance and potentially damaging the processing plant.
It is in the best interests of operators to remove this material as early as possible, which the Trio THDS scalping screen – generally used in conjunction with the Trio EF-series pan feeder to ensure even process flow – does effectively. Having removed this 'sticky' material, it can then be treated separately, ensuring that the processing plant operates efficiently, and all the valuable stone is recovered.
Trio THDS series
Trio THDS scalping screens are usually placed between the run-of-mine (RoM) bin and primary jaw crusher. They have to be rugged and robust enough to handle large lump sizes, up to 700mm, and are engineered to remove undersized material. As a crusher's capacity is volumetrically limited, the removal of fines via scalping – specifically those sized below the crusher's closed-side setting (CSS) – improves crushing efficiency and increases throughput.
The Trio THDS features a stepped-deck design with adjustable grizzly bars. This allows the material to tumble across the deck, giving the fines the opportunity to be presented to the grizzly bar apertures and, therefore, the likelihood of passing through the deck. The grizzly bars, which can be aligned or offset, depending on the specific operating requirements, can be adjusted on site, and Weir Minerals have an experienced team of engineers who can partner with operators to evaluate screening performance and help ensure optimal results are achieved.
Trio TIOSP series
Trio TIOSP scalping screens are usually utilized following the primary crusher; the screened oversized material is then fed into the secondary crusher. Because of this configuration, the TIOSP does not have to deal with lump sizes as large as the THDS series; however, it is still a heavy-duty screen, capable of accepting feed sizes up to 400mm. It is available in a single-, double-, or triple-deck configuration. The TIOSP series' primary role is still to deal with and separate material that is oversized and would potentially damage equipment downstream. The Trio TIOSP can also be used in scalping duties, where it is responsible for making the scalps product, which can be utilized in roadbase.
The TIOSP series typically operates at an inclination from 15° to 20° and can be supplied with a steel punch plate, steel-backed rubber media, and cascading grizzly bars. It has a flat or cambered deck that is cross-tensioned, which ensures it performs well in heavy-duty applications. The side tension clamp rails prevent the wire mesh from sagging and breaking when handling large lump sizes.
The Trio TIOSP can also be fitted with rubber or polyurethane modular parts, which reduce noise pollution, offers superior wear life, and reduce the chance of blockages. The stroke can also be adjusted using counterweights that are bolted to the flywheels and, depending on the size of the machine, the TIOSP can be supplied with either a single or dual drive. 
For further information visit: www.weirminerals.com