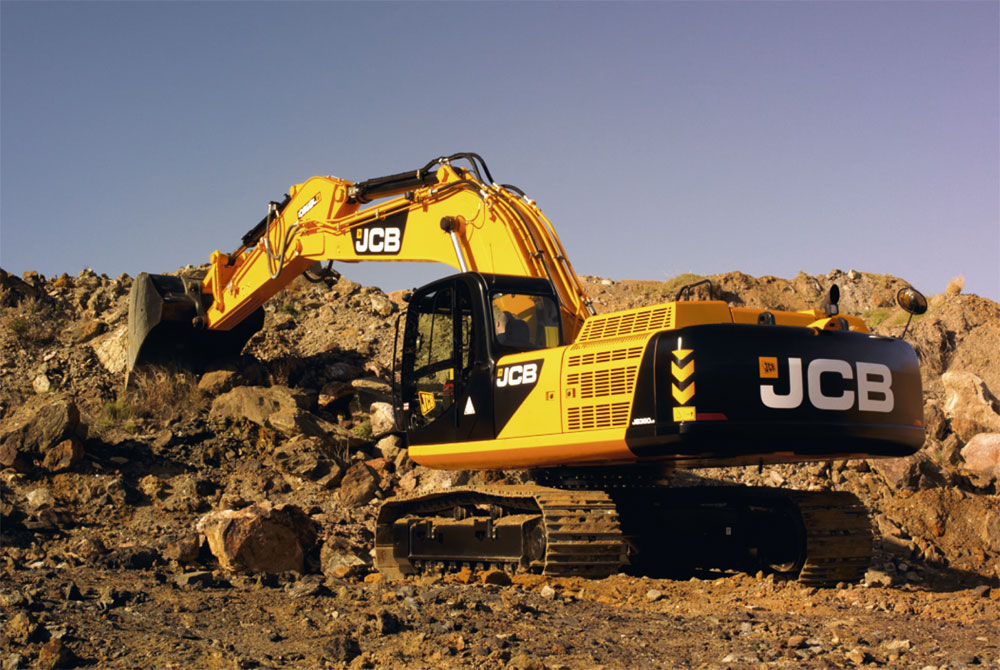 First published in the August 2013 issue of Quarry Management as Moving Forward
New JCB equipment unveiled at recent product launch, including the company's first-ever six-cylinder engine - the Dieselmax 672
On 6 June JCB hosted an international product launch event at their world headquarters in Rocester, Staffordshire, where invited journalists were treated to a spectacular product showcase, ranging from the newest models from the company's heavyline and compact ranges through to the latest innovations in engine technology.
Guests also had a chance to see a large number of new earthmoving machines in action at the JCB demonstration area, after which some visitors took the opportunity to test drive the equipment in order to gain a full insight into how the machines will operate on site.
Meeting demand
One of the biggest product announcements made during the event was JCB's £45 million investment in a new six-cylinder, 7.2-litre engine – the Dieselmax 672 – which will be designed and built at their modern, purpose-built facility in Foston, Derbyshire.
The new engine will initially be manufactured to meet Stage II emissions standards for key growth markets such as Russia, Brazil and China. It will be seen first in the company's JS330 and JS360 crawler excavators for those territories, but will be used in additional machines in the months to come.
According to JCB, the Dieselmax 672 will be a highly efficient engine offering up to a 30% increase in fuel-efficiency compared with previous engines in the JS excavator range.
With engine emissions legislation becoming increasingly stringent both in the EU and US markets, the company has introduced a host of new and upgraded JS excavators, with the launch of the JS160, JS180, JS190, JS200, JS210 and JS220 models all complying with Europe's Stage IIIB and US Tier 4 Interim emissions regulations.
Other excavators meeting global emission requirements include the JS235HF, JS145W, JS160LC, JS220LC and JS145 models, all powered by JCB's fuel-saving Ecomax diesel engine. The manufacturer has also announced the new Stage IIIB-complaint JS240NC and JS360LC models, both to be powered by Isuzu engines.
The Ecomax engine (4.4-litre and 4.8-litre versions) – which meets the latest emissions standards without resorting to external exhaust after-treatment or a diesel particulate filter (DPF) – delivers up to a 10% fuel-efficiency improvement compared with previous JS models.
The upgraded JS excavator range will also benefit from a revised cab interior, along with reduced noise levels, a customizable 7in LCD monitor and JCB's enhanced LiveLink telematics system.
Also new to the JCB construction machinery line-up are a trio of new mini-excavators – the 8014, 8016 and 8020 CTS – all of which have been built on the success of the 8018 CTS model unveiled last year. The three upcoming machines incorporate many of the benefits first seen on the 8018, including increased productivity and lift capacity, a revised dozer design and improved hydraulic controllability.
According to JCB, there are more than 30 improvements on the minis including: a stronger kingpost with top-mounted boom ram and steel bushes for increased durability; a slim box boom with up to 11% increased digging depth; a 52% improvement in load holding capacity; and a solid cast counterweight for better protection.
Maximum digging depth has been increased on all three models: by 11% on the 8014 and 8016; and by 3% on the 8020 CTS. The redesigned kingpost has also resulted in a reduced swing radius of 4% on the two smaller machines and 6% on the 8020 model.
The operator environment is said to be among the largest on the market for mini-excavators in the 1.5-2-tonne class. Powered by a 14.2kW (19.2hp) engine, the 8014 and 8016 models have a triple-section gear pump as standard, while the 8020 is equipped with a variable pump.
All three mini-excavator models feature a new valve block with longer spool travel for improved controllability. In addition, the valve ensures straight line tracking while using the boom circuits, making it easier for the operator to reposition the machine.
Next-generation equipment
At the international event, JCB also showcased their latest compact wheel loaders – the 411 and 417. The company's next-generation loading shovels, once again, will be using JCB's Ecomax diesel engine, delivering increased fuel savings, reduced work noise and more productivity.
The new machines will be equipped with a 4.4-litre Ecomax engine (Stage IIIB and Tier 4i compliant), offering 68kW (91hp) in the 411 and 93kW (125hp) in the 417.
As well as benefitting from fuel savings of up to 15%, the wheel loaders will also have a larger operator cab with improved ergonomics and a new high lift-arm option on the 417 for increased versatility.
Operating weights have been increased slightly, to 8,200kg on the 411 wheel loader, and to 9,600kg on the 417 loading shovel, to cope with demanding digging force and lifting performance. Standard and super-high-lift arm options will be available on both models.
Other compact machinery announced at the event included 17 new-generation JCB skid-steer and compact tracked loaders for the global market. The latest machines are said to be 16% more fuel-efficient than rival models, helping customers to save around €2,000 annually.
There are nine large-platform models: the 225, 260, 280, 300 and 330 wheeled skid-steers; and the 225T, 260T, 300T and 320T tracked loaders. The range also includes eight small-platform models: the 175, 190 and 205 skid-steers; and the 190T and 205T compact track loaders, which are vertical-lift machines. These are complemented by the 135, 155 and 150T models, which feature a radial-lift design for improved digging.
The skid-steer and compact tracked loaders have been developed to be more manoeuvrable in tight, confined areas, and for easy transportation from one job site to another.
Among the notable improvements on the latest models are a 46% larger cab with full-height sides for maximum operator safety; 60% better visibility than previous models; and easier serviceability thanks to a forward-tilting cab and large rear-opening door.
The new machines also feature JCB's unique PowerBoom design, which uses a single arm rather than the conventional two-arm skid-steer design. The vertical-lift models do not require a torque tube across the back of the vehicle. This gives operators an unobstructed rear view and almost 360° total visibility for better job site safety and driver confidence. To further increase visibility, JCB have removed the mesh screen around the cab and replaced it with laminated glass.
The majority of the machines will be sold in North America, although demand for smaller skid-steers/track loaders has been growing at a fast pace, particularly in the Middle East and European markets.
Powering up
JCB have seen an increasing demand for generators fitted with EU Stage IIIA emissions-compliant engines. As a result, the company has announced the launch of new Stage IIIA models to complement its extensive range of fuel-optimized units already available, providing customers with product variants that comply with the legislation.
Examples of the emissions-compliant models include the G61RX canopied generator, offering a prime output of 58.7kVA with a standby rating of 63kVA. Powered by a JCB
Dieselmax 4.4-litre engine (83hp), the generator is available with a choice of control panels providing the capability to control, monitor and protect the unit.
The more powerful G141QX model is equipped with a JCB 4.8-litre Dieselmax engine that delivers an output of 113kW (151hp). It has an external noise of 71dB(A) and offers a prime output of 130kVA with a standby rating of 143kVA.
In addition to meeting EU Stage IIIB emissions legislation, the company has extended its generator portfolio with the launch of a new eight-model range powered by 1600 Series engines from German manufacturer MTU.
Building on the successful use of the MTU 2000 and 4000 Series engines in the larger JCB generator models, the company's latest offering comprises open and canopy variants with power outputs from 275kVA to 700kVA.
The MTU 1600 Series engine, which has been specifically designed for generator use, has given the G301, G331, G401, G441, G501, G551, G651 and G731 units impressive performance and reliability.
In particular, the generators feature excellent vibration characteristics owing to the stiffness in their structure, making them suitable for use in extreme situations and sensitive working environments.
These qualities make the MTU 1600 Series engines an ideal fit for JCB's generator range, fully complementing the wide array of products and new innovations on show at JCB's international product launch event.