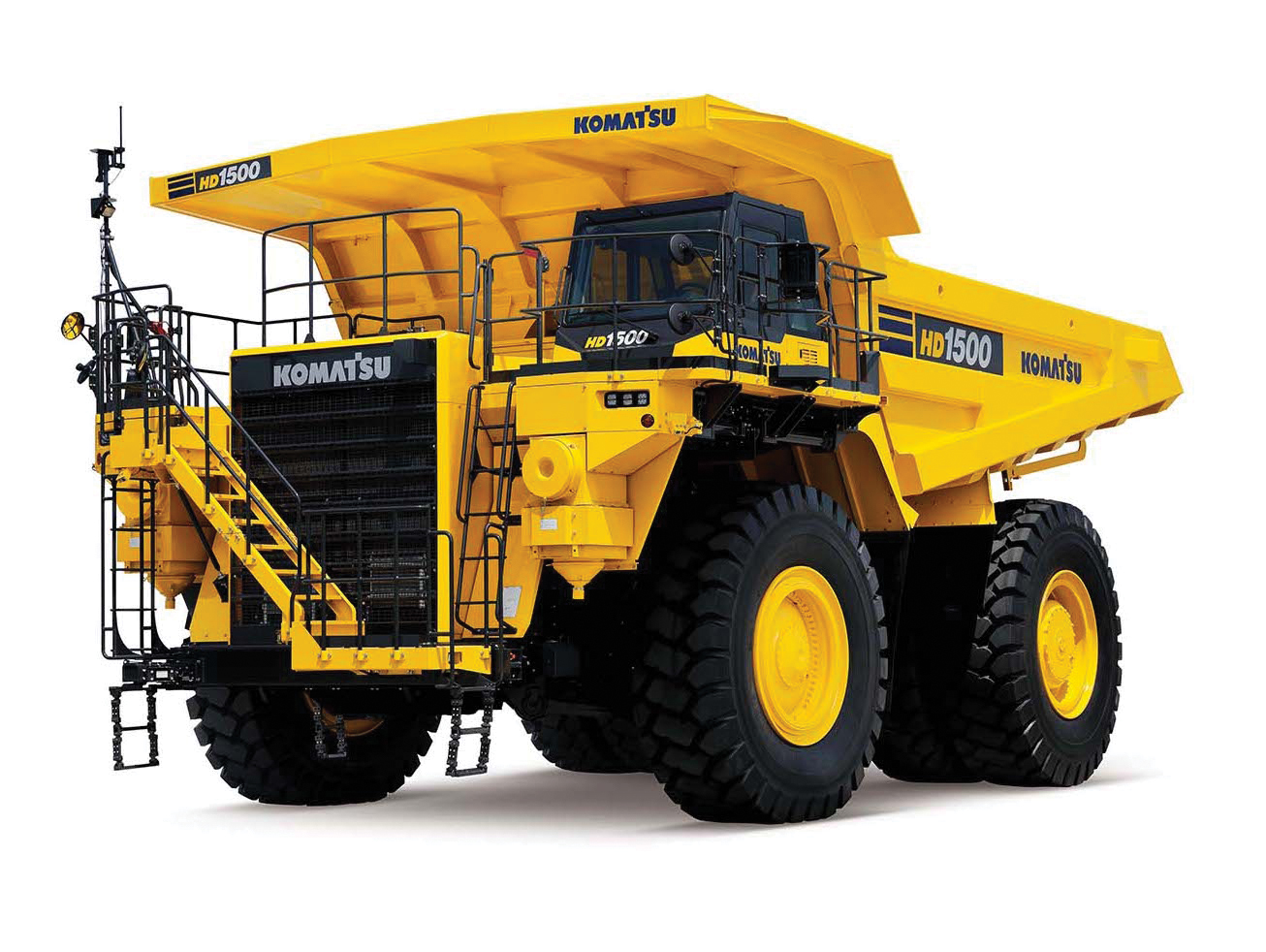 First published in the November 2018 issue of Quarry Management
Marubeni-Komatsu have expanded their mobile plant offering with the launch of a number of new machines. Packed with new and improved features, the HD1500-8 rigid dumptruck has been developed to offer the highest levels of productivity, reliability and safety for end-users. 
The machine's components (eg mainframe, transmission, rear axle etc.) have been specially designed with durability in mind for fleet operators to cut down on their repair expenses, prolong overhaul intervals and reduce their total cost of ownership.
Komatsu have also made use of the latest developments in information communications technology to further improve the HD1500-8 dumptruck's reliability and maintainability, increase site and operator safety, and enhance productivity and efficiency.
'We are proud to introduce the Komatsu HD1500-8 and delighted to announce that this 142-tonne rigid dumptruck is CE certified and now available for sale in Europe,' said Jeroen De Roeck, product manager for Komatsu Europe. 'It's a completely new machine, redesigned using principles developed by the Earth Moving Equipment Safety Round Table [EMESRT], to ensure the highest safety standards.'
The new machine is powered by a 16-cylinder Komatsu SDA16V159-3 engine that delivers 1,576hp at 1,900 rev/min. It also provides greater acceleration and higher travel speeds with an impressive horsepower-to-tonne rate while delivering high torque at low speeds to ensure maximum productivity and reduced fuel consumption. 
For increased productivity and safety, a newly designed transmission system offers a seven-speed automatic with selectable reverse gear ratio. The operator can easily switch between operating modes, with a choice of 'Power' or 'Economy' depending on conditions and haul road profiles. There is also eco fuel-saving guidance on the in-cab monitor to help provide further fuel-efficient operation.
In addition, the latest Komatsu energy-saving technological features, such as variable displacement pumps for the steering and hoist circuits, have been incorporated to maintain high productivity. 
The Komatsu HD1500-8 is further enhanced with K-Atomics, an electronic shift control unit with automatic clutch modulation in all gears, that optimizes clutch engagement for smoother shifting without any loss of torque.
Complementing this is the Komatsu traction control system (KTCS), which automatically monitors the rear wheels' rotating speeds and vehicle speed to minimize wheel slip and maximize traction, thus improving productivity and extending tyre life. The rigid dumptruck is also equipped with automatic retard speed control (ARSC) that allows operators to set downhill travel speeds at a constant level so they can concentrate on steering. 
For durability, cast-steel components are used in critical areas of the main high-rigidity frame where loads and shocks are most concentrated. The standard dump body is made of high-tensile strength steel for superior rigidity and low maintenance cost. 
For enhanced efficiency, the machine is equipped with the manufacturer's payload monitoring system (PLM), which analyzes the truck's production volume and working conditions for a specific period. Loaded weight is displayed in real time on the cab's monitor and external display lamps.
The HD1500-8 dumptruck also comes with the latest KOMTRAX Plus telematics system, which can send machine operating information for analysis from remote locations.
Another new Komatsu machine said to be redefining industry standards of performance, comfort and safety is the recently launched PC1250-11 excavator. With operating weights ranging from 115.9 tonnes to 118.3 tonnes, the machine is powered by a Komatsu SAA6D170E-7 engine that provides 578kW (775hp) at 1,800 rev/min. Exempt from current EU emission regulations, but EU Stage V ready, the Komatsu engine features two diesel particulate filters (DPF) and has no need for a selective catalytic reduction (SCR) system.
'Komatsu have redefined industry standards with this new excavator,' said Jo Monsieur, product manager for Komatsu Europe. 'It not only combines great performance with excellent comfort, but also ensures that work can be performed safely, thanks to an impressive array of standard safety features.'
The latest KOMTRAX and KOMTRAX Plus telematics, and the Komatsu CARE maintenance programme, offer optimum fleet-management and support to protect the machine against misuse and guarantee maximum efficiency and uptime.
Work modes include the well-known Power and Economy modes, but the PC1250-11 also benefits from the new Power plus (P+) mode, which allows the operator to make full use of the increased engine power to achieve up to 8% greater production than a PC1250-8 model in P mode. The Heavy lift and Swing Priority functions are still available, as on the previous model.
A two-mode setting for the boom lets the operator choose between smooth operation for gathering material and maximum power for more effective excavating. The shockless boom control makes operations smoother and reduces both stresses on the machine and operator fatigue.
Thanks to a large cross-sectional structure using high-tensile steel with thick plate and partition walls, the boom and arm are long-lasting and resistant to bending and torsional stress. Moreover, the undercarriage has been strengthened, for reliability and durability when working on rocky ground, and sturdy guards shield the travel motors and piping against damage.
The PC1250-11 is also said to raise the bar when it comes to standard safety equipment. The operator's cab conforms to OPG top guard level 2 (ISO 10262) for falling objects. It has a high shock-absorption capability, excellent impact resistance and an increased sound-absorbing capability.
Also, derived from mining excavators, a new hydraulically operated 45° retractable stairway allows safe access to the machine, and a standard 'auto-lock' function automatically interrupts all machine hydraulic functions if the stairway is not fully retracted.
The 'neutral detection system' will also activate the hydraulic auto-lock if the work equipment control levers are not in the neutral position when the hydraulic lock lever is released. The auto-lock status is clearly displayed and easily reset on the monitor panel.
Three emergency stop switches are provided, the first in the operator's cab, whilst the other two can be quickly accessed from ground level, one on the right deck near the fuel-fill connection, and the other on the left catwalk, next to the hydraulic stairway.
For even greater safety, KomVision is fittest as standard, with four networked high-definition cameras creating a real-time bird's-eye view on the machine monitor, to eliminate the blind spots to the rear and sides of the machine.
The new Komatsu PC1250-11 is also said to feature industry-leading comfort levels and easy maintenance. The low-vibration cab, which is highly rigid and features a damper mounting system with noise-absorption ability, is wider than on a middle-sized excavator. It includes a high-back, air-suspension heated seat with a reclining backrest while height and inclination are easily adjusted with a simple lever. The operational position of the armrest and console can also be customized. The cabin is pressurized and the high-capacity air-conditioner is standard.
Marubeni-Komatsu have also announced the launch of the new WA480-8 wheel loader which, the company says, has been designed to offer reduced fuel consumption, increased productivity and greater operator comfort. 
The loading shovel is powered by a Komatsu SAA6D125E-7 engine (299hp), which fully complies with EU Stage IV exhaust emission regulations. It uses a diesel particulate filter and selective catalytic reduction system that reduces nitrogen oxide with AdBlue. 
The engine also uses an advanced electronic control system to manage airflow rate, fuel injection, combustion parameters and after-treatment functions to optimize performance, reduce emissions and provide advanced diagnostic capability.
Komatsu have developed an operator-friendly and spacious cab for the WA480-8 loader. The increased internal air pressure prevents dust and other particulates from entering the cab. For easy and safe access and egress, the wheel loader is equipped with a rear-hinged door, angled steps and large handrails. 
A new air-suspension seat minimizes vibrations and provides increased comfort for the operator, while seat-mounted electronic pilot control levers, with a forward-neutral-reverse switch, improves convenience and reduces driver fatigue.
The WA480-8 comes with KOMTRAX telematics technology, as well as the Komatsu CARE maintenance programme, providing fleet management and support to protect the machine from misuse and ensure maximum uptime and efficiency. For more information visit: www.marubeni-komatsu.co.uk