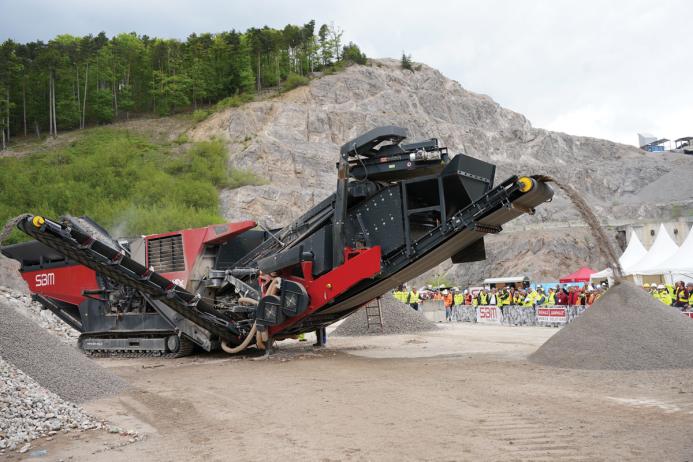 First published in the June 2023 issue of Quarry Management as The Future Starts Now
SBM Mineral Processing officially launch new REMAX 600 mobile impact crusher at recent Austria open day  
The spotlight was firmly on SBM Mineral Processing at a recent open day in Austria, where around 200 guests – including SBM dealers, their customers, and members of the construction/quarrying press – had the opportunity to see the brand-new REMAX 600 track-mounted impact crusher being demonstrated in both quarrying and recycling applications.  
Held at Hans Zöchling's Ramsau Quarry in Hainfield, Lower Austria, the one-day event also marked the official launch of the REMAX 600 and gave a glimpse of what could be the future of aggregate crushing and screening.  
According to Helmut Haider, head of sales at SBM Mineral Processing, more than three years of intensive research and development has gone into the REMAX 600 impact crusher, setting new standards in process automation and paving the way for AI (artificial intelligence)-based autonomous crushing.  
'As SBM's new flagship product, the REMAX 600 features an array of innovative technical features. These include cutting-edge sensors, integrated cameras, sophisticated analytical tools, and network-connected devices, to constantly record and evaluate feed material, as well as intermediate and end products,' he commented.
With the launch of the REMAX 600 impact crusher, SBM now have a total of 12 electric plug-in hybrids of track-mounted JAWMAX jaw crushers and REMAX impact crushers, ranging from 23 tonnes to 160 tonnes (transport weight). All models – except for the JAWMAX 800 – offer compact dimensions for ease of transport and economical and practical applicability. 
The REMAX 600, for example, has a transport weight of between 60 and 80 tonnes (when loaded on to a low-bed trailer) and when the machine is fully equipped, it measures a slender 22m (length) x 3.5m (width) x 3.8m (height). The tracked mobile impact crusher processes up to 600 tonnes/h at a maximum feed size of 900mm and can offer up to five fractions in one cycle, thanks to its efficient pre-screening, triple air classifying and high-efficiency magnetic separation, as well as an optional secondary screen.
The REMAX 600 is packed with standard equipment and optional features designed to improve the efficiency of the customers' aggregate operations. They include an ultra-efficient overbelt magnet with longitudinal discharge that ensures high purity of end-products, even in recycling applications.  
As well as featuring a standard double-deck circular vibratory screen, the impact crusher can be equipped with an optional secondary circular vibratory screen (one-, two-, or three-deck configuration) to provide recirculation of oversize material.
All equipment, stockpile conveyors, and side walls of the 9m3 capacity feed hopper can be hydraulically folded inboard and remain on the machine. This means the impact crusher can be set up rapidly on site without the need for additional tools.
As with all SBM machines, the REMAX 600 is equipped with a hybrid diesel-electric drive system with optional mains connection. This drive unit consists of an EU Stage V-compliant 15-litre Cummins X15 diesel engine and a 553kVa on-board generator that feeds all electrical drives (feeders, screens, conveyor belts etc), as well as the electrically operated hydraulics for the undercarriage. 
Having played a key role in the successful market launch of the REMAX 600, SBM's co-operation partner Hans Zöchling GmbH are also helping the company to go a step further in the development of its innovative 'autonomous crushing' operating concept.  
Since the beginning of this year, Hans Zöchling have been thoroughly testing the mobile impact crusher at their Ramsau Quarry and recycling facilities. And the extensive trials and endurance tests have shown the REMAX 600 crusher achieved average fuel consumption rates of 34–46 litres/h and average electricity consumption between 140–200kWh.
With decarbonization high on the quarrying agenda, it is more important than ever to prioritize and achieve long-term sustainable and verifiable reduction in energy consumption and carbon emissions.
'This SBM-typical consumption advantage was undoubtedly one of the reasons why the enthusiasm felt at the Bauma trade fair quickly turned into real interest and concrete orders long before the market launch,' said Mr Haider. 'In addition to our own dealers, the first customers have already signed up and we may significantly adjust our production plans for the REMAX 600 from next year onwards.' 
The operation of crushing plants is becoming more sophisticated and digitally advanced, and SBM's Crush Control system on the REMAX 600 allows key machine data and process information to be displayed on a smartphone/tablet without the operator having to leave the cab of the excavator or wheel loader. 
With a better understanding of the operating parameters – thanks to intelligent data collection and smarter data analysis – end-users can respond to issues much more quickly to optimize the productivity, availability and performance of their assets.  
SBM's Crush Control mobile app validates all operating conditions and material properties in real time and sends these values to SBM's headquarters via the cloud. However, the OEM now wants to take automated data capture, reporting and analysis to the next level with the REMAX 600 serving as technology platform for the first fully automatic production monitoring and control system that it is developing in collaboration with the University of Leoben (Montanuniversität Leoben), Austria's higher education institution for mining, metallurgy, and materials. 
According to SBM, their autonomous crushing concept will deliver significant productivity improvements, lower operating costs, and reduced noise and carbon emissions for fleet operators/aggregate producers.  
Making inroads into the UK market 
In recent years, SBM have identified key opportunities for growth beyond their primary markets in Austria and Germany, with the UK aggregates market now forming an important part of the company's global business strategy for the future.  
While SBM are established and represented in mainland Europe and rest of the world, Britain is a market that needs developing and they have teamed up with two distributors – Banner Contracts and Orba Group – who both have excellent reputations within the markets they serve with high levels of customer service support.
Norbert Dieplinger, international business development manager for SBM Mineral Processing, commented: 'As we continue to build our dealer network across Europe, particularly in the UK, we are confident of strengthening SBM's position in a competitive and growing global construction equipment marketplace, whilst maintaining our reputation as a leading manufacturer of highly advanced and innovative mobile crushers.'