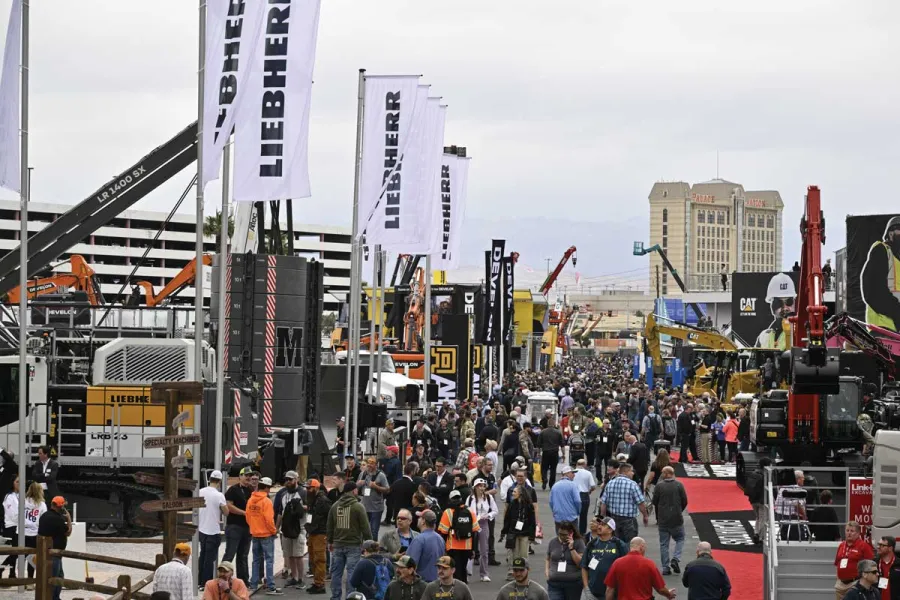 This year's Conexpo show drew more than 139,000 professionals from 133 countries — record-breaking numbers that made it the largest construction show in North America
First published in the May 2023 issue of Quarry Management
With more than 2,400 exhibitors and 139,000 visitors in attendance, Conexpo-Con/Agg 2023 was one of the biggest and most successful editions in the show's history. QM provides a brief look back at some of the new products, innovations, and technologies on display at North America's leading construction exhibition
With visitor registrations totalling more than 139,000, this year's Conexpo-Con/Agg event, held from 14–18 March at the Las Vegas Convention Center, once again reaffirmed its status as North America's biggest trade show for the construction, building materials, and recycling industries.
According to the show's organizers, the Association of Equipment Manufacturers (AEM), the triennial showcase construction industry event hosted 2,400-plus exhibitors (from 36 countries) spread out over 3 million square feet of indoor and outdoor exhibit space – representing a 10.5% increase in exhibition floorspace over the previous show in 2020. Conexpo 2023's global attendance was also significant, with over 24,000 international attendees from 133 counties making the trip to this year's trade show.  
Following five jam-packed days of major product launches and key company announcements, not to mention engaging and interactive education sessions and countless networking opportunities, AEM say Conexpo 2023 bounced back bigger and better than ever. 
The last Conexpo-Con/Agg in 2020 was impacted tremendously by COVID-19 and the organizers eventually had to make the difficult decision to close the show a day earlier than planned, due to growing concerns over health and safety.
'Thankfully, Conexpo-Con/Agg 2023 has put things back in order,' said Dana Wuesthoff, AEM vice-president for exhibitions and event services. She noted during the week of the event: 'There really is a feeling of excitement at the show. Booths are packed and I'm seeing attendees and exhibitors having amazing conversations. Then I go over to the Community Zone and I see so many attendees networking with one another, or sitting down with their show map spread out. It's really great to see.'
Ms Wuesthoff also pointed out the resounding success of Conexpo 2023 speaks volumes that in-person construction trade shows are here to stay and will never be displaced. 'We are an industry of people who want to meet face to face,' she explained. 'Attendees have spoken, loud and clear, that they want to experience the equipment, they want to see it, they want to touch it and feel it; they want to shake hands, they want to look in the eyes of the person who designed it or built it.
'Three years ago, no one knew what was going to happen. We were all going into the unknown together. Soon after, a lot of people wondered if face-to-face events would be replaced by digital interaction, but for our industry, I think all you have to do is look around to see meeting in person remains a priority. It's valuable and it cannot be replaced.'
Indeed, this year's Conexpo exhibition emphasized how the construction industry is evolving in many ways to adapt to sustainable technologies, equipment, and more eco-friendly practices. 
In the last few years, technology and machinery innovations have made huge strides in the construction and quarrying sectors. And at Conexpo-Con/Agg 2023, Komatsu were keen to show off their latest hybrid and fully electric product offerings on their impressive 'Creating Value Together' themed booth.
Some of the machine highlights included: the 20-tonne all-electric PC210LCE excavator; the PC01E electric micro-excavator (developed jointly with Honda); and the HB365LC-3 hybrid excavator, which all support Komatsu's global sustainability targets of 50% reduction in CO2 emissions by 2030 and complete carbon neutrality by 2050. 
With the right products, latest technologies, actionable data, and first-class dealer support, Komatsu demonstrated how they can help customers achieve higher productivity and increased efficiencies to reduce fuel burn and emissions.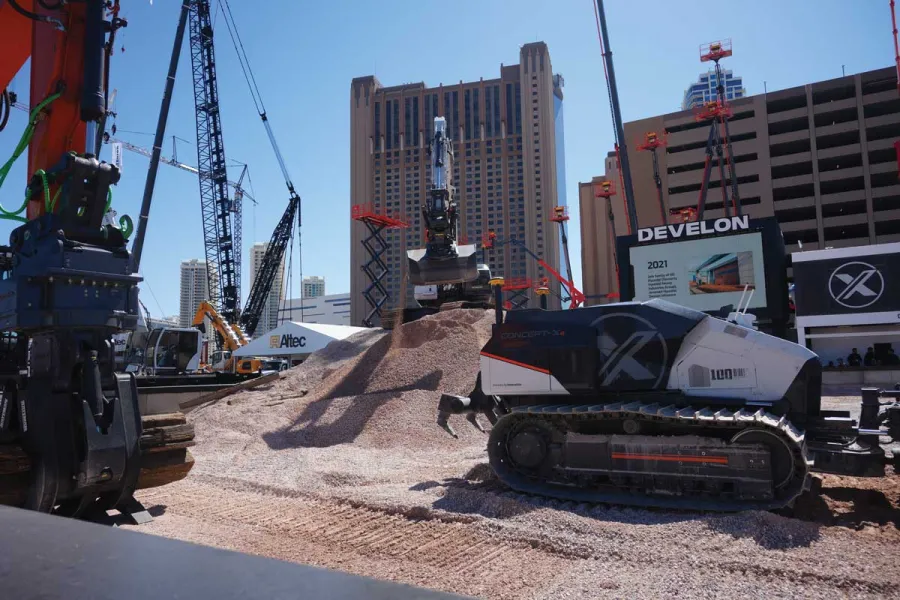 Develon demonstrating their upgraded Concept X2 smart construction cloud platform at Conexpo 2023
Among the other exhibitors keen to showcase their next-generation machines, equipment-management solutions, and aftermarket offerings were Develon (formerly Doosan) who opted to unveil their new brand identity at this year's Conexpo.  
Stephane Dieu, excavator and dozer product specialist (Europe) for Develon, said the show was very positive with the company's new global brand identity for construction equipment and recently rebranded products, including the 100-tonne DX1000LC crawler excavator, on display.  
'Designed specifically for the quarrying segment as well as being well-suited for heavy construction and infrastructure work, the DX1000LC is the largest machine in the DX-7 Series excavator offering,' said Mr Dieu. 'It is powered by a Stage V Perkins 2806J diesel engine, providing a power output of 629hp, more than any other machine in this class. The high output of the engine is combined with a virtual bleed off (VBO) hydraulic system and controlled by electric manipulator (FEH), providing a best-in-class hydraulic flow of 1,569 litres per minute.' 
Visitors to the Develon booth also had a chance to view the all-new DD130 dozer, which has been specially developed to deliver more power, increased tractive effort, and greater efficiency to help operators move more material in fine grading applications.   
Making its first public appearance at Conexpo-Con/Agg 2023, and set for launch in Europe later this year, Mr Dieu said what makes the DD130 stand out from the other competitor dozers is the visibility to the machine's blade. 'The front engine compartment offers a narrower design to make it easier for operators to see their work,' he said. 'For increased safety and visibility, the dozer features a standard rear-view camera with an additional view of the machine's surroundings.'
Opposite the Develon booth, US construction equipment giant Caterpillar highlighted their latest technologies, machines, and service solutions in a 70,000ft2 outdoor demonstration arena known as the 'Operator Stadium'. 
New products on display included: the next-generation 950 mid-range wheel loader; the in-line, six-cylinder Cat C13D diesel engine platform for heavy-duty off-highway applications; a range of mobile apps for making Caterpillar parts purchasing, service and repairs, and fleet tracking easier; and an expanded line of demolition attachments. Also on show were four battery electric machines and a series of prototype batteries for off-highway equipment ranging from 48–600V.
'After a long and difficult period for the events sector, it was important for us to be at Conexpo and bring people up to speed with the company's extensive line of new products, innovations, technologies, and power solutions,' said Jas Kundra, sales and marketing manager for compact wheel loaders at Caterpillar. 
'We've had a lot of enquiries about our next generation Cat 926, 930, and 938 compact wheel loaders, which offer advanced technologies and features to simplify operation, improve safety and reduce running costs. Of course, our established models caught the attention of show visitors, too.'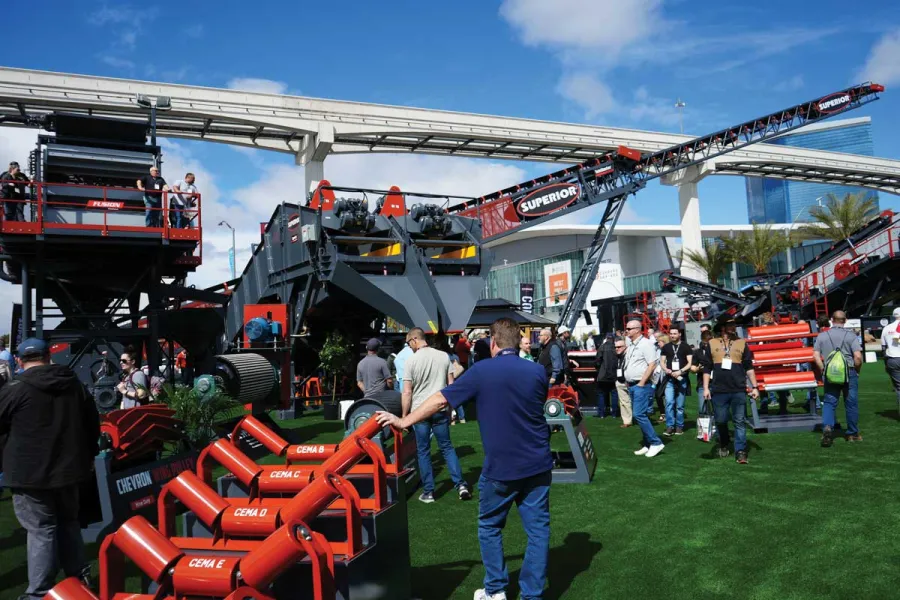 Superior enjoying a hive of activity in their booth
Flying the flag for US engineering excellence and bringing no fewer than 45 products to Conexpo-Con/Agg 2023, Superior Industries Inc. demonstrated how far they have come in the bulk material handling and processing sector, with the worldwide premiere of two new cone crusher models – the Dakota 350 roller-bearing cone and Endeavor SS300 spider-bushing cone crusher – shown alongside their proven Patriot cone. 
According to Jarrod Adcock, product manager – crushing division at Superior Industries, the OEM is the only company offering all three cone crusher styles in the market, with each model providing unique advantages. 
'Each cone has its own set of unique features, which gives aggregate producers flexibility and high performance in a wide variety of applications,' said Mr Adcock. 'With the two new additions, we are providing customer-specific solutions designed and engineered to maximize uptime and increase bottom line.'
The new Dakota cone crusher is a roller-bearing design, which typically offers the most efficient use of horsepower per tonne of crushed rock. Features include a steel threaded bowl, one-piece cast mainframe, a tramp relief system with fewer accumulators, and a hydraulically operated anti-spin system which eliminates the labour-intensive installation of individual gears.
Superior's new Endeavor cone crusher is a spider-bushing design. Historically, spider-bushing cones accept the largest range of feed sizes and are known for simple operation and favourable maintenance. Key features of the Endeavor include the strongest shaft style in the industry to date, supported on a cast top and cast bottom shell; a top access chamber which is safer to access and simpler to maintain; and multiple strokes and liner configurations for increased application flexibility.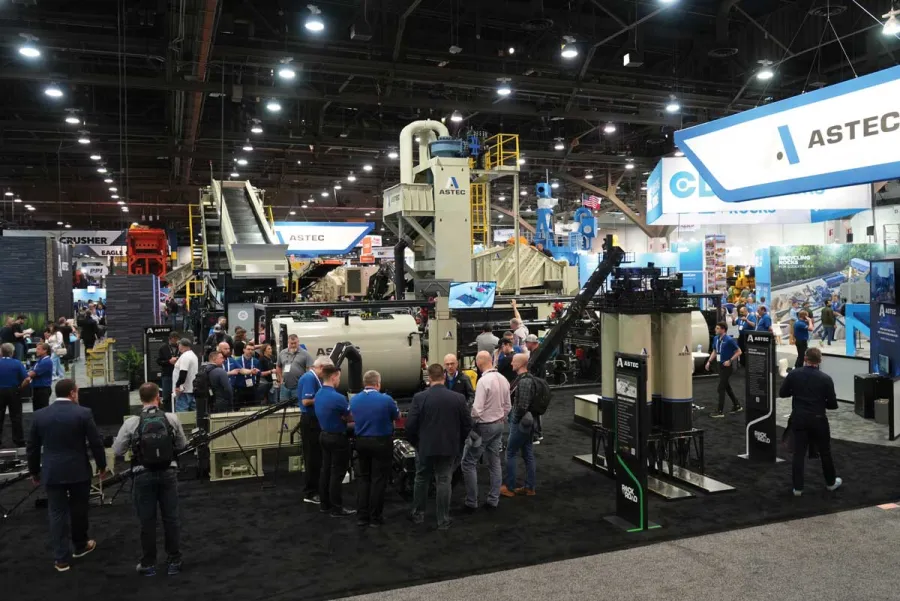 Astec had more than 30 exhibits on their booth, as well as highlighting their digitalization and telematics offerings
As well as showcasing the latest equipment and machinery solutions for road building, concrete production, and materials processing, a key focus in the Astec booth was demonstrating how digitalization and end-to-end visibility can help make better decision-making, increase asset reliability, and improve overall process efficiency for fleet operators/owners.  
'Digitization enables a full, broad picture of that 'rock-to-road' value stream, providing a holistic view of the entire operation,' said Eric Baker, vice president and general manager of Astec Digital. 'Data collected can be analysed to identify production issues, manage inventory and quality, reduce downtime, improve safety, simplify inspection/maintenance, and lower operating costs. Our customers are already expressing strong confidence in our enhanced field service capabilities and technology competences.
'There is no doubt, the future of construction is digital. We want to standardize Astec Digital platform across all our products and equipment, providing a fully automated experience powered by data that can truly transform the way our customers do business.'
Another company eager to present their latest innovations, technologies, and service offerings for the aggregates industry were Metso Outotec. Product highlights at this year's Conexpo included the evolution of the Finnish OEM's Nordberg HP cone crusher range, which is now said to be even more efficient, meeting the varying and ever-increasing needs of the aggregates and mining industries by offering higher performance and uptime in a more sustainable way. 
Also on display was the latest version of the Lokotrack LT120 – one of the most efficient mobile jaw crushers in the market for demanding quarry and contract crushing applications. The LT120 features the proven Nordberg C120 jaw crusher and has been equipped specially for optimized performance and extended wear life. It includes the Planet Positive hybrid composite MX jaw dies, a rock breaker, rubber lining in the feeder, a belt-cleaning set for the long main conveyor, as well as the latest intelligent crushing solution and the new Metrics remote monitoring platform.
To help their customers transition to a lower-carbon future, Belgian crushing and screening specialists Keestrack showcased their redesigned R5e impact crusher, which now has a 400 tonnes/h materials processing capacity and a host of eco-friendly features, such as full electric plug-in and a drop-off diesel engine/gen set.
Juan Sanz Fernández, area sales manager for Keestrack, commented: 'Conexpo has provided a future-forward showcase that allows attendees to see first-hand what electrically driven, and hybrid equipment, is available in the marketplace. There has been a great deal of interest in our R5e impact crusher plant, which can be utilized in several applications, including aggregates and recycling.'
Visitors to the Keestrack booth also showed strong interest in the H4e mobile cone crusher, which has been specially designed to process the toughest rock, ore, stone, gravel, and aggregates. 
As with all diesel-electric hybrid machines from Keestrack, the H4e is equipped with electric plug-in connection (driven by a 251kW e-motor) and features an on-board diesel generator. With a maximum feed size of 185mm and variable crushing chamber configurations, the H4e cone crusher offers an optional three-deck post-screen module, with a 208 tonnes/h capacity.
McLanahan, along with their entire 'family of companies' brands, including Eagle Iron Works (EIW), Anaconda, and first-time exhibitors RubbleCrusher, put on a strong showing at Conexpo-Con/Agg 2023. Taking centre stage in the McLanahan booth and shown for the first time at any trade show, was the OEM's horizontal screen-over-screw portable plant. 
While this is not a new item of equipment, McLanahan say it is a highly demanded configuration that the company's dealers requested be on display due to its popularity. The screen-over-screw plant contains a horizontal screen and a double screw washer, along with a McLanahan triple-shaft horizontal vibrating triple-deck screen, which sizes washed rock products for direct stockpiling. Built over a McLanahan double-screw fine-material washer, the company says the plant can size and wash three aggregate products and one sand product.
'It has been fantastic to return to major exhibitions such as Conexpo and being able to showcase our latest products and service offerings,' commented David Hunter, business line director for McLanahan Aggregate Systems. 'We've had a lot of people visiting our booth expressing a strong interest in our products and service solutions on show, including the horizontal screen-over-screw portable plant and our UltraDry dewatering screen.
'Whilst our primary markets have always been, and continue to be, in the US and Canada, we want to build an enviable and strong network of locally focused businesses on a global scale. When we acquired Anaconda, we decided to invest in the UK as a corporate base for McLanahan. And we are now implementing an ambitious strategy designed to strengthen our position in the UK market in which we regard as being of utmost importance to McLanahan's growth in both the short and long term.'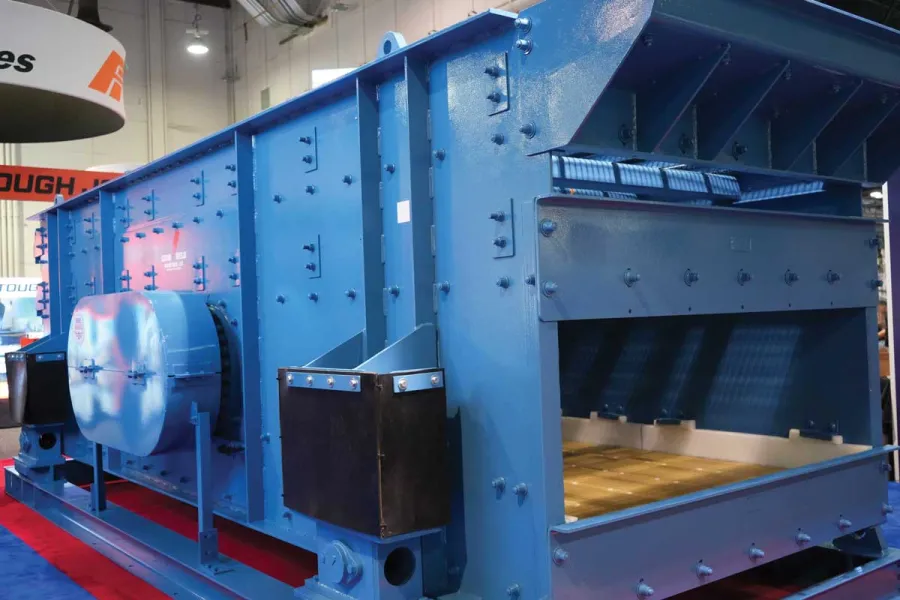 Conn-Weld displayed their updated triple-deck Elliptical Horizontal Screen for the aggregates and recycling sectors

Another major US company and Conexpo exhibitor looking to make inroads into the UK and wider European markets are Conn-Weld, who used the occasion to showcase their latest separation and sizing equipment to visitors and customers – and let them see first-hand the uniqueness and high quality of the products. 
Anna Semonco, director of business development at Conn-Weld, told QM: 'As regular Conexpo exhibitors, it has been a very positive and productive event for us. The response to our updated triple-deck Elliptical Horizontal Screen has been phenomenal, with a lot of enquiries and positive feedback. 
'As a global equipment manufacturer, it is important to exhibit at key international trade shows such as Conexpo and Bauma to welcome customers, whether new or old, and take them through the new products and updated equipment available from Conn-Weld.'
Echoing Ms Semonco's sentiments was Natasha Denisova, international sales manager for Conn-Weld. 'Looking ahead, we are clearly excited by the future growth potential for the business and the opportunities available in our export markets,' she commented. 
'We are committed to investing and growing our presence in the UK and Europe, as we work to increase our global market share. Next year, Conn-Weld are hoping to exhibit at Hillhead 2024, which will no doubt help us promote our brand, expertise, and products to a wider UK and international audience.'