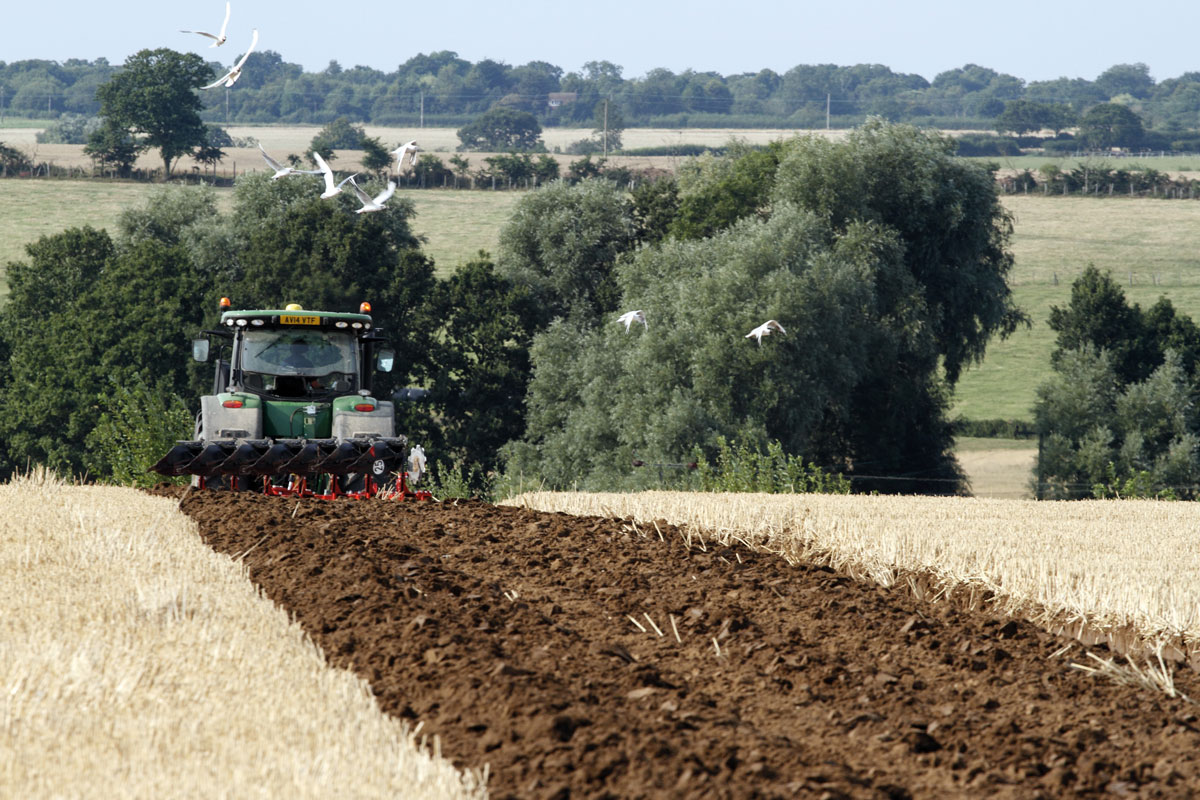 First published in the May 2022 issue of Quarry Management as Custodians of the Land
Operating two land estates that provide the space and proximity needed to conduct their activities safely, drilling and blasting specialists EPC-UK have escalated their environmental site-management activities and are reaping the rewards as wildlife numbers increase on both sites.
The company's two sites are used to manufacture materials for its explosives and additives operations. Both are surrounded by land owned by EPC-UK at Great Oakley Hall, near Bramble Island, in Essex, and at Alfreton, in Derbyshire. By producing crops including wheat, oilseed rape, sugar beet, and potatoes across 2,000 acres of estate, and knowledgably managing water levels and tree-planting schemes, the company's 'buffer-zones' have been put to effective use for many years. In recent times, however, EPC Farms' land stewardship efforts have increased significantly as the team has chosen to allocate less-productive arable land to grow environmentally beneficial crops, including wild bird mix, grass margins, wildflowers, sunflower, and pollen and nectar mixes, and to plant woodland schemes. These programmes have been supported and funded through the company's Environmental Stewardship Agreement and, at the Alfreton operation, pollenated with the help of bees from the site's own hives.
Key to the success of the schemes is the commitment of Gavin Shiell, operations manager - explosives at EPC-UK's Bramble Island site, and Roger Pile, estates manager of EPC Farms. Mr Pile has worked for EPC for 37 years and heads a team supported by his son Jack, three full-time employees and one part-timer. He explained: 'The entire team is passionate about developing and improving our environmental landscape and, whether by planting trees on the estates; providing pollen and nectar mixes for birds, butterflies, and bees; or creating wild field corners for the benefit of farmland birds, we strive to create sites where nature can thrive. Our efforts have rewarded us with the growth of improved habitats and increased sightings of threatened mammals and insects, together with remarkable surges in farmland and wader bird populations.'
Site of Special Scientific Interest 
At the company's Bramble Island – Site of Special Scientific Interest (SSSI) – operation, Messrs Pile and Shiell have taken on the roles of land custodians. They have been working with Natural England – the Government's adviser for the natural environment in England – for almost 10 years, acting on advice that ensures the island's species can thrive.
'Our operation is only second to what is happening around us environmentally,' said Mr Pile, 'as 90% of Bramble Island's infrastructure takes the form of undeveloped land. Therefore, as part of EPC-UK's commitment to operating with integrity, EPC Farms work to respect and support our surrounding environment through a sensitive and carefully planned programme of well-guided and effective land management.'
EPC-UK's Bramble Island site is home to the extremely rare Fisher's estuarine moth, a species that feeds specifically on the hog's fennel that EPC plant and manage to sustain the moth population. Mr Pile explained that regular monitoring of the moth shows that numbers of emerging adults are steady, despite early season flight sightings, and the hog's fennel planting scheme continues to be effective.
High-level stewardship
The estate also benefits from EPC's programmes of water level and reed bed management, bank vole raft monitoring, and mink control, together with a highly successful barn owl nest-box project.
Recently, the site's team also became part of the High-Level Stewardship scheme (HLS) and, with valued advice from Natural England, has identified and started to manage additional areas where further land improvements can be made and suitable habitats created for new species on the island. Current programmes of activity include:
Ditch and dyke restoration
This new project will improve the structure of ditches and dykes at Bramble Island through sympathetic vegetation and cutting regimes. By creating habitats and food sources, the project will encourage farmland birds, insects, plants, and mammals which all benefit from the improvements in ditch and dyke structure. The programme will also help to maintain the land's local historic landscape and character. Mr Pile hopes that water voles, reed buntings, and sedge and reed warblers will all increase in numbers, together with otters – an exciting new addition to the estate with sightings now regularly recorded.
Maintenance of woodland and scrub
To maintain the island's woodland character and benefit the wildlife, the Bramble Island farming team is planting irregularly spaced oak and birch tree species to achieve an overall canopy cover of 50–75%. This will help to control covered scrub and, as part of plans to maintain habitats for specific BAP (Biodiversity Action Plan) species and protect soils and watercourses, the three-year growth scheme will hopefully attract snipe, barn owls, and marsh harriers to the carefully managed habitat.
Restoration of reed beds
Since 2013, the team has worked systematically to control and improve reed beds on the island and create open woodland environments. This has resulted in the site becoming home to both tawny owls, who have been successfully raising owlets, and Chinese water deer. As part of the programme, the realigning and creation of new borrow dykes and the building of clay bunds to control water levels are also starting to pay off. By the end of June this year, the final 250m of borrow dyke work should have been completed, on time and to plan. Vegetation has already grown back where work has previously been performed and Mr Pile reports that the borrow dykes have remained full of water, leading both bank voles and otters to now make appearances along stretches of the banks.
Rewarding results
'The results from our reed bed works have been phenomenal,' continued Mr Pile. 'The restored reed bed, which is reported to be the largest and most effective in north-east Essex, has produced a winter raptor roost which regularly includes more than 30 marsh harriers, hen harriers, and buzzards, and creates a spectacular sight across the winter dusk skies. Hobbies, merlins, kestrels, and short-eared owls have also been seen along the reed bed, with EPC's resident barn owl population maintaining a healthy four to five breeding pairs. Little owls are also spotted on occasion, and on the mammal front, signs of the rarely seen bank vole have been recorded by team members on three of our four strategically placed rafts.'
Muntjac deer, a species now thriving in the UK, can also be seen across every part of the site and, excitingly, the population of Chinese water deer, encouraged by the expansive reed bed work which started in 2013, has steadily risen.
Mr Pile added that on the seaward side of the site, huge numbers of overwintering waders, ducks, and geese populate the island. Golden and grey plover, dunlin, redshank, bar-tailed and black-tailed godwit, avocet, knot, curlew, and lapwing are just some of the species the team sees, along with vast numbers of teal, widgeon, shelduck, gadwall, pochard, mallard, tufted ducks, dark-bellied brent geese, and greylag geese.
Supporting SPIRIT values
EPC-UK believe that wildlife guardianship forms part of their role and responsibility as a business, contributing to their working SPIRIT values of Safety, Passion, Integrity, Respect, Innovation and Teamwork. Managing director Ben Williams, who encourages and advocates the company's land stewardship activities, commented: 'The impassioned efforts of our dedicated EPC Farms' team enables us to manage and maintain our estate areas for the good of the land, the people, and the local ecology. Their expertise ensures that, through effective relationships and sensitive land-management programmes, we do everything we can to allow the site and its natural inhabitants to flourish.
'The environments at both Bramble Island and Alfreton are vital partners to our operations, which makes working in synergy with them essential. We are custodians of the sites we operate within and believe we have a duty to conserve and protect the environments we occupy to our best ability, so both the land's ecology and our business can thrive.'