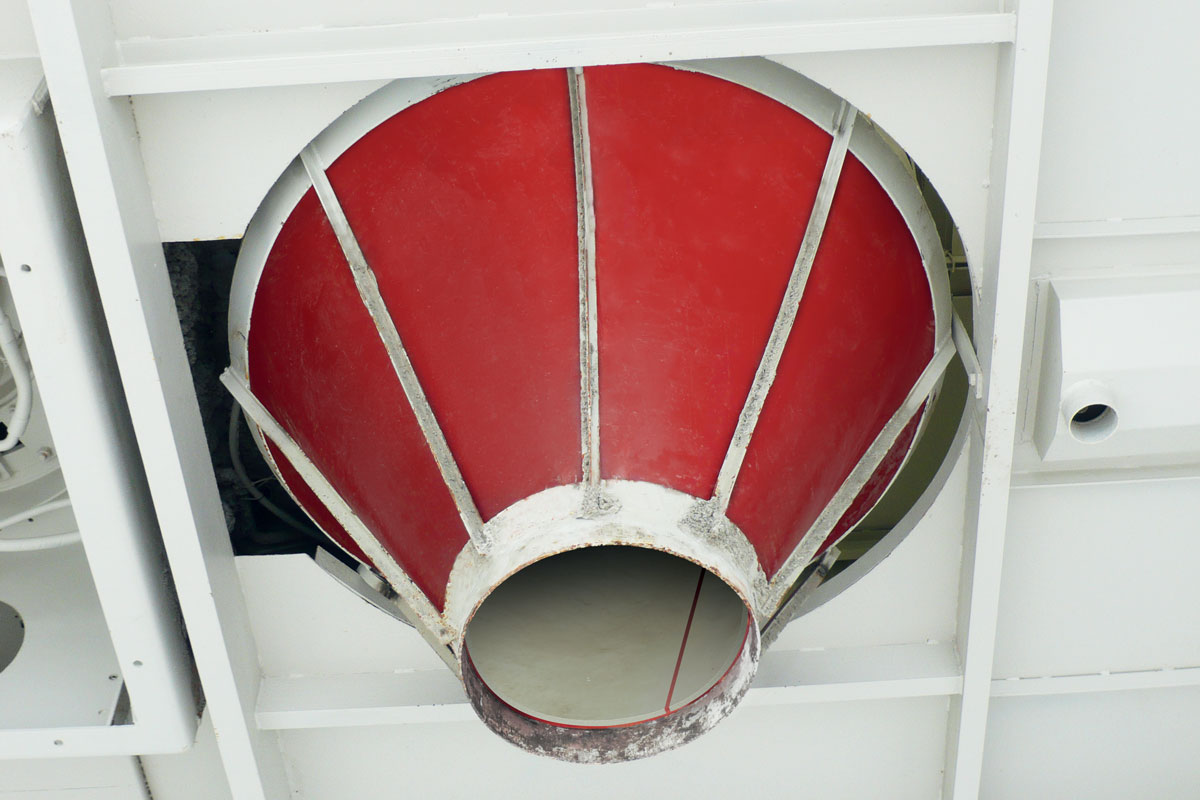 First published in the December 2020 issue of Quarry Management
ConeFlex conical chute liner saves more than 850h cleaning time at a CEMEX concrete plant
Material build-up and blockages at any point in the concrete production process are a real problem. Although it may initially seem like a minor irritant, build-up in the mixer discharge chute can have a significant impact on efficient concrete discharge and truck loading. If the chute becomes blocked, it impacts on the operation of the mixer itself and ultimately brings production to a halt.
Where build-up or caking is experienced, intensive daily cleaning is required to ensure the chute stays clear from blockage. This cleaning routine is difficult, time-consuming and increases risk for site operatives, with working at height and the use of pneumatic hammers a common occurrence.
This problem was experienced by the site supervisor at CEMEX's Widnes ready-mixed concrete plant. He was concerned with the build-up of concrete in the plant's steel discharge cone underneath the pan mixer, which was becoming a major bottleneck and interfering with the operation of the plant.
Forty-five minutes' manual cleaning of the chute was required each day using a pneumatic hammer to knock the hardened concrete off the cone, creating a potential hand-arm vibration risk to operatives.
Despite this daily cleaning routine, the build-up in inaccessible areas worsened over time, requiring intermittent hire of subcontractors to perform a more thorough clean. This required scaffolding hire to gain access and created a working at height risk.
ConSpare, who pride themselves on solving common industry problems such as this, supplied a ConeFlex abrasion-resistant chute liner to line the steel discharge chute underneath the mixer. ConeFlex is an intelligently designed seamless conical liner. The low-friction, elastic, and abrasion-resistant polyurethane resists concrete adhesion and is highly durable.
For the client, ConeFlex significantly improved concrete discharge and minimized concrete build-up in the chute. This reduced the time spent cleaning the chute from 4h a week to just 1h, and eradicated the risk of blockages at the mixer gate. The improvement resulted in more than 850h saved in ConeFlex's first six years of operation, and the liner continues to perform.
Site supervisor Paul Campbell commented: 'I'm really pleased with the installation of ConeFlex. After six years, it's still operational and showing minimal signs of wear. The 75% reduction in cleaning time needed to maintain the discharge chute has been valuable and the productivity of our plant has increased.'
ConeFlex conical liners are constructed from Hawiflex polyurethane, which is both highly abrasion resistant and low friction. The 'non-stick' properties of ConeFlex resist concrete adhesion, which vastly improves concrete discharge and makes cleaning simple and safe. Maintaining the liner typically only requires a brief rinse down with a lance to uphold effectiveness.
The durability of ConeFlex ensures low-cost operation over the long term. It also protects the chute steelwork from damage and minimizes ongoing maintenance requirements. With its polyurethane formula that is resistant to wear, ultraviolet, standard cleaning agents and mould oils, and strong seamless design that eliminates the need for a glued joint, ConeFlex has been proven to handle anything the concrete production process can throw at it for years to come. 
For more information visit: www.conspare.com