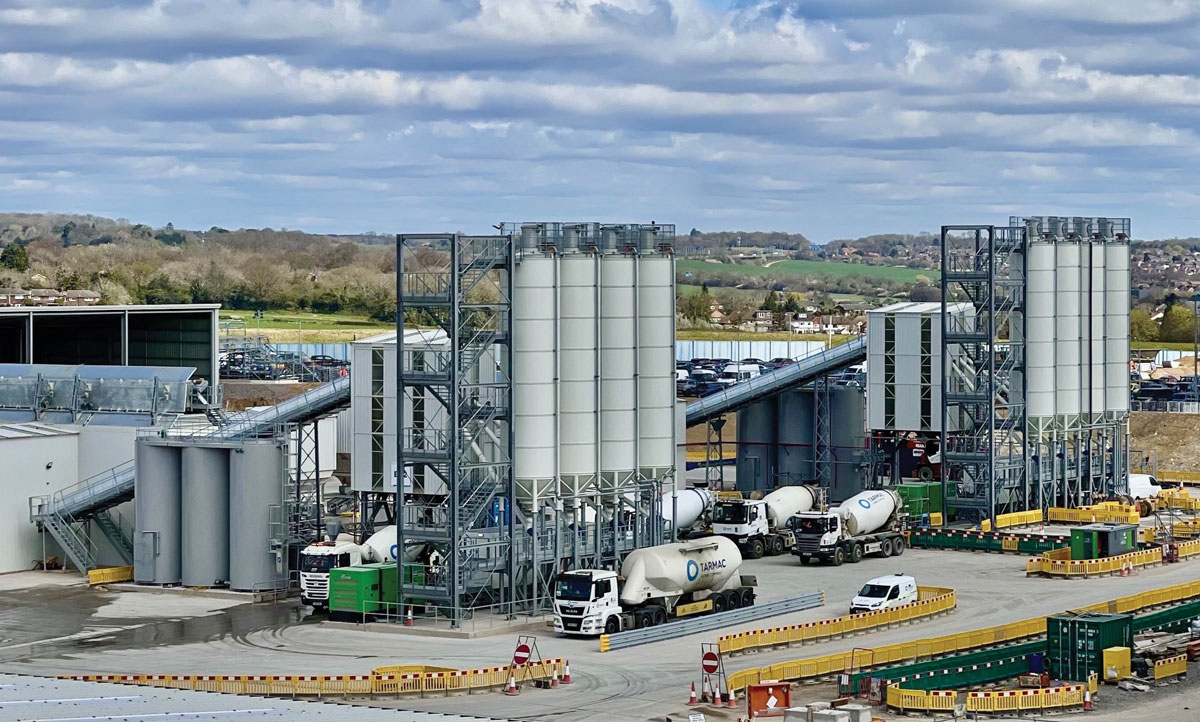 First published in the December 2021 issue of Quarry Management 
Berkshire Engineering Supplies create three bespoke concrete batching plants for the Chiltern Tunnel section of the HS2 project. Dan Gilkes reports
Designing, engineering, installing, and commissioning a critical concrete production facility on a high-profile construction project, for an international joint venture of leading construction companies, was never going to be an easy task. Doing it as the world scrambled to get to grips with a global pandemic, added a whole new level of complexity.
Yet concrete plant specialists Berkshire Engineering Supplies (BES), now known as Bulldog Plant & Equipment, brought their experience and expertise to bear as never before, creating three separate, bespoke concrete batching plants and a concrete and water recycling system, for the Chiltern Tunnel section of the HS2 high-speed railway project.
Working closely with concrete producers Tarmac and main tunnel contractors Align JV (made up of Bouyges Travaux Publics, Volkerfitzpatrick and Sir Robert McAlpine), BES created a dedicated, bespoke-designed, twin-mixer concrete batching plant, to supply the two on-site precast tunnel segment factories.
These two tunnel segment factories will cast 112,000 wall segments for the Chiltern Tunnel, to be placed within the tunnel excavations being created by two 2,000-tonne tunnel boring machines (TBM). Made of high-performance steel-fibre-reinforced concrete (SFRC), the segments are fabricated in moulds, before being polished by robots, for maximum quality assurance. The consistent quality of the concrete is, therefore, crucial.
There are seven segments in each ring within the tunnel and, by casting on site, Align and Tarmac have been able to avoid increased heavy goods vehicle traffic on the roads surrounding the Chilterns. This has reduced congestion and disruption for the local community.
The two tunnel segment factories, which are based at the southern end of the tunnel, near Rickmansworth, are fed by a single BES batching plant, that has been designed and built using two MEKA 2m3 high-performance planetary mixers. BES are the official UK partner for MEKA, offering their complete range of batching plants and mixers and combining the knowledge and expertise of both companies to design and engineer the batching plants for the project. The overall BES solution also included a variety of additional components, including KTI/Sauter heated aggregate and water systems, as mix temperatures for the concrete were a critical requirement for the specially designed concrete mixes.
'Though we have a vast amount of batching plant experience, this was something very new,' said BES managing director Ian Griffiths. 'We were having to build around a concrete delivery system that was completely unknown to us and we had to install the batching plant between the two tunnel segment factories, which had already been assembled, or were under construction when we arrived on site.'
Though maximum output capacity was not the main criteria for the tunnel segment batching plant, the mixers were designed to produce large volumes of high-performance concrete and each mixer had to be capable of servicing both factories at once, in the event of one mixer being off-line for maintenance or repair.
'The plant had to be able to produce large volumes of concrete at 85% capacity,' said Mr Griffiths.
In addition to the specialist nature of the mix, which includes various additives and fibres, the mixers had to provide consistent temperature and moisture control throughout. Independent moisture and temperature measurement equipment was installed in each mixer to ensure consistency and conformity.
As part of the project, BES also installed a Bibko concrete reclaiming and water-management and purification system that included fibre-separation equipment and a filter press, to ensure all wastewater was free of contaminants prior to being treated by a specially designed CO2 PH correction system. Any water discharged to local sewers was, therefore, clean and uncontaminated.
BES have also installed two additional large bespoke concrete batching plants at the South Portal in Rickmansworth, where the tunnel works originate. These MEKA K140 high-performance batching plants were specifically designed to meet the project's demand for large volumes of high-performance concrete, for the infrastructure works at HS2 C1.
These plants can also support the tunnel segment batching plant if required, so incorporate the same KTI/Sauter heated aggregate and hot water systems, to meet the desired concrete specification and performance.
Though BES entered into initial tender discussions for HS2 with Tarmac and Align in January 2019, early requests for equipment specifications and performance criteria date back as far as 2009. Environmental impact reports, local community requests, transportation of raw materials and concrete, and the requirement to produce a variety of speciality concretes for different sections of the project, meant that BES and MEKA were able to offer a bespoke solution to best suit the HS2 request.
BES became the preferred supplier in August of 2019, just months before the world ground to a halt as COVID-19 hit. However, construction remained one of the few areas of the economy that remained working throughout the pandemic, raising a host of new concerns for management and staff on site.
'We found ourselves working in the middle of a global pandemic on a site where we were sharing facilities with other contractors,' said Mr Griffiths. 'At times we had up to 20 people on site, working alongside a number of third-party contractors, which made it extremely challenging for everyone involved.'
While concern for the health and well-being of their own staff remained a priority for BES, there were numerous considerations competing for the management team's attention. The supply chain had almost disappeared at times, due to various worldwide lockdowns, and transport, in particular, became both rare and extremely expensive. BES also worked as part of a much larger team on site, at a time when companies were keen to keep their distance from each other, making the site extremely challenging.
'The work that we did leading up to the installation enabled us to understand what Align's expectations were regarding the equipment and Tarmac's expectations regarding operation. We learnt a great deal during this time,' said Mr Griffiths.
'The overall project presented many challenges for all involved and there were huge learnings along the way. There is a whole process that goes on before we arrive on site and a whole process after we arrive on site and beyond, and, despite many challenges, we are extremely glad to have been a part of such a prestigious project, but we are equally glad to have successfully completed our part of the contract, especially under such unusually difficult circumstances.'